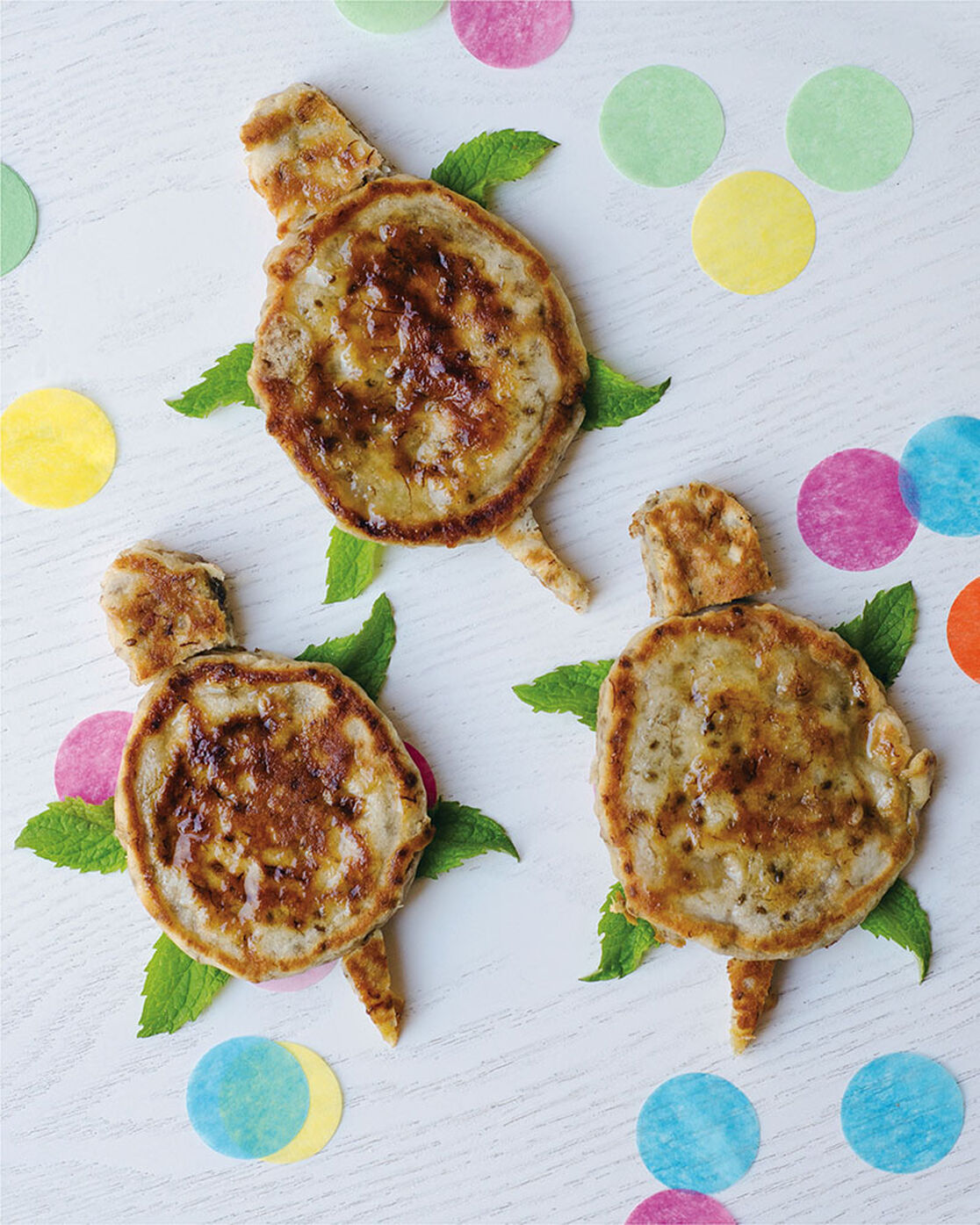 The ladies behind Heart to Plate are back with another winner from their brand new cookbook. Last month we shared their adorable apple cookies and today we've got another fun, kid-friendly finger food. Your littles will love the handheld snack and you'll appreciate the wholesome ingredients they're made with.
Jen took these along to an afternoon play date and they were loved so much that we decided to squeeze them into the book even though we were about to hang up our aprons and go to print.
They are a hard to resist little vegan treat with four main magical ingredients that keep everyone happy.
TURTLE PIKELETS
Vegan
Ingredients
1 Tbsp chia seeds
1 cup self-raising flour
½ tsp baking powder
¼ tsp baking soda
½ Tbsp maple syrup
¾ cup soy milk or milk of choice
2 overripe bananas, mashed
Coconut oil
Method
Put chia seeds and 3 tablespoons of cold water in a bowl and leave for 5 minutes or until seeds have absorbed water.

Combine all dry ingredients in a separate bowl.

Mix maple syrup with ½ tablespoon of boiling water, add soy milk, chia seeds and banana and stir. Combine with dry ingredients and mix until smooth.

Melt coconut oil in a frying pan. Pour four ¼ cup portions of the mixture into pan and fry until bubbles start to appear.

Flip and cook for the same time on the other side. Remove pikelets from the pan and keep warm and repeat with the remaining mixture.

Serve warm or cold with fresh fruit, yogurt, or jam.
~Judy Moosmueller & Jennifer Leckey, There's a Beetroot in my Cake
There's a Beetroot in my Cake presents everyday dishes that are stripped back, free from artificial ingredients, and turned into delicious healthy alternatives. Family favourites with a twist.
We aim to provide you with the most honest and credible information possible. This article was reviewed for accuracy by The Honest Team and was written based on trusted sources that are linked at the bottom of the article.
blog_review_statement