Already a week into fall, we're ready for all things warm and cozy. Today we've got delightfully easy take on ramen, courtesy of our friend Juli Novotny, that will make you question how you ever ate the store-bought version.
When I'm sick, I crave anything that will make me feel better STAT. I don't know about you, but eating a salad when my stomach is queasy or my throats hurts, is less than ideal. Sometimes, I'll chug a green drink but that doesn't always settle well. And no citrus fruits please, unless it's lemon water served hot with loads of honey.
All I can think about consuming when I feel ill are liquids and foods that are relatively bland, easy to swallow and not acidic. When I can tolerate a little flavor, I crave something warm and savory, or cold and sweet.
That's why grandma's savory chicken noodle soup does the trick almost every time: It's loaded with exactly what we crave when we are run down.
The recipe I'm sharing today is a very simple, vegetarian version of grandma's traditional soup. And for various reasons, it just might just be the new trend:
The ingredients are simple

It contains miso, a fermented probiotic

There's no chicken

It uses natural ingredients

It's so easy to make!
My ramen noodle soup is so popular at my house, it's definitely going down as a tradition. My kids crave it even when they aren't sick, my mom begs me for it when she has a sore throat, and I make it for myself two to three times in one day when I'm not feeling well. I swear by it.
I can confidently say that when my boys go off to college, they will stock their dorm rooms full of my ramen because it's cheap, easy to make, and reminds them of mom when they're sick.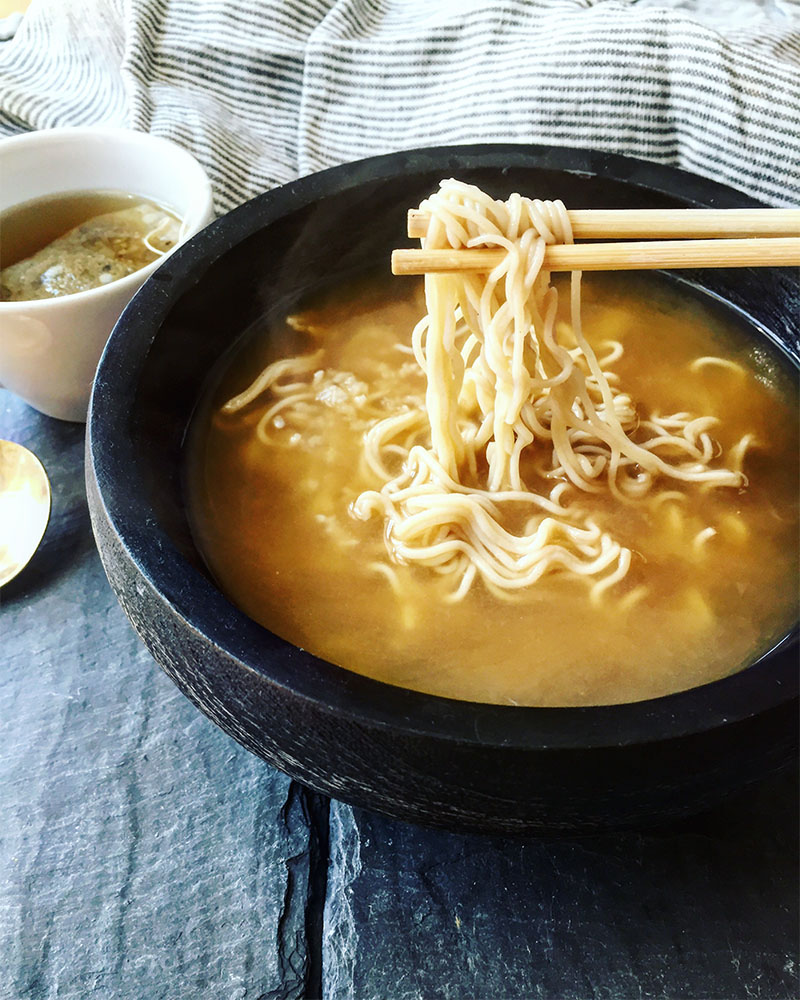 Miso Ramen Noodle Soup
Yields 1 large bowl
Ingredients
1 serving of ramen noodles (Forbidden Rice is my favorite)
1 ½ cups fresh water
1 ½ Tablespoon miso paste
1 Tablespoon Veggie Broth Paste (bouillon)
¼ tsp onion powder (optional)
5-6 cloves fresh raw garlic
Pinch Himalayan sea salt
Instructions
Using an electric water heater, boil water.

Mix the miso, bouillon paste and onion powder into the water.

Pour over the noodles. Let sit until noodles are soft.

Using a garlic press, crush the garlic cloves into the soup.

Add salt to taste.
~Juli Novotny of BasilHealth
Basilhealth is a consumer health technology company dedicated to helping people worldwide take better control of their health. For more tasty recipes, be sure to follow on Instagram or Facebook!