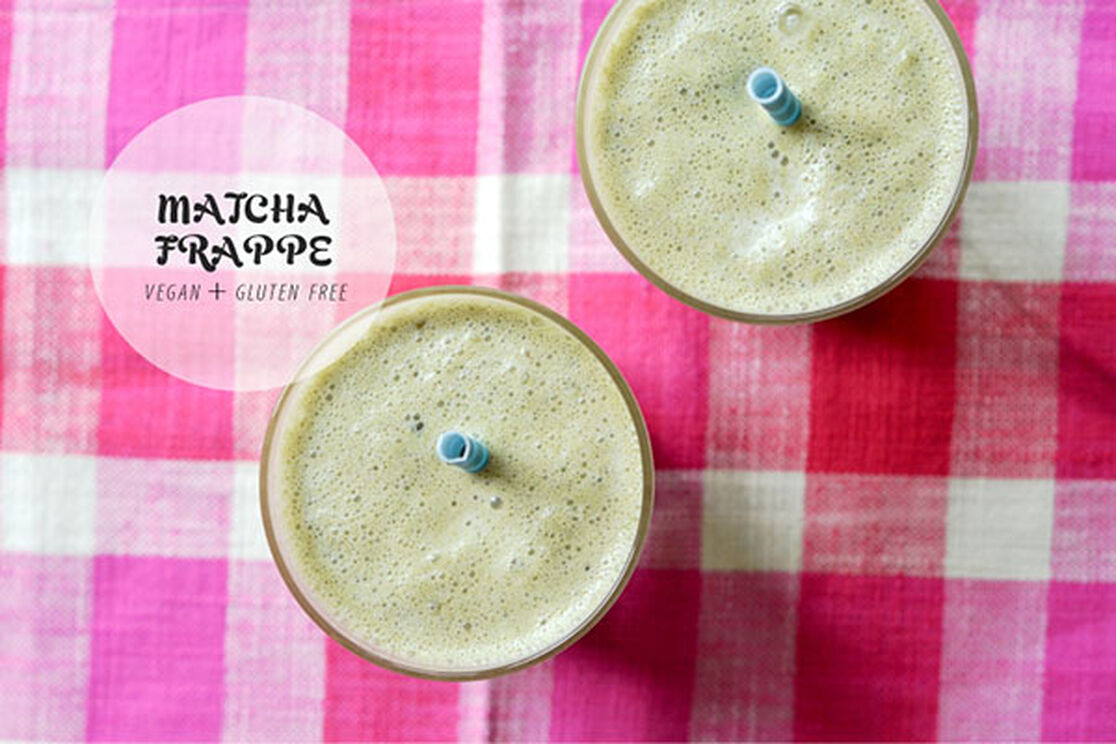 Summertime means I'm sweaty and thirsty all day long and can't quite beat the heat. I'm constantly looking for something icy cold to sip on. But of course, I don't want to grab a soda, iced coffee, or sugary lemonade all the time. So, when water just doesn't do the trick, I go for an iced superfood beverage.
Today I'm sharing the first of my three favorites with you: Dairy-free Matcha Frappe
It's icy. It's refreshing. And it's full of the wonderful health benefits of matcha green tea. Plus, when you make it yourself, you end up spending much less than you would at your neighborhood coffee shop.
MATCHA FRAPPE
yields: about 2 / 8 oz servings
Ingredients
1/2 cup almonds, soaked overnight + water drained
4 cups purified water
1 teaspoon vanilla extract or 1/4 vanilla bean seeds
1 tablespoon sweetener of choice (try agave, maple syrup, or coconut sugar)
1 tablespoon organic matcha green tea powder
1 tablespoon of sweetener of choice (I prefer xylitol in this recipe)
Handful of ice (about 8 cubes)
Instructions
In a high speed blender, blend the first four ingredients on high for 45 seconds. Strain through a super fine mesh strainer or cheese cloth or nut milk bag.You now have homemade vanilla almond milk.

Pour 12 ounces of the strained liquid back into a high speed blender and blend with the matcha, sweetener, and ice on high for 30 seconds or until ice is thoroughly blended. You should now have what looks like a green frappuccino. Try it and if it's not sweet enough for you, add a little more sweetener.

Store remaining almond milk in refrigerator and use on top of cereal or drink it by itself.
Note: The taste of matcha is strong and vegetal - some people would say grassy. This will also of course depend on the quality and source that you use. The tea used to make matcha tea is important; there are many cheaper imitations that use low-grade tea, so it's important to choose a high quality version.
~Juli, PURE Mamas
Juli Novotny Goddard is an avid "green" chef, entrepreneur, mom of three kids, and follower of a plant-heavy diet. Juli joined the food industry in 2004 when she founded a gluten-free vegan food company. For more of her healthy recipes check out her food blog: PUREmamas.com and Instagram.
We aim to provide you with the most honest and credible information possible. This article was reviewed for accuracy by The Honest Team and was written based on trusted sources that are linked at the bottom of the article.
blog_review_statement