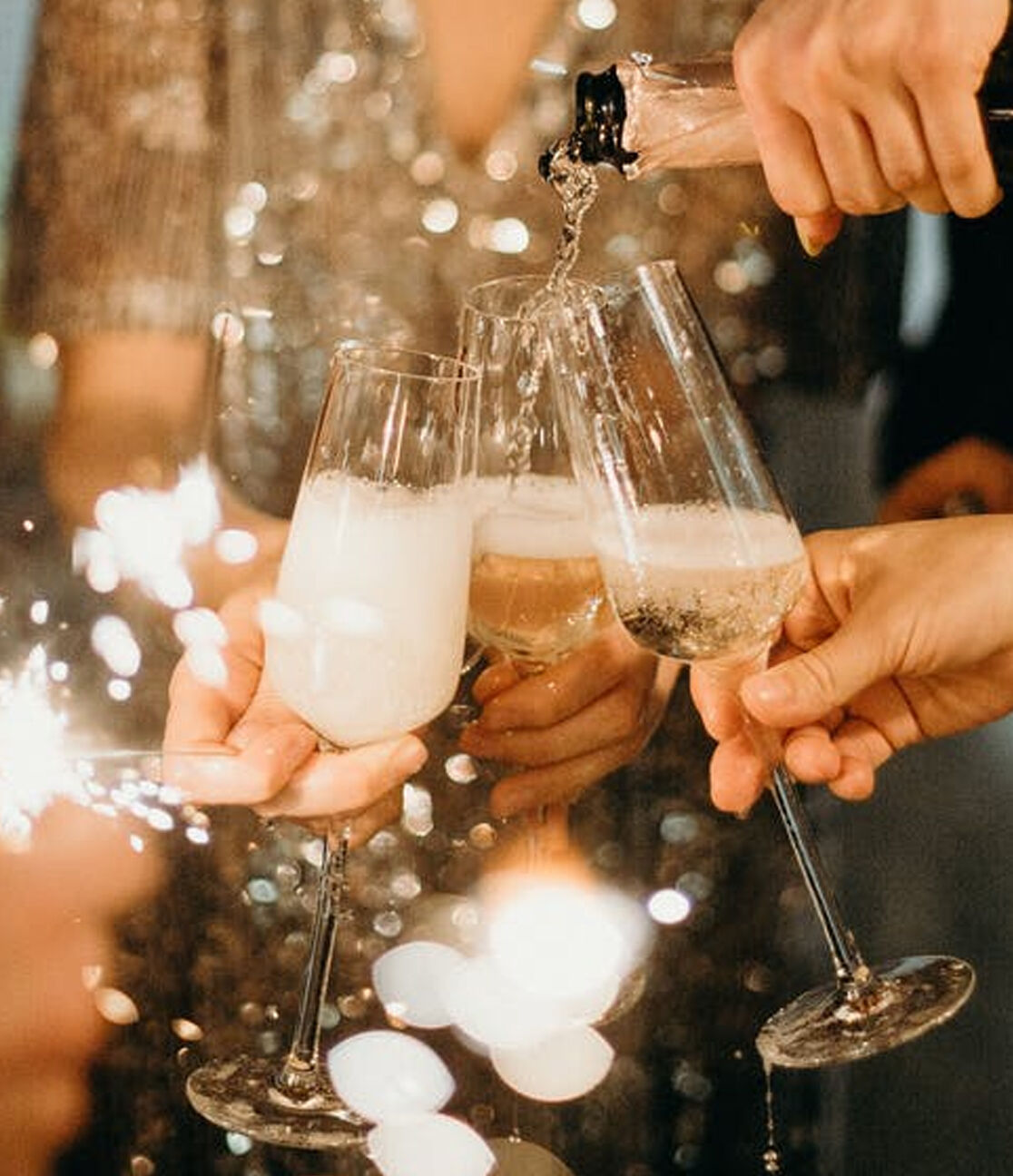 Image by https://www.pexels.com/photo/person-pouring-champagne-on-champagne-flutes-3171770/
Celebrations matter deeply to humans. They allow us to mark milestones, feel good about our accomplishments, and share holiday joy with each other. Traditionally, however, celebrations have been saved for major holidays and life events, like graduations, anniversaries, New Year's Eve, Thanksgiving, and birthdays.
Well, not anymore.
Say goodbye to waiting for formulaic events and routine holidays to celebrate. It's time to welcome a new way of partying with your family and friends. We're talking about altbashes.
For all those important but underappreciated moments in your life, altbashes are an opportunity for you to frolic, revel, and mark a turning point. If you're intrigued, read on as we break down 8 moments you can celebrate with an altbash.
#1. A Breakup Bash
Breakups are hard, whether they're a divorce, the end of a long-term romance, or the disappointing (everyone-saw-it-coming) cooling of a Tinder hookup. However, a Breakup Bash themed party is a great way to wave farewell to one chapter and welcome a new life status.
Although the heartache might still be fresh, you can add humor and levity to the situation by planning a celebration that focuses on fresh beginnings rather than faults and bitter endings.
Some fun ways to hold a breakup bash are:
Grabbing dinner and going bar-hopping with your best pals.
Having a spa day at home or at a luxurious hotel complete with massages, pedicures, and a gourmet lunch.
Hosting a divorce movie marathon with popcorn, candy, and The War of The Roses on repeat.
Going on a "Destination Divorce" to Vegas or Cozumel with a bestie or two (some resorts even offer divorce party packages and discounts).
Holding a craft and wine event where you either paint, sculpt, or create jewelry with friends. You can either spearhead the craftiness, hire an artist to lead a portion of the evening or book a reservation at a studio that hosts such events routinely.
#2. New Lease on Life Hoopla
With homeownership out of reach for many young people, it's time for Housewarming parties to become Leasewarming celebrations! Invite your friends and family over when you rent your next place, and (if your lease allows it) don't be afraid to hand them:
Paint and a paintbrush to freshen your new walls
Stick-on and removable tiles for the bathroom, kitchen walls, and counters
Hammer, nails, and a level to get your artwork or floating shelves looking good
No matter what your guests do to help you move in, this party idea can reward them with a tasty meal, cold drinks, and music (but not too loud…yet).
You can also hold this type of celebration when a roommate moves out. Even if it was an amicable move-out, you're probably going to be down a few household items. So, invite your pals over for a home cooked meal and ask them to contribute odds and ends to your "Newly Single Leaseholder" fund.
#3. Empty Nest Soirée
They're sort of like roommates—albeit deadbeat roommates who never clean the sink and leave dirty clothes all over.
It's totally ok (and even super healthy) to celebrate your newly empty nest when your youngest child moves out. Some empty nest party theme ideas that are sure to make your soirée sing are:
Feather Your Nest – Get as many party decorations as your heart desires. Decorate with birds, nests, and branches, all of which are easy to find at your local hobby shop. Think centerpieces and front-door wreaths. You can even do a bird-and-nest-themed invitation to set the tone.
Stay Up Late – Just because your kids have flown the nest doesn't mean you're ready for the Early Bird Special and sunset bedtimes. Stay up late, have a few drinks, and don't be afraid to get a little silly. Basically, party like no teenagers are watching.
#4. Pet Adoption Party
Got a new canine companion? A new feline friend? Invite your human pals (and their furry friends) over to celebrate this life-changing moment.
Also called a pupper-shower, these get-togethers can be a fun opportunity for your more experienced animal-owning pals to share their advice and favorite toys with you and your new pet. This is also a great opportunity to socialize your new pet.
However, there are a few considerations you should keep in mind:
Hold off on hosting a pupper shower or kitty welcoming until your pet is fully vaccinated and their immune system is firing at full capacity. Check with your veterinarian for an exact timeline.
Keep your guest list small to avoid stressing or overtaxing your furry friend.
If you're allowing your guests to bring their pets, have plenty of hand sanitizer, poo bags, pee-pads, wipes, and a secure enclosure in place before everyone arrives.
If you're serving food, avoid those that can be toxic to pets (because somebody is sure to swipe from the table). This includes:
Avocado
Chocolate
Grapes and raisins
Additionally, check your yard for any plants that can cause pet poisoning and secure them away from your pet, guests, and pet guests. These include:
Aloe vera
Hydrangea flowers and leaves
Oleander flowers and leaves
Ficus
Daffodils bulbs
#5. Student Loan Payoff Shindig
The day you pay off your student loans is certainly a day to celebrate! For this event theme, you can throw around some money (Monopoly, obviously) and pop the champagne (the kind from the corner store) because you have triumphed.
This exciting altbash can also be used for when you've finished paying off:
Car loans
Mortgages
Credit cards
Personal loans
#6. Zodiac Fête
Are you feeling stuck? Maybe even feeling like you're moving backward? Did you check your horoscope and get an ominous feeling? If so, maybe take a look at the heavens. While most people don't ascribe much meaning to the concept of Mercury retrograde, the idea that the planets and stars determine our fates remains pervasively and persistently omnipresent.
So don't fight the feelings, babe! We have just the thing for knocking you out of your rut—a 1970's themed Zodiac altbash.
Celebrate the sky (whether it's Mercury, Saturn, or Jupiter retrograde) with a fun Zodiac altbash. You can decorate your Zodiac party with things like:
Disco balls
Blacklights
Zodiac crowns for guests
Foil stars everywhere
Led-lit balloons
You can also modify this altbash to celebrate seasonal turning points like:
Summer and Winter solstice
Spring and Fall equinox
First day of summer
#7. Boohoo or Woohoo Bash
The first day of the school year is often fraught with high emotions—crying, trembling, heads buried in pillows. And that's not just the students! Parents can often feel devastated (or elated, or both!) on the first day of their child's new school year.
While Boo might remind you of a Halloween party, a Boohoo/Woohoo Bash is actually a longstanding tradition where parents come together after the first school dropoff of the year for a cup of coffee, a flute of champagne, or a little dose of camaraderie. Hosting a breakfast bash for your pals on the first day of school is not only great fun for everyone, but it can also help you process your emotions after spending all summer with your kiddos.
Some fun party ideas are:
Coffee bar
OJ and champagne
Donuts or mini-pastries
Little packs of tissues as a party favor for Boohoo-ers
Party poppers or little plastic kazoos as a party favor for Woohoo-ers
#8. Happy Half-Birthday
Does your birthday fall near a major holiday, like Christmas, New Years Eve, the Fourth of July, or Easter?
While curating your Pinterest board with Easter dessert ideas and putting together Easter basket ideas for kids is a blast, it can be a bummer to try to celebrate your annual trip around the sun if you're always competing with a major event or holiday. One fun altbash way to get around this is to skip your actual birthday altogether and, instead, throw a half-birthday party.
Your half-birthday is the day that's exactly 6 months after your actual birthday. So, for example, if your birthday is December 20th, your half-birthday is June 20th.
Some fun ideas for hosting a half-birthday party are:
Serving half of a cake or having a different decoration theme on two sides of the cake
Serving half of a pizza or getting half of one pizza topping and half of another
Getting number "1" and number "2" balloons, no matter your age
When it Comes to Celebrating, Think Outside of The Box with Honest
When it comes to altbashes, the sky's the limit. You can celebrate significant, life-changing events (like a divorce) or small yet momentous accomplishments (like paying off a credit card), and anything in between. No matter what the occasion is, the point is to celebrate you.
At Honest, we understand the value of self care practices, celebrating all of your milestones, accomplishments, and special moments and the importance of coming together with loved ones to do so. And we want to help you do that. To make the most out of your next altbash, shop our collection of clean, high-quality skincare and makeup products.
Get that dewy skin glow to celebrate your newly single lifestyle or get dolled up for a Zodiac party. No matter the occasion or party idea, we have products you can feel good about using—for every moment of your life.
And when you're celebrating your friends, shop our gift sets. From our Evening Spa Routine Kit to our Ultimate Relaxation Kit, you can help your pals through any life changes by choosing Honest.
Sources:
Bahney, A. (2021, July 13). Many homebuyers are dropping out of the market. CNN. Retrieved April 15, 2022, from https://www.cnn.com/2021/07/12/homes/us-real-estate-market-not-buying-a-home-now-feseries/index.html
BBC. (n.d.). How dressing up can make us happy. BBC Culture. Retrieved April 15, 2022, from https://www.bbc.com/culture/article/20201127-how-dressing-up-can-make-us-happy
Cut, the. (2022, January 14). Everything to know about Mercury Retrograde. The Cut. Retrieved April 15, 2022, from https://www.thecut.com/article/mercury-retrograde.html
We aim to provide you with the most honest and credible information possible. This article was reviewed for accuracy by The Honest Team and was written based on trusted sources that are linked at the bottom of the article.
blog_review_statement