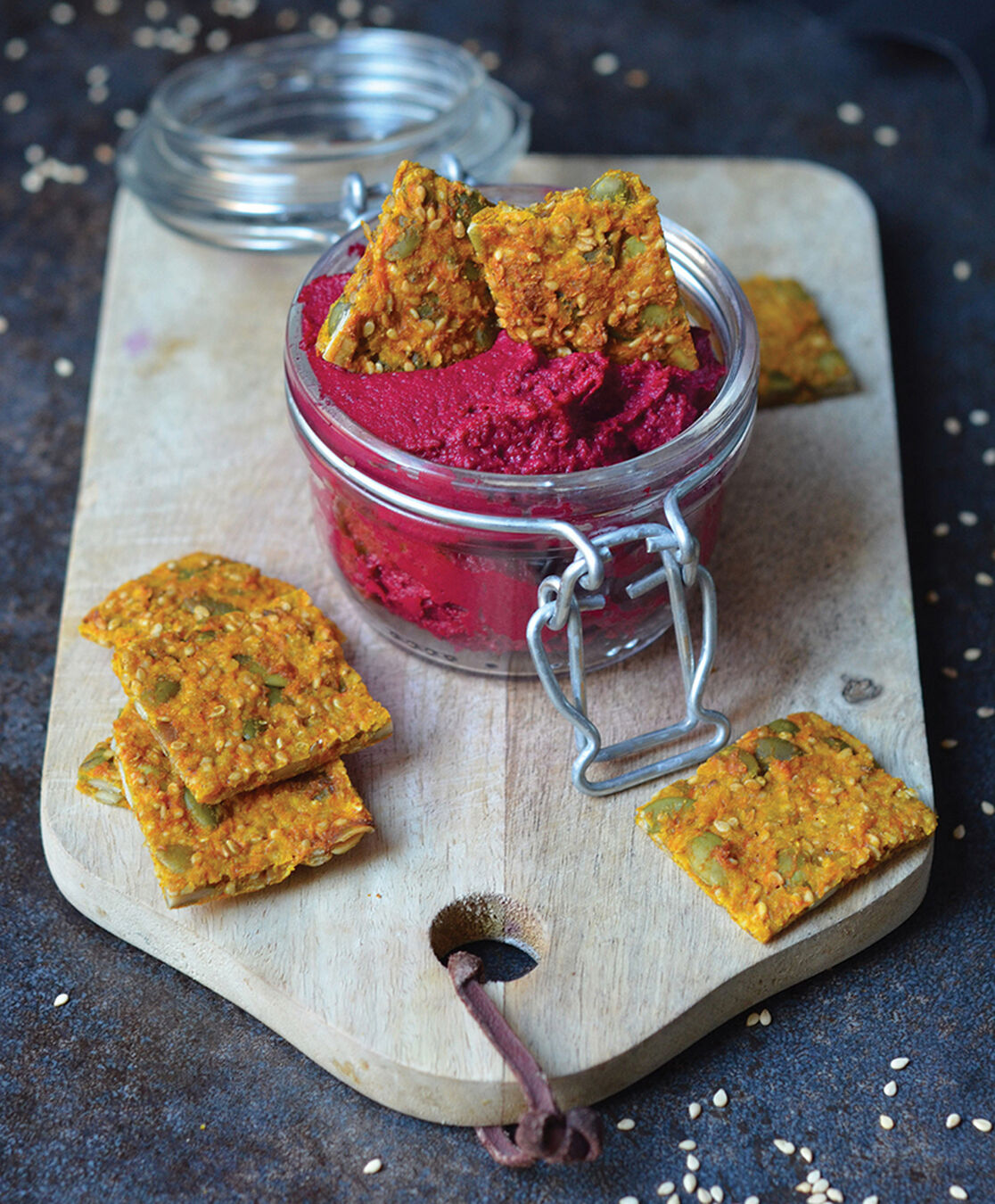 The ladies behind There's a Beetroot in my Cake are back with a brand new cookbook — There's a Carrot in my Piñata — full of happy, sparkly and nourishing whole foods for little people's parties. Today we're thrilled to share a delightful hummus and cracker snack that's perfect for the holiday season! Give it a whirl and be sure to check back for more fun, family-friendly favorites coming to the blog in the next few months.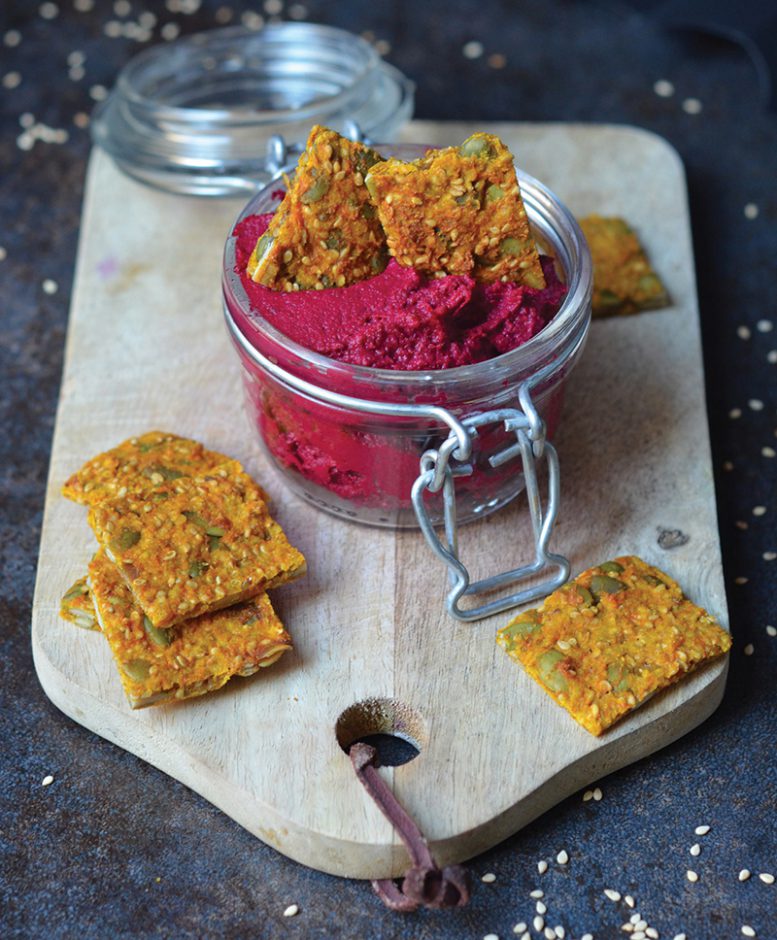 The nutrient-packed beet gives this amazing hummus its fun flavor and color! When paired with  these pumpkin crisps — full of nuts, seeds and fresh pumpkin — this super snack packs a powerful punch of essential vitamins, minerals and fats. It's perfect for the holiday season, but feel free to enjoy all year long.
BEET HUMMUS
Makes 1⅓ cups
Ingredients
2 ¼ cups baby beets, roasted (~3 small beets)
1 cup chickpeas, cooked
Juice of one half lemon
1 garlic, crushed
3 tablespoon tahini
1 teaspoon cumin
Salt and pepper
¼ cup olive oil
Instructions
Preheat oven to 180 C.

Line a tray with parchment paper and lay out beetroot (without skins). Drizzle with olive oil and roast for 20 - 25 minutes or until soft. Set aside to cool.

In a high-speed food processor combine all ingredients (except olive oil) until you have a smooth paste. Lastly slowly drizzle oil into dip, mix again and season to taste.

Will keep in the fridge for up to one week.
PUMPKIN CRISP BREAD
Makes twenty-four small squares
Ingredients
⅔ cups pumpkin, steamed and mashed
equates to one large wedge of a medium pumpkin
¾ cup rolled quinoa
½ cup pumpkin seeds
¼ cup sesame seeds
1 egg
½ tsp salt
Instructions
Preheat oven to 170 C.

Line a tray with parchment paper.

Combine all ingredients in a bowl. Place the dough onto baking paper and spread out evenly and as thin as possible using the back of a spoon.

Bake in the oven for 20 - 25 minutes.

Cut into squares straight after taking the bread out of the oven and allow to cool before eating.
~Judy Moosmueller & Jennifer Leckey, There's a Beetroot in my Cake
There's a Beetroot in my Cake presents everyday dishes that are stripped back, free from artificial ingredients, and turned into delicious healthy alternatives. Family favorites with a twist.
We aim to provide you with the most honest and credible information possible. This article was reviewed for accuracy by The Honest Team and was written based on trusted sources that are linked at the bottom of the article.
blog_review_statement