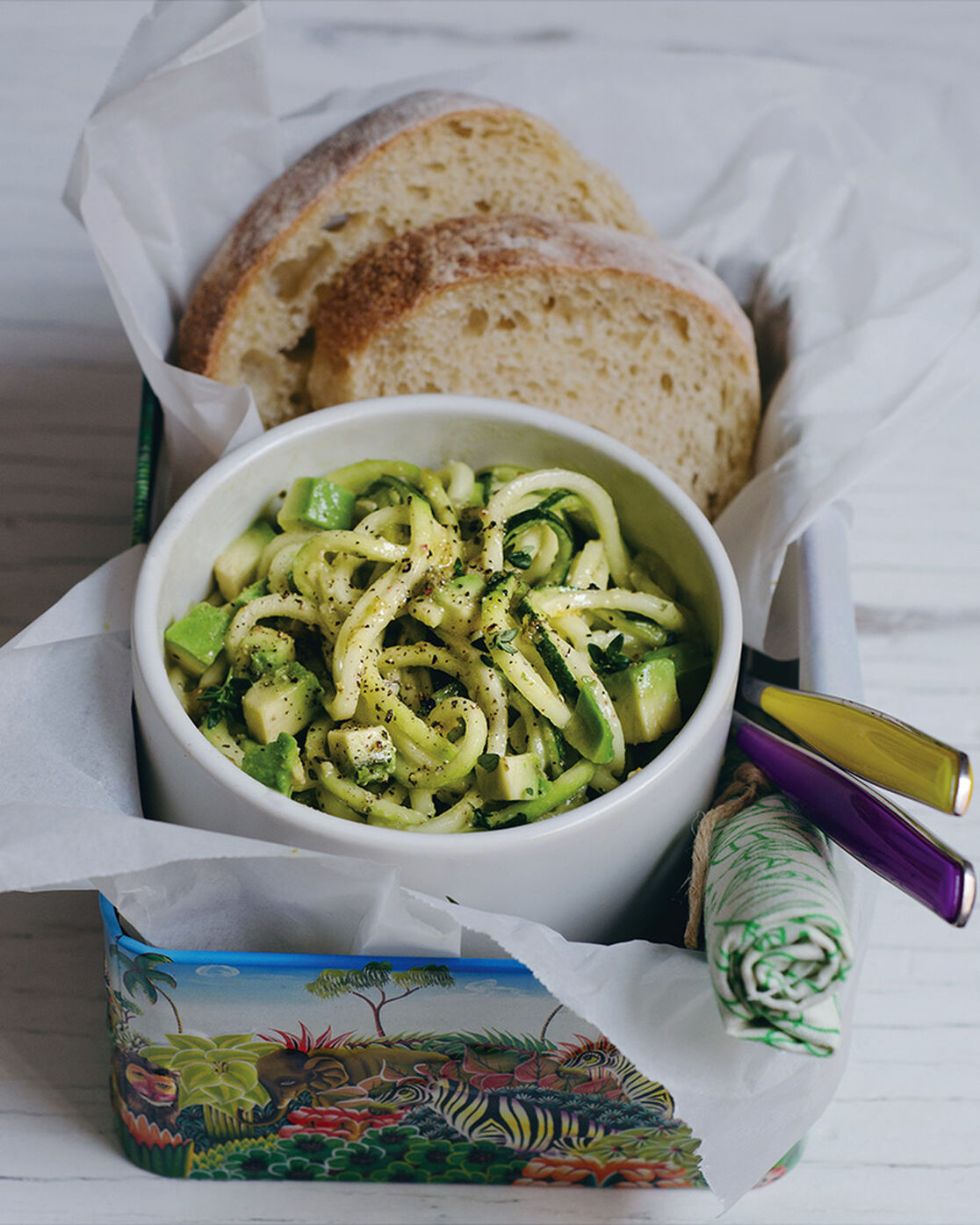 The whole fam with flip for this fresh spin on spaghetti! Our friends from Heart to Plate have so kindly shared another crowd pleaser from their debut cookbook. It works especially well as a quick dinner or a leftover based lunch.
Let's talk spaghetti. Synonymous with fun and, of course, a little mess. But this one is a definite mommy-approved-let's-make-a-mess dish because it's entirely made of a magical vegetable – the zucchini.
This Doppelgänger-pasta won't disappoint as it has all the same great flavor and fork-twirling fun.
AVOCADO SPAGHETTI
Vegan, gluten-free
Ingredients
Noodles
2 large zucchini, spiralized
1 tbsp olive oil
2 ripe avocados
Pesto
1 cup fresh basil leaves (stems removed)
2 cloves garlic
¼ cup pine nuts
¼ cup olive oil
2 tbsp lemon juice
Salt and pepper
Instructions
Spiralize the zucchini and set aside.

In a food processor, add avocados and pesto ingredients and mix until creamy.

Drizzle olive oil in a large skillet over medium heat, add zucchini and cook for 1 to 2 minutes or until tender. (You can also skip this step and serve the noodles raw).

Add zucchini in a large bowl and toss with avocado pesto. Serve warm.
Honest Tip: Zucchini noodles also taste great in soup!
~Judy Moosmueller & Jennifer Leckey, There's a Beetroot in my Cake
There's a Beetroot in my Cake presents everyday dishes that are stripped back, free from artificial ingredients, and turned into delicious healthy alternatives. Family favourites with a twist.
We aim to provide you with the most honest and credible information possible. This article was reviewed for accuracy by The Honest Team and was written based on trusted sources that are linked at the bottom of the article.
blog_review_statement