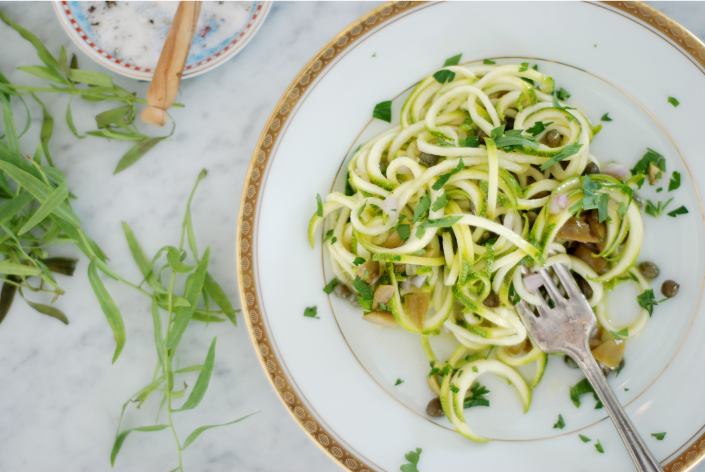 I have been obsessing over zucchini noodles since the beginning of Spring. I add tomatoes and olive oil. Maybe some Parmesan cheese or creamy cashew cheese sauce. Better yet, pesto and toasted nuts! It's just a wonderful, pretty, and gourmet way of eating your veggies.
Today, I'm sharing with you a very unique way of enjoying your zucchini noodles. This dish was inspired by my love for olives and tapenade. Imagine the flavor of olives and zesty capers with a dash of vinegar and a touch of sweetness.
I love this dish for its versatility. It can be a clean, dairy- and meat-free dish—great for Meatless Monday. I also like it for lunch because it's light. But simply add some fresh, raw-milk Parmesan cheese and you've got yourself dinner!  If you're a meat eater, this makes a wonderful side dish to your free range BBQ chicken and a glass of rosé.
No matter how the noodles are enjoyed, they're full of flavor, healthy fats, and raw vegetable enzymes and nutrients.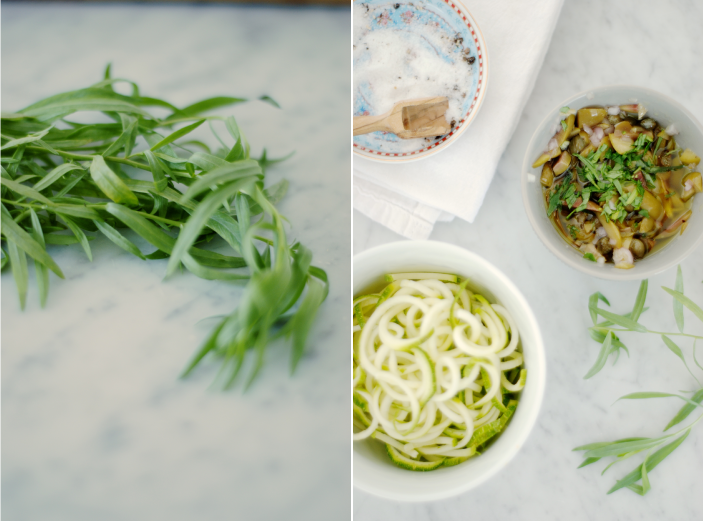 Ingredients (use organic options when possible)
Olive & Caper Tapenade
7 organic green olives, pitted and sliced into chunks

1 - 2 Tbsp capers

2 Tbsp organic olive oil

2 tsp vinegar - I used ume plum vinegar

1 tsp sweetener - I used ginger flavored

1 Tbsp shallots, finely chopped

1 Tbsp fresh tarragon, finely chopped

A pinch of sea salt and pepper
Noodles
2 raw organic zucchini, small or 1 large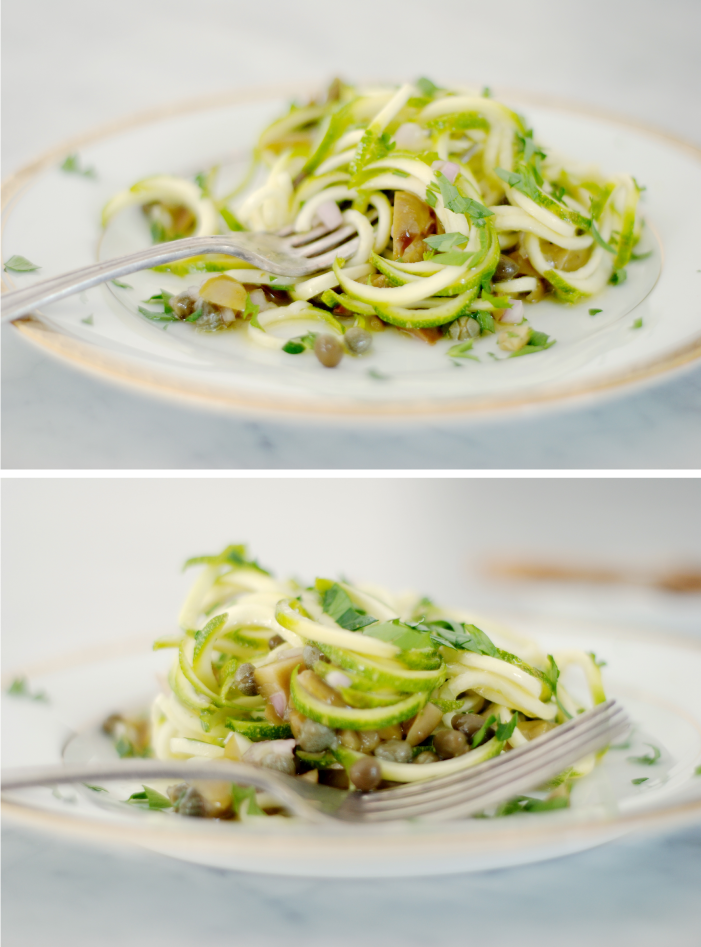 Directions
1. Using a spiral slicer or very sharp carrot peeler, you'll want to make long zucchini noodles that look like spaghetti pasta (as shown in the photo). Set aside.
2. After you've chopped the shallots and olives, put all tapenade ingredients into a small bowl. Mix thoroughly with a fork or a whisk until everything is well combined.
3. When ready to eat, pour the tapenade over your zucchini noodles. Mix well until the noodles are fully coated. Serve immediately. You can store the tapenade and noodles in the fridge for a few days, but do NOT store them mixed together. You will want to store the noodles dry, separate from the tapenade.
4. Feel free to garnish with chopped tarragon.
5. Enjoy!
~ Juli Novotny of Pure Mamas
We aim to provide you with the most honest and credible information possible. This article was reviewed for accuracy by The Honest Team and was written based on trusted sources that are linked at the bottom of the article.
blog_review_statement