Learn how to design a wonderful space for your new baby, courtesy of our friends at Houzz.
Decorating the nursery is exciting — especially if you're a first-time parent. But, as with pregnancy and child rearing in general, everyone seems to have an opinion about how to approach it. Some loved ones may express disbelief that you've chosen a gender-neutral color scheme, and others that you're passing up a crib that's considered a family heirloom.
Regardless of what you choose for the room, the important thing to remember is that it's your choice. And as with all the choices you make as a parent, you'll want that choice to be as well-informed as possible. With that in mind, interior designer and mom Elizabeth Lawson and child safety expert Anne Marie Radel of Safer Baby offer tips on how to build a beautiful, safe bedroom for your baby.
8 Tips for Creating a Safe and Cozy Nursery
[caption id="attachment_20626" align="aligncenter" width="500"]
Andrew Snow Photography[/caption]
1. Choose a crib that grows with your child. "The crib that will give you the most bang for your buck is one where you can simply remove one side to have it transition to a toddler bed," says Lawson.
Many cribs can be adapted with a toddler rail that keeps small children from rolling out of bed but allows them to safely head to the bathroom at night without climbing over a dangerously high crib rail.
Lawson also chooses cribs that have at least two adjustable mattress heights. "This is important as baby begins to pull up and stand," she says.
She also seeks out nontoxic paints and materials. "My son began chewing on the side of his crib around 1 year, so it was extremely important that the paint and materials be safe," Lawson says. "If you have any questions, be sure to call the manufacturer. They are usually extremely helpful and informative."
[caption id="attachment_20627" align="aligncenter" width="500"]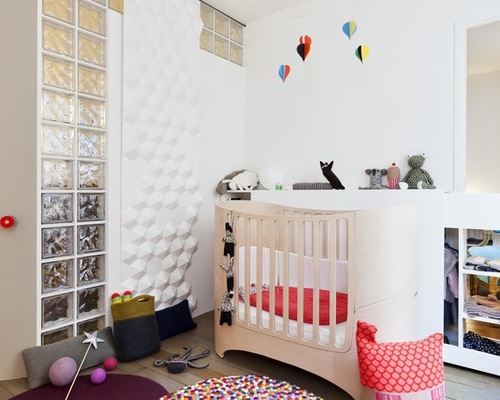 A-SH[/caption]
2. Place your crib properly. Radel warns that where you put your baby's crib is just as important as which crib you choose. She recommends placing the crib away from windows or anything with glass, especially in earthquake-prone areas.
Of course, not everyone has a nursery that's large enough to keep the crib entirely clear of windows. In that case it's the window treatments you'll need to look out for. "Make sure the baby can't reach any of the corners and drag them into the crib," Radel says.
Also, "hanging anything over the crib unless you're firmly attaching it to the wall is probably not a good thing," Radel says.
3. Create a cozy nursing nook. Whether you nurse, bottle feed or combine the two, you'll need a comfortable place for nourishing your sweet pea during late-night feedings.
"I prefer a glider and ottoman for the nursery for both myself and my clients," Lawson says. "I always choose a glider that doesn't look like a nursery glider. I prefer a skirted version that hides the mechanism underneath. This way the chair can easily transition to another room in the house."
She also prefers slipcovered gliders with covers that can be easily cleaned. "Believe it or not, white cotton is the most practical, " Lawson says.
[caption id="attachment_20628" align="aligncenter" width="500"]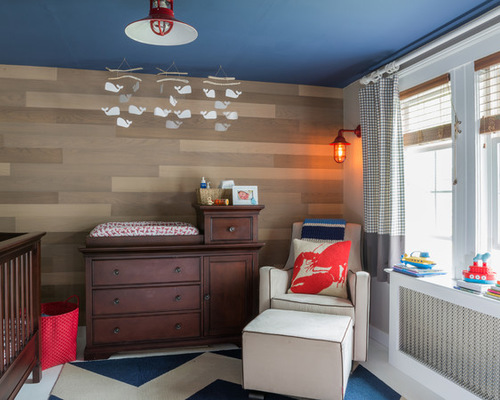 Beth Bourque Design Studio[/caption]
4. Keep changing easy. Lawson prefers not to use a regular dresser as a changing table, as she worries that an energetic toddler might wiggle off. "There are so many changing tables on the market now whose edges you can remove to later convert to a standard dresser," she says.
Lawson also likes to add dividers to the top drawer to keep diapers, wipes and other changing accessories organized. "Ikea sells some great dividers at a great price point," she says.
5. Choose a soft floor covering. Lawson stresses the importance of a rug's texture, as the rug will likely become a play area.
"Wool is actually extremely durable and cleans easily. Choosing a lower pile will up the cleanability factor," she says. "I also like to scatter a few sheepskins about to make for an even softer surface."
[caption id="attachment_20629" align="aligncenter" width="500"] Frances Herrera Interior Design[/caption]
6. Light your nursery for night. Baby may be wide awake and screaming at 3 a.m., but chances are, you'll be exhausted and hoping to soothe your little one back to sleep soon.
Lawson prefers soft lighting on a dimmer to avoid jarring both of you even more awake."In addition to an overhead light on a dimmer, I like to add at least one table or floor lamp for additional ambient light," she says.
7. Mount mobiles properly."Make sure that the mobile is out of the reach of the baby," Radel says. "If the hook that holds on to the mobile snaps, that's a choking hazard."
Radel recommends lowering the crib mattress to keep crib-mounted mobiles out of reach, or mounting the mobile to the ceiling above the crib, making sure the hook is attached securely to a stud.
"It makes more of a statement and frees up your options for a mobile that may not necessarily be a nursery mobile," Lawson says. "Look for anything that can hang safely over the crib and would be eye catching for baby."
[caption id="attachment_20630" align="aligncenter" width="500"]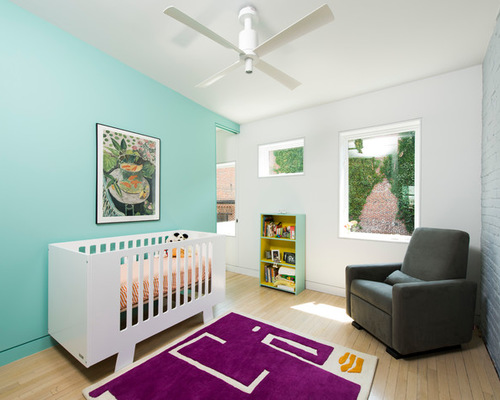 E/L Studio[/caption]
8. Consider not having a theme. Though themes are fun and can make the gift registry process easier, you don't need to go all-out to make the room feel cohesive. "I personally prefer nurseries without an obvious theme," Lawson says. "I like to focus on a strong overall color scheme and then add a theme through accessories such as stuffed animals, books etc." These things can all be easily changed as baby grows.
Of course, if you want to deck your room in fuzzy ducklings or entirely in pink, go for it! Only you know what will be most comfortable for you and your baby.
~Christine Tusher, Houzz
Houzz is a platform for home remodeling and design, bringing homeowners and home professionals together in a uniquely visual community.
For more nursery inspiration, check out these other links from Houzz!
Find an Adjustable and Adaptable Crib
Fresh Starts: Stripes and Style in a Flexible Nursery