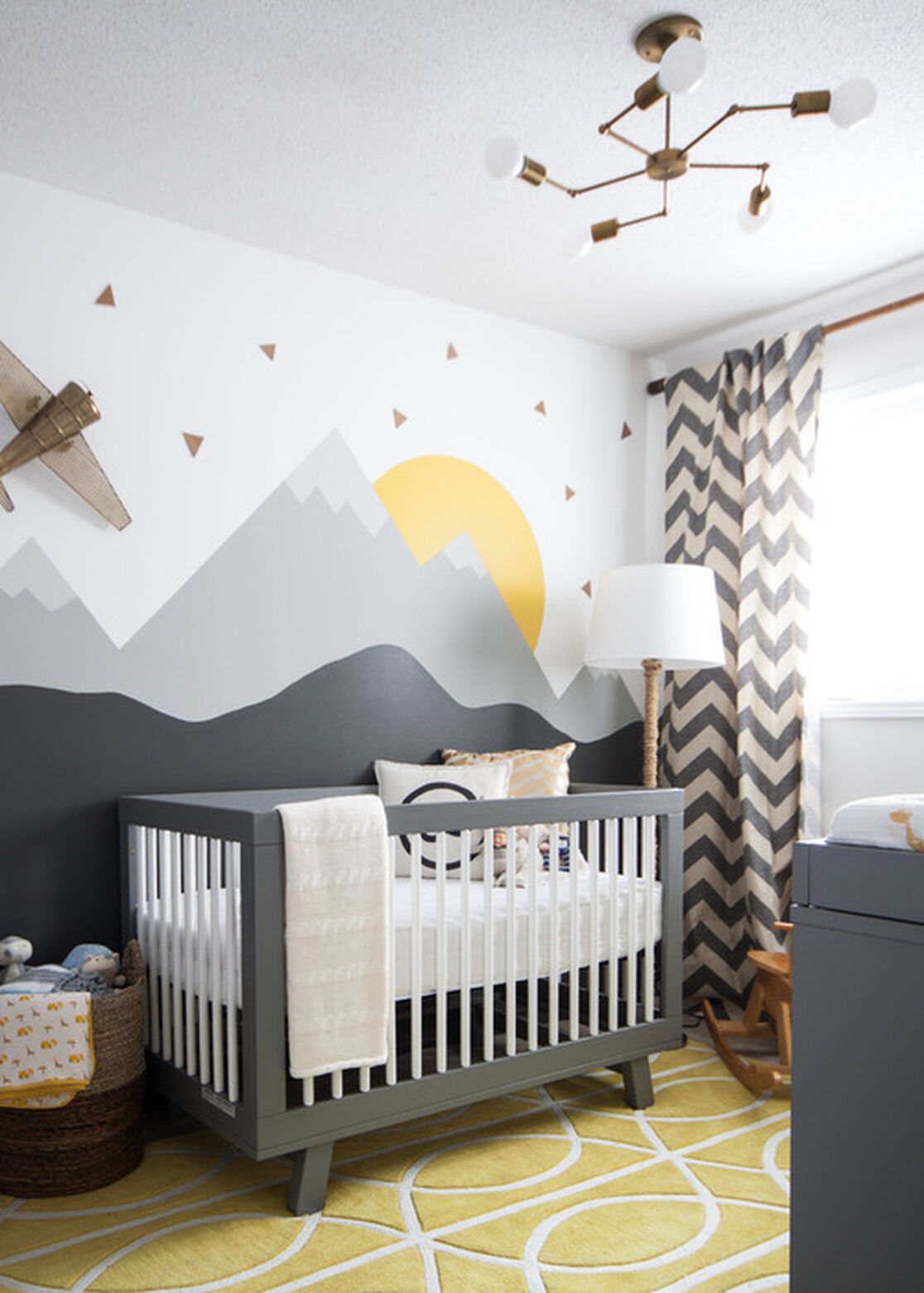 Our friends at Houzz are here to share their top nursery tips! A neutral palette, convertible furniture and classic patterns mean you won't have to redecorate for the phases of childhood.
When I get to design and decorate a nursery, I get excited. No other room in the house can take on such whimsy and youthfulness. But it can also make clients uneasy. After all, babies grow into toddlers in a flash, so why spend money on something you'll just have to change in a couple of years? That's why when I brainstorm a design for a nursery, I think about the phases ahead and how I can ensure the room will grow with them.
I also often ask clients to consider the space not only for the baby, but for themselves. I believe the baby's room is for adults to enjoy as well. It's a space baby and parents use together in the first year or two of the child's life — think late-night feedings or afternoon play times. Designing a nursery with equal parts baby and adult decor means you can have a nursery that lives beyond the infancy stage, through the toddler years and even into the tweens. Here are five tips for creating a flexible, long-lasting room for your child.
[caption id="attachment_20137" align="aligncenter" width="500"] Leclair Decor[/caption]
1. Choose a neutral color palette.Often when people consider which colors to use in a nursery, they think of pastels. But long gone are the days when nurseries could be only soft blues, pinks, greens and yellows. Today, regardless of the sex of the child, consider using neutrals. In this example, the main colors are variations of gray layered with the freshness of white and yellow. The room is gender-neutral and not too baby-like.
[caption id="attachment_20138" align="aligncenter" width="500"]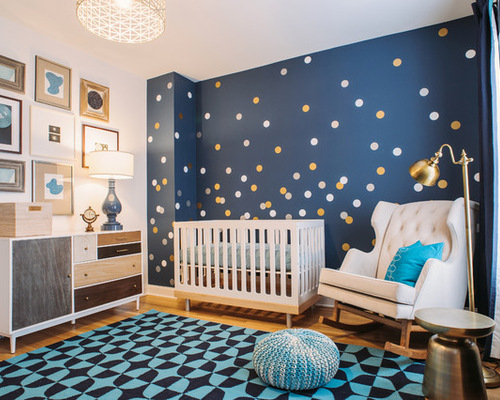 SuzAnn Kletzien Design[/caption]
2. Purchase furniture they'll grow into. Luckily, furniture manufacturers are creating convertible furniture that will grow with your child. Cribs now turn into toddler beds and changing tables convert into dressers. If you're buying new furniture, consider a line that will allow you to change its function. This will not only save you a bundle, but will match your decor and room longer. Also note that many gliders and recliners can be turned into a standard armchair when the mechanisms are removed.
[caption id="attachment_20139" align="aligncenter" width="500"]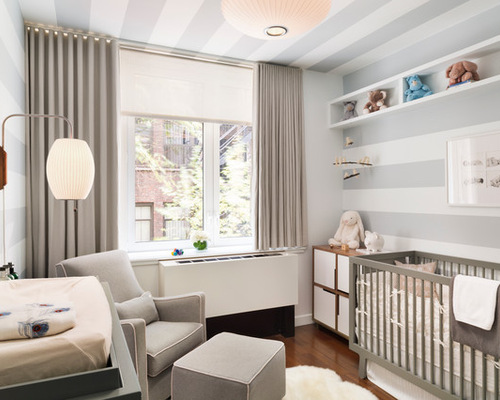 m monroe design[/caption]
3. Use classic and timeless patterns. When choosing the style for a nursery, consider patterns that will last. Stripes, chevrons, polka dots and natural flora and fauna are motifs with staying power.
[caption id="attachment_20140" align="aligncenter" width="500"]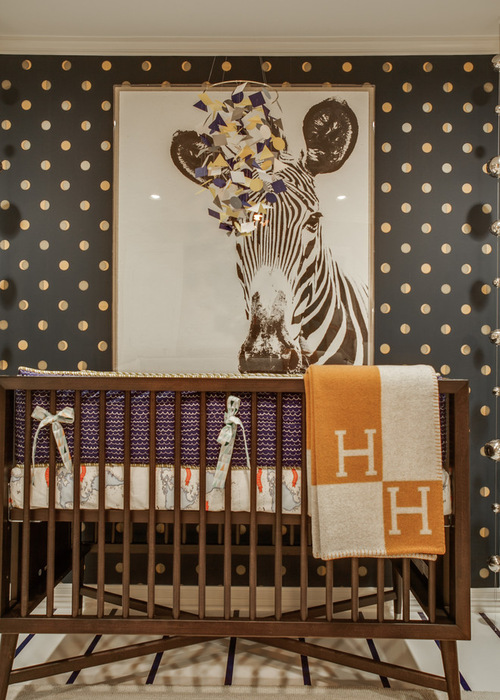 Turnstyle Design[/caption]
4. Choose interesting art.Stimulate the child and space with statement art. Large prints or photographs will help the nursery have a childlike feel without being cluttered. Center a piece above the crib or over the dresser.
[caption id="attachment_20141" align="aligncenter" width="500"]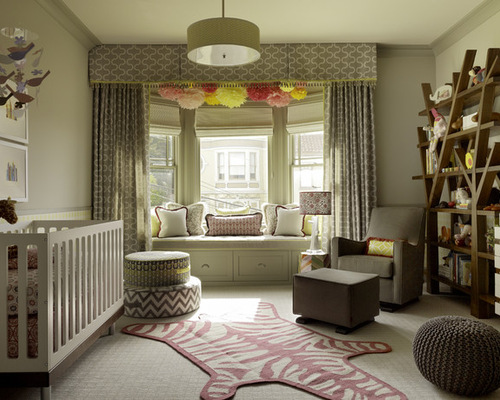 Jeffers Design Group[/caption]
5. Have fun with small baby-centric accessories. I don't want to take away all the fun in decorating a child's nursery, so don't forget that the smaller items can be very whimsical and sweet. Add accessories like stuffed animals, toy baskets and rockers that can easily be swapped out as the child ages.
~Krista Salter, Houzz
Houzz is a platform for home remodeling and design, bringing homeowners and home professionals together in a uniquely visual community. 
For more nursery inspo, check out some other ideas from Houzz below!
Find the Perfect Crib for Your Dream Nursery
8 Tips for Creating a Safe and Cozy Nursery
We aim to provide you with the most honest and credible information possible. This article was reviewed for accuracy by The Honest Team and was written based on trusted sources that are linked at the bottom of the article.
blog_review_statement