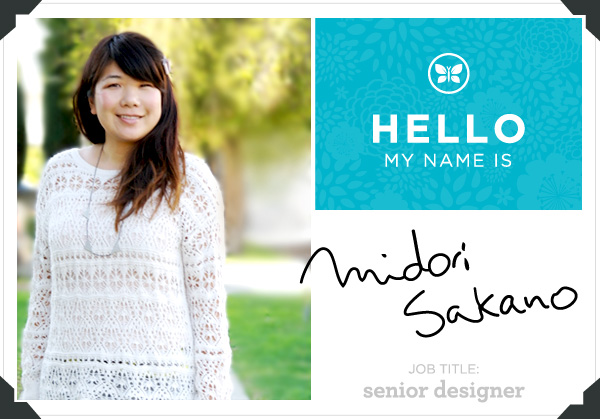 Describe a day in your life at Honest.
I arrive at our office in my Prius after hitting traffic and, first things first, make a latté served in my Pantone mug or Creature Cup to really wake up. Then I design, design, design! I break for lunch to soak up sunshine or I chat with wonderful co-workers on my way to get a Kombucha (an office favorite!). When I'm back at work, I try to catch up with great new music on Spotify. It inspires creativity, right?!
What do you love most about designing the Honest Web site & packaging?
It was my dream to work for company like Honest. I've always been into the eco movement and beautiful packaging. I love the fact that our diapers are different and fashionable. I even want to wear them! I also love the cooperative process that goes into developing innovative designs—it's a fun challenge to visually represent everyone's ideas.
What inspires your designs?
Fashion, art, and traveling. I've always loved fashion; it plays a big roll in my designs. I come up with new product color schemes by trying to coordinate fun outfits. And, now, Honest diapers inspire my fashion! I bought shoes with skulls on the back. ;)
Traveling is also a great source of inspiration. Recently, I went home to Japan and looked to the very beautiful packaging in stores and collected a lot of different Japanese papers and postcards. I also loved visiting London and Paris. The street art there was amazing!
And visiting national parks to take in beautiful nature and inhale tasty, clean air clears my head and provides great motivation.
What is your favorite Honest creation?
An upcoming new diaper design! I can't reveal it yet...!
What's your most memorable "Honest" moment at work?
When I first saw the promotional video about Honest featuring Jessica and Christopher. I almost cried. It made me realize that I am working for something special. And, of course, the Web site launch on January 17th!

We aim to provide you with the most honest and credible information possible. This article was reviewed for accuracy by The Honest Team and was written based on trusted sources that are linked at the bottom of the article.
blog_review_statement