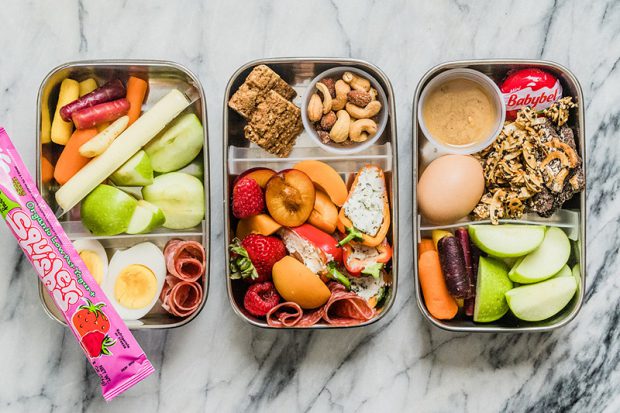 The kids are back in school and trying to deal with settling into their fall routines, but what they don't know is that we are struggling just as hard to get back into our carpooling, lunch-packing, homework-monitoring routines. Among all the battles fought and chosen during this time of transition, there's one we don't want to take off our (literal) plate: healthy eating habits. So, our friend Dzung from Honeysuckle clued us into some seriously sanity-saving lunch box ideas to help give us all one less thing to worry about in the morning.
1) The Kiddie Box
A protein-packed lunch filled balanced with a bit of sweetness and kid-friendly additions like string cheese and yogurt.
What to pack:
A hard boiled egg
Salami slices
Sliced apples
Carrot sticks
String cheese
A yogurt tube
2) The Happy Hour Snack Pack
Perfect for recess or before soccer practice, this snack box is designed to keep kids full and energetic. The mini stuffed peppers are sure to become a healthy treat your kids actually ask for.
What to pack:
Mini bell peppers stuffed with herbed goat cheese
Salami slices
Apricots, raspberries, plum
Mixed nuts
An oat bar
3) Brain Food Box
Made to keep kids' brains pumping at school with plenty of calcium and some healthy fats, in this box kids can dip their apples in almond butter and pair soft cheese with the crunch of carrots (and what kid would say no to a little organic chocolate bark?).
What to pack:
Carrot sticks
Sliced apples
Almond butter
A hard boiled egg
Chocolate bark
Snackable cheese