I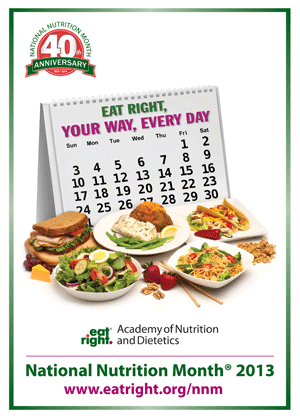 t's March and you know what that means!  Every year, since 1973, March has been designated as National Nutrition Month®. It started as a week-long event and became a month-long observance in 1980.  This year's theme is "Eat Right, Your Way, Every Day."
How exactly do you "eat right"? We all have very specific and unique health, nutrition, and fitness goals. For many of us, we made resolutions a few months ago to improve our health—eat more veggies, be more physically active, drink more water, buy less processed foods, no more food dyes, and the list goes on and on. No matter what the underlying motivation is (weight loss, lowering cholesterol, improving your running time), you want to be a healthier and more fit YOU and that is fantastic.
The question is usually how do you make these changes and how to keep it up for the long haul? This month to help celebrate National Nutrition Month® and to help you reach your personal goal, I will post a series of blogs that will feature several different types of lifestyles and the challenges that might interfere with reaching and sustaining your health/fitness resolutions.  Have no fear, I will also provide realistic and easy to implement strategies that you can you try to get you on your way to your NEW YOU!  You might find yourself in one category or maybe even more than one (for all of you overachievers out there). So get ready all of you busy students, working professionals, fitness enthusiasts, and parents. Throughout all of these posts, keep in mind that small achievable goals are always the key to success!
Let's start with all the parents out there...
Whether you are a stay-at-home or working parent, you know that this is the best, most rewarding, exciting, (fill in the blank) yet difficult job on the planet.  As parents, we often juggle many different things at once and end up putting physical activity, grocery shopping, or packing our own lunch aside.  We're also typically tired. I can't speak for everyone, but I know that between work and my kids, I'm pretty exhausted at the end of the day.
The biggest pitfall for parents (without getting into the nitty-gritty of eating off their kids' plates, dining out too often, drinking soda, etc.) is their lack of time. I hear over and over again whenever I make a suggestion: "How will I find the time to do that?"  Whether it is bringing lunch to work, making dinners at home, exercising, or packing more healthful lunches for the kids, it seems like it might involve extra time. With the tips below, however, you will find that you might actually save time AND reach your health goals!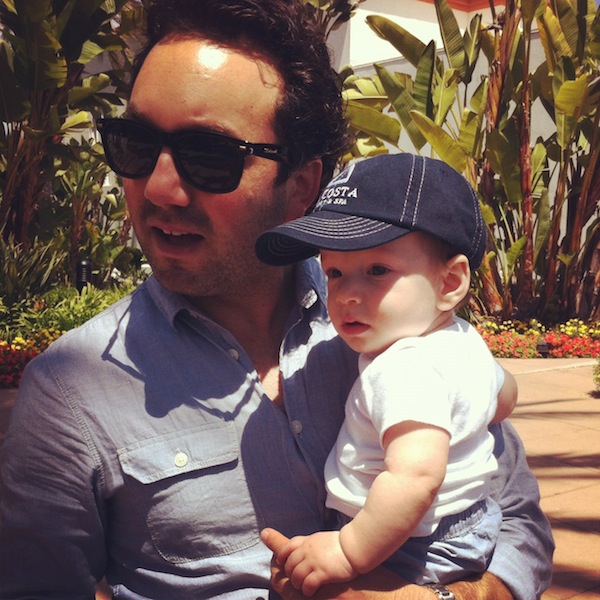 5 Tips for Parents to Get Healthy Without Spending Extra Time:
1. Plan your week's menu, including all meals and snacks. Find recipes and shop accordingly.  This will save you both time and money.
2. Enjoy the cooking process. For your health and your wallet you should try to learn (or re-learn) the pleasure of cooking. Not to mention, you might be surprised about how much fun you have. Try reading blogs, taking a cooking class, or buying a few good cookbooks.
3. Cook for more than one meal at a time by making extras. For example, if you prepare chicken breasts, make a few extras to cut up for sandwiches or a salad the next day.  This doesn't take extra time in the kitchen and just gave you another meal!  While you are at it, you could also try cooking a double portion and freezing it for another night.  This works really well with soups and stews.
4. Prepare the night before. It's a fact. We're all rushed in the morning. Take a few minutes after cleaning up dinner and pack lunches/snacks for everyone for the following day.  This way they are already ready in the morning.  There is no excuse not to bring a healthy meal to school/work!
5. Delegate!  Depending on the age of your child, engage them in the shopping/preparation/cooking process.  Not only will this be a big help to you (especially when they are over 10 and can really lend a hand in the kitchen) but research shows that when kids are involved in the cooking process, they tend to make healthier choices.
Remember, set small achievable goals for yourself and tackle them one by one. Change is a process, not an end result.  Be proud of yourself along the way for your accomplishments. You can do it!  Stay tuned for more tips and tricks throughout the month.
Be Well, Be NutritionWise.
~ Nicole Meadow, MPN, RD of NutritionWise
This post is solely for informational purposes. It is not intended nor implied to be a substitute for medical advice. Before undertaking any course of treatment or dietary changes, you should seek the advice of your physician or other health care provider.