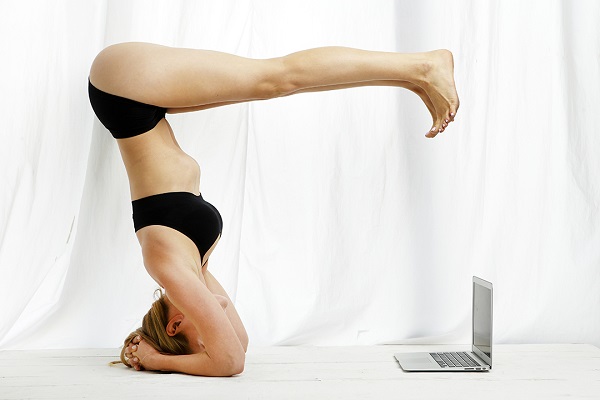 The idea of following along with a yoga video from the Internet has long floated around in my head filed away next to internet dating. Probably cool for others, I thought, but not for me. I had my studio with the teachers I liked, and classes in the style I wanted.
But I often overheard students whisper the names of buzzy yoga websites while slipping on my shoes after yoga class: "Yoga vibes," "Yoga Glo," "Yogi's Anonymous" seemed to be the most popular.
Like many of us, I have a busy life. I have two small children who are not on my yoga schedule, and while I'm busy being mom and partner they always demand my best. This often happens during my favorite classes. Hence my dilemma: I wanted yoga in my life, but I started feeling like authentic yoga was for the single and mobile people in Los Angeles, not me.
Don't get me wrong, I wasn't against using technology to practice yoga. I released a Prenatal Yoga DVD so pregnant moms can do just that — use technology to let me help them get ready for their big day. But could taking online yoga classes really be useful?
One day while browsing around the Web I found my beloved Annie Carpenter on the website "Yoga Vibes," where you can find hundreds of streaming yoga classes to take on your own time. It dawned on me — online yoga might be a way to keep my favorite teacher in my pocket so that I could take a class from her whenever I could find the time. I had always shied away from trying to practice with an online teacher, thinking I might have to go on a few "bad dates" before I got lucky. Not so! Schedule-wise, it's great. The classes are ready when I am, and I can be late or look exhausted — it doesn't matter! Whenever I'm ready to practice yoga, I just start a video.
I chose a 30 minute video for my first session. And I have a confession to make: I wasn't a perfect yogi. I had my iTunes on in the background, I checked my phone, and I indulged in some bad alignments. But in spite of a less than stellar performance, I loved it. Annie would be horrified! That is not how she runs her yoga classes. In her classes, yoga is focused and what I did seemed to be precisely the opposite.
But you know what? I practiced yoga that day and I almost didn't. I had a very good reason not to practice, two really good reasons actually. One happens to be walking for his first time, and the other spinning and singing and becoming quite the little drama queen.
So in my imperfect world I turned on my music, practiced at my pace and desired level, and found the bliss that only yoga brings me. Then, with a smile in my heart and satisfaction coursing through my body, I hopped into bed. Now I know that no matter how hectic my schedule, online yoga classes will allow me to keep yoga practice in my daily life. So, go ahead, and give online yoga classes a try!
Internet Yoga I have tried and teachers I recommend:
Yogi's Anonymous: Brock and Krista Cahill
Have you ever taken an online yoga class and what did you think of it? Tell us in the comments. 
This post is solely for informational purposes. It is not intended nor implied to be a substitute for medical advice. Before undertaking any course of exercise, you should seek the advice of your physician or other health care provider.
Jessica James has been practicing yoga seriously for 12 years, and for the last 6 years she has developed yoga sets that sculpt the body and clear the mind as a teacher. During her second pregnancy, Jessica shared her own experience with a unique fitness based prenatal yoga program. She has completed 3 yoga alliance certified teacher training courses and currently lives in Malibu, CA with her family.