Introducing your babies to solid foods is an exciting (and messy) time. From the first spoonful to the 100th, it's a joy to see your child's expression as she discovers new textures and tastes. The memory alone makes you laugh, right? Because children supposedly form food preferences by the age of two, introducing them to a variety of flavors as a baby is a great way to set them on the path of healthy eating.
One easy way to do this is to prepare homemade baby food. When we were first-time parents, the idea of making our own purée seems daunting. But even those who weren't comfortable in the kitchen found steaming and blending fruits, veggies, and meats to be pretty simple. In fact, we were amazed by how many servings one sweet potato could produce. Talk about a great bargain!
[caption id="attachment_1364" align="alignnone" width="600"]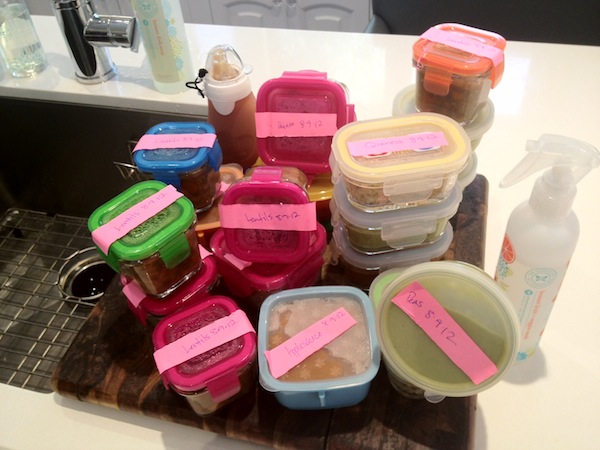 Jessica prepares Haven's baby food for the week.[/caption]
After you consult your pediatrician about when to introduce your baby to solids, there are many great sources for tasty organic recipes and feeding tips. Jessica adapted age-appropriate meals from the Organic Baby & Toddler cookbook, while other Honest team members turned to Weelicious for easy natural recipes.
When making her own baby food for Honor and Haven, Jessica had fun creating savory purée to expose the girls to more complex flavors—like beans made with chicken broth, olive oil, garlic, and sea salt that then get mashed. Sarah liked serving her son puréed asparagus or pears and peas, which she thinks influenced his love of eating all things green as a toddler. And Jen still preps antibiotic free turkey in a skillet, blends it with some garlic, pepper, and ginger, then mixes it with sweet potato, mango, and millet for a dish her baby gobbles up.
‪Weelicious creator and author Catherine McCord similarly focuses on making quick, easy, nutritious recipes using fresh but minimal ingredients. She decided to share her passion for homemade baby foods after her experience with feeding her first child. "I spent hours on the internet researching feeding tips and fresh, healthy recipe ideas, but came up short. I found myself having conversations with friends who struggled with the same issues and I quickly became their go-to girl for baby and child-friendly recipes," says Catherine. Now thanks to that self-described "Aha!" moment, parents like us can find endless inspiration for healthy eating.
To get you started, Catherine has shared three Weelicious recipes for your budding baby foodie.
Spiced Carrot, Brown Rice, and Parsley Purée
1/2 cup short grain brown rice
1 1/2 cups water
2 medium carrots, chopped
1/2 teaspoon dried parsley
1/4 teaspoon cumin
Preparation (Total Time 46 minutes)
1. In a small saucepan, combine THE rice and water.
2. Bring to a boil, reduce heat to low, cover, and simmer for 30 minutes.
3. Add the carrots to the rice, cover and cook for an additional 15 minutes. You will still have some liquid in the rice, this will help with the puréeing.
4. Transfer rice, carrot, parsley and cumin to a food processor, puree until smooth adding additional water if necessary and serve.
"Eat Your Greens" Purée
Ingredients
1/2 cup peeled and cubed sweet potatoes
1/2 cup chopped baby carrots
1/2 cup green beans, ends removed
1/2 cup broccoli florets
1/2 cup peas, fresh or frozen (frozen organic veggies are a great staple to have on hand for whipping up baby food!)
Preparation (Total Time 10 min)
1. Put sweet potatoes and carrots in a steamer over boiling water, cover and cook for 2 minutes.
2. Add remaining ingredients and steam for another 3 minutes or until fork tender.
3. Put in a food processor and puree.
4. Cool and Serve.
5. To Freeze: Place in BPA-free trays or storage cubes (we like Wean Green) and freeze for up to 3 months.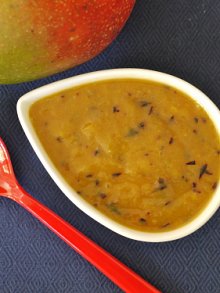 Mango Blueberry Purée
Ingredients
1/2 mango, peeled & diced
1/2 cup blueberries
1 banana
Preparation (Total Time 2 minutes)
1. Place all of the ingredients in a food processor and purée until smooth.
2. Serve.
* For an extra treat for you, toss all of the ingredients in a blender with 1/2 cup of milk for a delicious and nutritious smoothie!
Visit Weelicious for additional healthy options, including baby food, toddler, and family recipes. Or check out our great ideas for making natural food fun through gardening, cooking, and preparing school lunches.
Recipes and puree images courtesy of Catherine McCord and Weelicious.