School may be out for the summer, but many of us moms still work, which means we have lunches to pack for our days at the office, daycare, or camp. Luckily, it's also the best season for making fresh and flavorful meals using the colorful produce at the market. This Spinach Pesto Pasta Salad is one of my family's favorites.
Every year at this time, we face a bumper crop of fresh spinach from both our backyard raised beds and our CSA. I recently discovered that I could put it to good use in a very mild—and completely kid-friendly—pesto by simply swapping it in for basil. My daughter will eat pesto in any form, but I love serving this to her because it means that she gets a great dose of greens without any fuss at all. And while she won't yet eat fresh or cooked spinach by itself, she inhales it on pasta.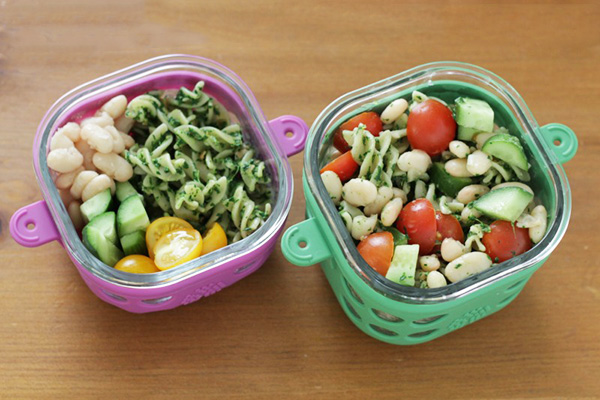 Here's how I like to pack this pasta salad for lunch:
For the toddler: Portion out pasta, then add veggies and beans on the side so they can clearly see what's in their lunch.
For the parent: Stir together the pasta with chopped veggies and beans for a balanced pasta salad lunch.
Serve as you like with a fresh fruit, some cheese, or a sweet treat.
This pesto is intentionally mild, but you can add more flavor if you prefer. Try adding a handful of fresh basil leaves, another clove of garlic, or some freshly cracked black pepper. I sometimes even swap in cream cheese for the olive oil for a creamier version. The sauce is also delicious in place of red sauce on pizza or stirred into couscous. And, it freezes well, so you can make a big batch and keep it in the freezer for later use. Simply fill up an ice cube tray, freeze overnight, then pop out and store in a zip top freezer bag in the freezer for up to 3 months. Use a few cubes at a time—thawed in the fridge or briefly in the microwave—in recipes whenever the urge strikes.
Spinach Pesto
*Makes enough to coat about 12 ounces uncooked pasta
Ingredients
5-6 ounces fresh spinach
Zest and juice of 1/2 lemon
2 tablespoons roasted sunflower seeds
1 clove garlic
1/4 cup Parmesan cheese
2-3 tablespoons olive oil
Salt to taste
Instructions
Place the spinach in a large bowl and cover with very hot water. Let sit until wilted, stirring a bit, about 3 minutes. Drain and let cool. Squeeze dry.

Put the wilted spinach into the bowl of a food processor along with the lemon zest, lemon juice, garlic, sunflower seeds, Parmesan cheese, and olive oil. Blend to combine. Stop to scrape down the sides as needed and blend until smooth. Add a bit more olive oil if needed to create the desired smooth consistency and season to taste with salt.

Stir into cooked pasta with halved cherry tomatoes, sliced cucumbers, and white beans.
Honest Tip: I use sunflower seeds in packed lunch pesto since it's a nice nut-free option. You can also use pine nuts, walnuts, or almonds if nuts aren't an allergy concern for your child or their school.
Pasta salad is shown in the 1-cup and 2-cup food storage containers from Lifefactory.
~Amy, Yummy Toddler Food
Amy Palanjian is a writer, editor, recipe developer, and crafter for magazines, books, and websites. She's also mama to a very energetic toddler who inspires her to share wholesome, yet realistic recipes and feeding tips with other parents of little ones at her site Yummy Toddler Food. For more inspiration, check out her website and Instagram.