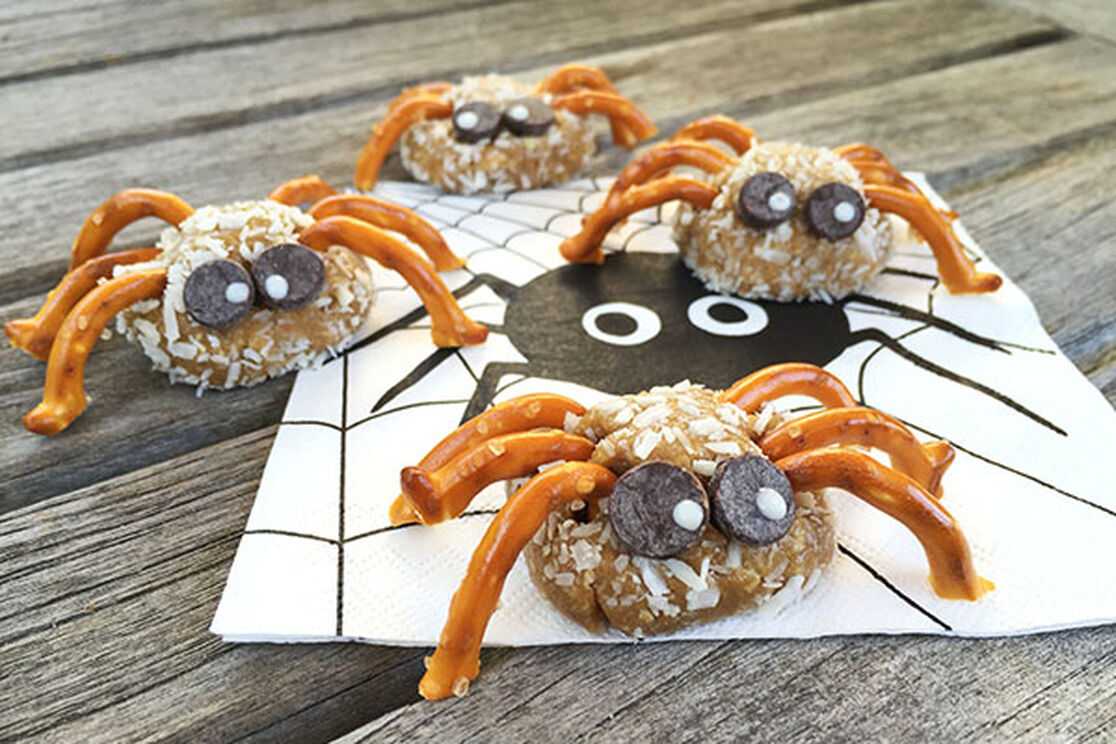 Halloween is notorious for super sweet treats and candy galore — but it doesn't have to be! Today we're taking a healthier approach to seasonal snacking, with Jennifer Tyler Lee of The 52 New Foods Challenge.
These creepy crawlies might look scary, but they're made without any scary ingredients! Packed with healthy fats, these no-bake, nut-free, oatmeal cookies are ideal for classroom Halloween parties. They're also fun to make and easy for kids to decorate.
Easy Halloween Cookies: Spooky Spiders
Prep time: 5 minutes
Wait time: 10 minutes
Makes about 24 cookies
Ingredients
1 cup rolled oats (not the quick cook kind)
½ cup all-purpose whole wheat flour
½ cup sunflower butter
½ cup honey
½ cup shredded unsweetened coconut
48 mini round pretzels
48 dark chocolate chips
Instructions
In the large bowl of a food processor, pulse the oats until fine, about 2 minutes.

Add the flour, sunflower butter, and honey to the oats. Pulse again in the food processor until the mixture comes together into a large ball, about 2 minutes more.

Using a tablespoon, place a small amount of dough in your hands and roll it into a ball the size of a large marble. Roll each cookie in the shredded coconut. (

Tip: Before decorating your spiders, it's helpful to let the cookies chill in the refrigerator for about 10 minutes.)

Break the pretzels into small pieces to create the spiders' legs. Press six small pieces of pretzel into the sides of the cookie, leaving enough space in the front for the eyes.

Add two dark chocolate chips to create the eyes.

Refrigerate the cookies for 10 minutes before serving. Store in the refrigerator or freezer for up to a week.
~Jennifer Tyler Lee, The 52 New Foods Challenge
An Honest mother of two, Jennifer Tyler Lee is the author of The 52 New Foods Challenge (Penguin/Avery 2014) and the creator of the award-winning healthy eating game, Crunch a Color®. Follow Jennifer on Facebook and Instagram for more tasty recipes and tips on cooking with kids!
Reprinted from THE 52 NEW FOODS CHALLENGE: A Family Cooking Adventure for Each Week of the Year, with 150 recipes. Reprinted by arrangement with Avery, an imprint of Penguin Publishing Group, a division of Penguin Random House LLC. Copyright © 2014 by Jennifer Tyler Lee.
We aim to provide you with the most honest and credible information possible. This article was reviewed for accuracy by The Honest Team and was written based on trusted sources that are linked at the bottom of the article.
blog_review_statement