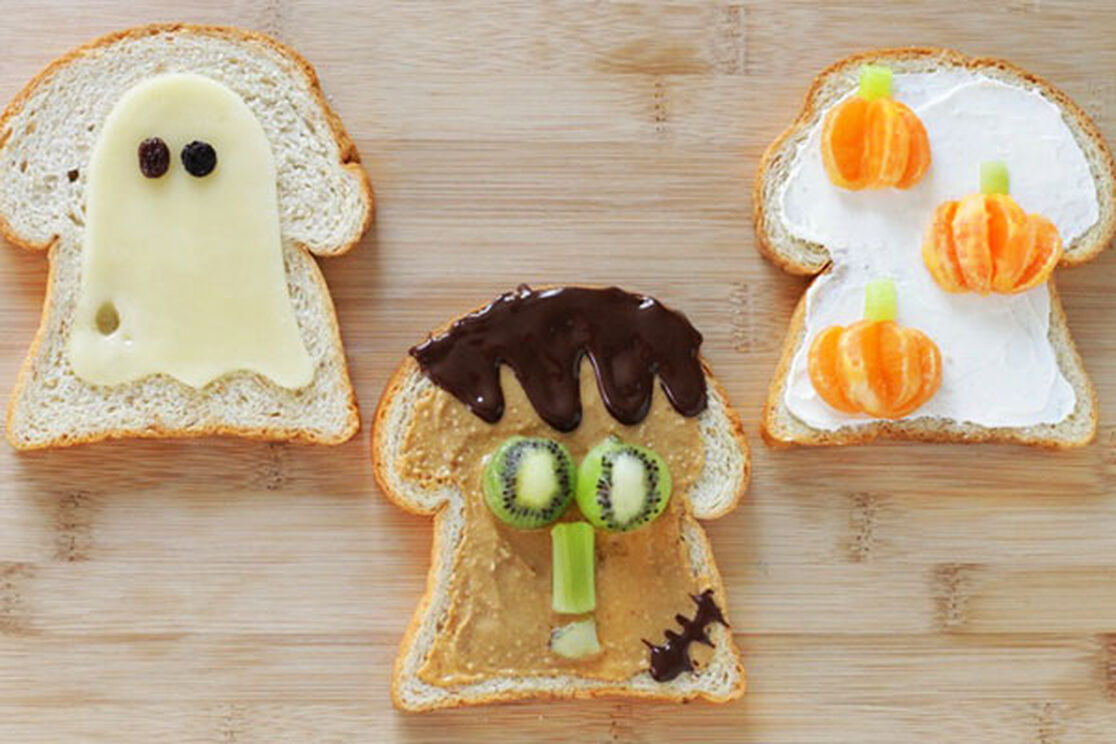 Halloween treats can be tricky. Ghoulish goodies are delightful, but are often loaded with sugar. Today our friend Amy Palanjian, of Yummy Toddler Food,  is here to share a less-scary take on Halloween snacking. 
We've been talking about Halloween for weeks in my house as my 3-year-old is old enough to remember some of the highlights from last year—and she's seriously looking forward to the candy! And while I plan to let her enjoy the holiday and her loot, I've been thinking up other ways to celebrate the day without the same intensity of sugar. These fun and easy to create toasts are how we plan to start the day.
To be honest, I hardly ever make "fun" food for my daughter both because it can be time consuming and I don't want her to expect to be entertained at every mealtime. But I am finding that since she's at an age where her imagination is fast and vivid, she loves it when I put just a little effort into making her something special every once in a while.
These Halloween toasts are super easy and are wide open to interpretation. Here's what I did, but feel free to run with any one of these ideas to suit the tastes of your little ones.
Ghost Cheese Toast: Toast bread lightly. Meanwhile, use a sharp paring knife to cut out a ghost shape from a square of white cheese (mild cheddar is a good choice for kids). Butter lightly if desired and pop into the microwave for about 10 seconds to melt just slightly. Add raisin eyes to finish.
Frankenstein Face: Toast bread lightly. Add a smear of nut butter. Use a melon baller to make eyes from kiwi, and cut a nose and mouth from the same fruit. Melt 1/4 of dark chocolate with 1/2 teaspoon coconut oil until just melted in a glass bowl in the microwave (about 30 seconds). Stir really well. Pour into a zip top plastic bag and seal. Cut the corner off of the bag and pipe on hair and a scar. (There should be enough chocolate for a few pieces of toast.)
Pumpkin Patch: Toast bread lightly. Spread on honey-sweetened plain Greek yogurt or vanilla Greek yogurt. Peel a clementine and use 3-4 slices for each pumpkin and add a small rectangular kiwi stem. Repeat to make additional pumpkins.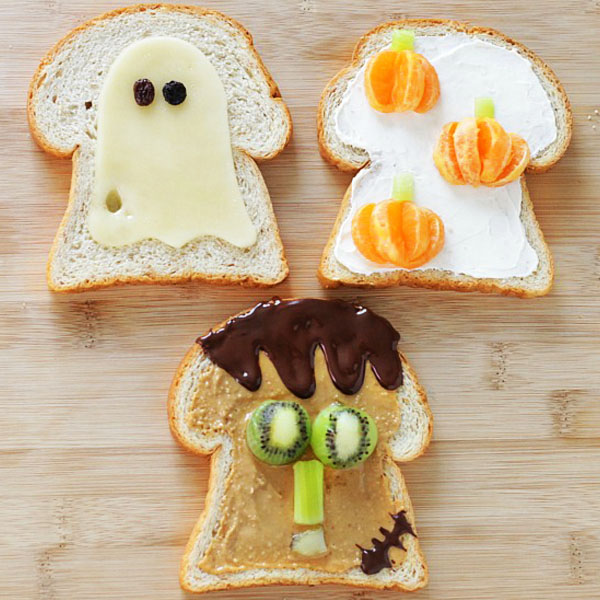 ~Amy Palanjian 
Amy Palanjian is a writer, editor, recipe developer, and crafter for magazines, books, and websites. She's also mama to a very energetic toddler who inspires her to share wholesome, yet realistic recipes and feeding tips with other parents of little ones at her site Yummy Toddler Food. For more inspiration, check out her website and Instagram.
Are you ready for Halloween? Click here to check out some last-minute, scary simple ideas!