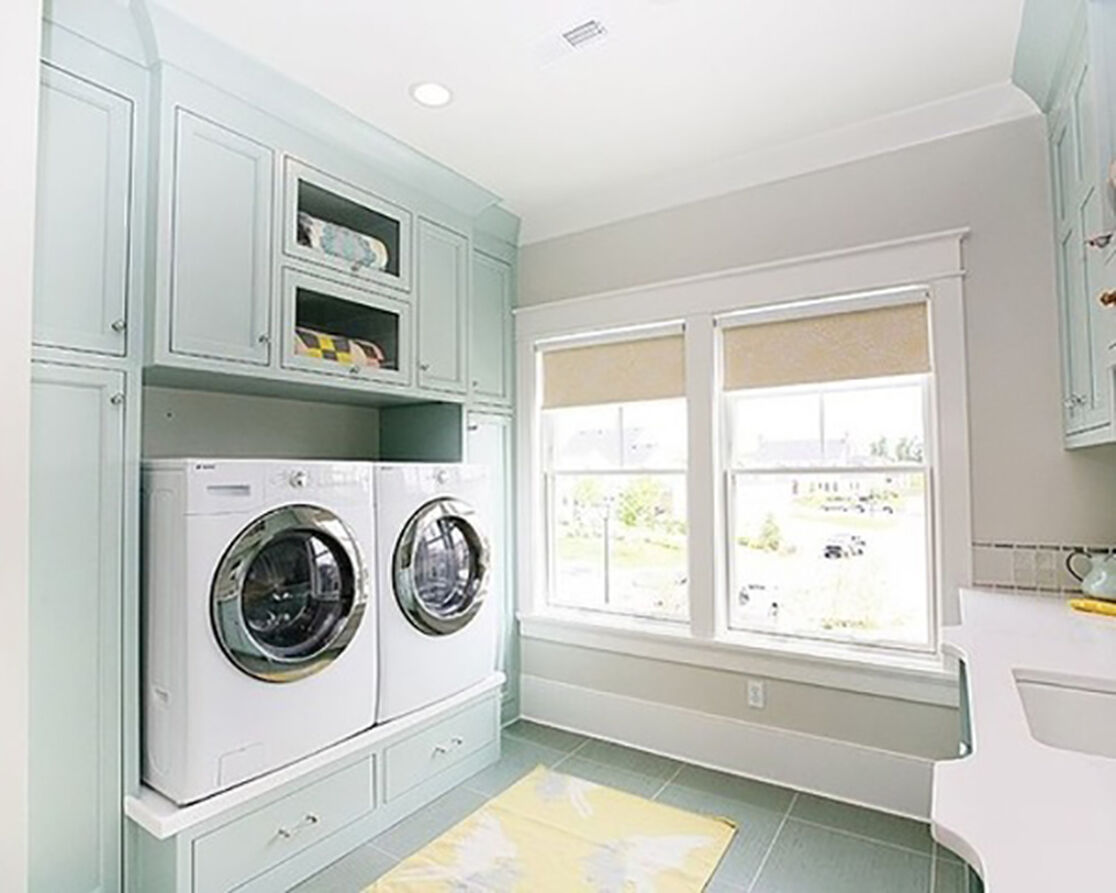 Earth Day is right around the corner! To get in the the spirit, our friends from Houzz are here to share some simple steps to make laundry time more sustainable. Check out the tips below and stay tuned for more Earth Day fun to come. 
Whether your goal is to cut down on energy bills or keep toxins out of your home, small changes in your laundry routine can add up to big savings — both for the environment and your budget. Of course, you could buy a new energy-efficient washer (see No. 4 below), but thankfully that's not the only way to save energy (and money) in the laundry room. From adjusting the washing temperature to swapping products, each of these seven tips is completely doable, so you can begin greening up your laundry routine today.
7 WAYS TO GREEN YOUR LAUNDRY ROUTINE
Wait until you have a full load.

Some new energy-efficient washers have settings that use less water for a smaller load. But if yours doesn't, be sure to run only loads that are full. Cutting out even one load of laundry per week can add up to significant energy savings over the year.

[caption id="attachment_21883" align="aligncenter" width="600"] Four Chairs Furniture[/caption]
Swap your regular detergent for a safe brand.

Choosing an effective, biodegradable detergent is a simple step to reduce the toxins in your home and help protect our planet.
Wash (nearly) everything in cold water.

According to

Energy Star

, heating the water accounts for 90 percent of the energy used in washing machines. Cold water with detergent cleans as effectively as a warm wash, saves energy, and slows wear and tear on your clothes. Use hot water just when you really need to sanitize something (if there has been an illness in the house, for instance).

[caption id="attachment_21884" align="aligncenter" width="600"] Kaufman Homes, Inc.[/caption]
Choose an Energy Star rated washer.

When it's time to trade in your old washer, be sure to look for a new model with the

Energy Star

label — they use half the water and up to 30 percent less energy than standard washers.
Cut down on dry cleaning.

The dry cleaning process often uses harmful chemicals that can linger on your clothes after you bring them home, so cutting back on trips to the dry cleaner is a good way to reduce toxins in your home. Try hand-washing some items (or use the hand-wash cycle in your washer) and dry flat. And try to choose clothes that don't need dry cleaning. You can also search for a green dry cleaner in your area; they should avoid the most harmful dry cleaning chemicals, but ask to be sure what methods they use.

[caption id="attachment_21885" align="aligncenter" width="600"] Three Legged Pig Design[/caption]
Let delicate clothes air dry on a drying rack.

While washing machines are becoming quite efficient, dryers still have a long way to go — in fact, they are not rated by Energy Star because there is little difference among them. Cut down on your dryer use by air drying lightweight items on a

folding rack

. Most delicate items dry quickly and will last longer if not exposed to the hot air of the dryer.

[caption id="attachment_21886" align="aligncenter" width="600"] Cc c[/caption]
Set up your laundry room for success.

Keeping a tub for soaking stained items on top of the washer will remind you to treat stains promptly. Give your cleaning supplies a home on a shelf, choose a dedicated spot for storing your drying rack between uses, and hang a handy stain-removal chart where you can easily refer to it.
~Laura Gaskill, Houzz
Houzz is a platform for home remodeling and design, bringing homeowners and home professionals together in a uniquely visual community.
For more laundry-related tips, feel free to check out these additional articles from Houzz.
Hang More Clothes With Another Clothing Rack
Stock Wall Shelves With Safe Detergents and Cleaning Supplies
We aim to provide you with the most honest and credible information possible. This article was reviewed for accuracy by The Honest Team and was written based on trusted sources that are linked at the bottom of the article.
blog_review_statement