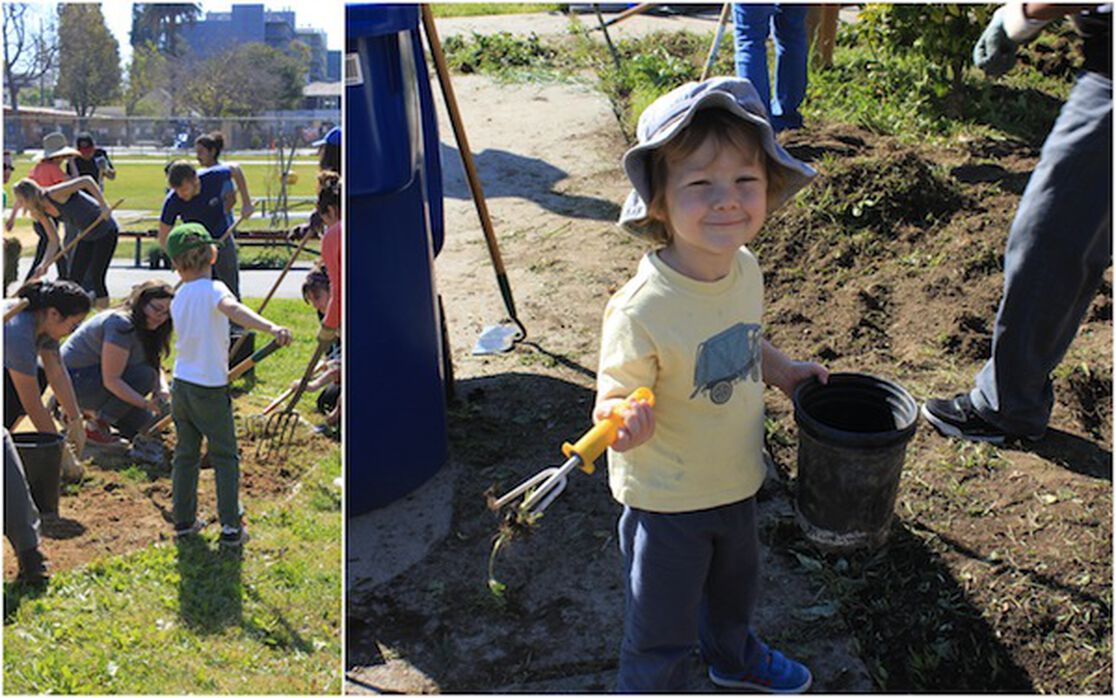 On Saturday, our goal was to get dirty. We donned our Honest t-shirts and Honest sunscreen, grabbed our rakes and shovels, and set out to make a difference. Our goal was to build a community garden for Widney High School in one day or less. Under the direction and inspiration of the amazing Garden School Foundation, our team wanted to make a lasting impression on our very first Honest Company Employee Volunteer Day.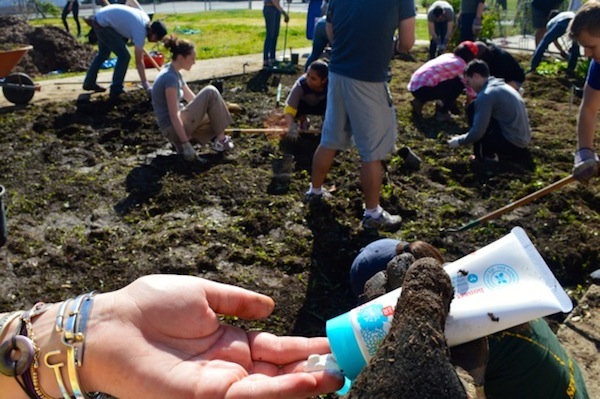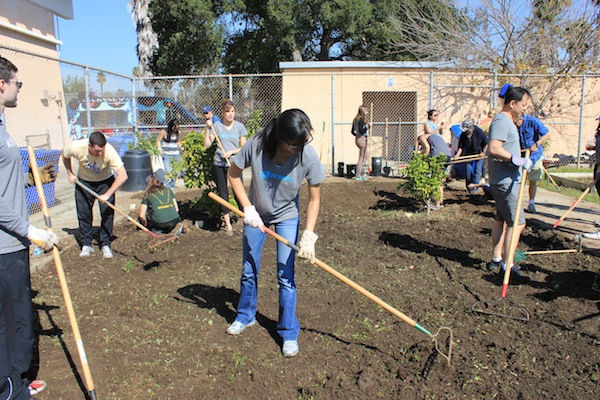 Mission Accomplished.
In 5 hours, over 75 Honest friends and family rolled up their sleeves and transformed a patch of weeds into a beautiful outdoor space where the Widney students will participate in an interdisciplinary program right in the middle of this outdoor living classroom.
Widney High School is a special education magnet school serving mentally and physically challenged students in an underserved area of Los Angeles. Through the comprehensive garden-based curriculum developed by The Garden School Foundation, students engage in lessons on all subjects: science, math, health and nutrition, team building and leadership, and much more. This urban garden will provide them with the opportunity to interact with nature and learn its role in everything from their food supply to maintaining a healthy and sustainable environment for their community and the planet as a whole. Furthermore, vocational training will be made possible so that many of these developmentally challenged students can enter the workforce with a marketable skill set when they graduate high school.
Our Volunteer Day started a little before 9am with a pit stop at the ultra-cool Ela Brew Coffee truck. With an endless flow of caffeine (in the form of beautifully hand-crafted coffees and espressos that looked like art and tasted like pure joy), Honest employees pulled on their work gloves and set out to pull every crazy weed standing between us and a picturesque garden. Even our littlest Honest members, some still toddlers, put on their tiny gardening gloves and joined in the weeding effort.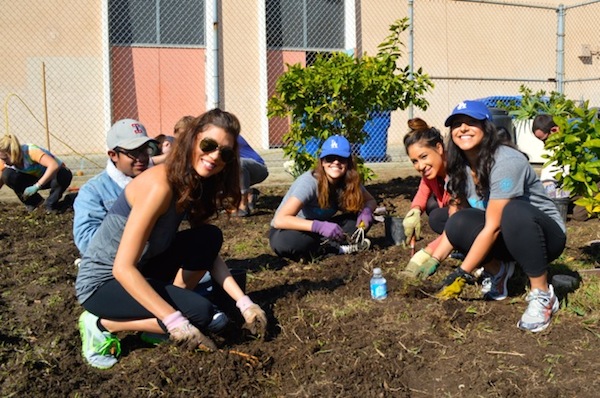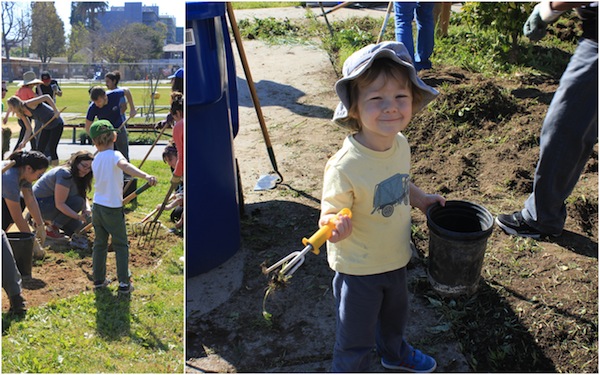 Two hours later, five million strikes of a garden hoe, seventeen million weed roots unearthed, and the dirt was cleared! Goodbye weeds. Next step: Laying down landscape fabric so that those pests never again show their face at Widney High.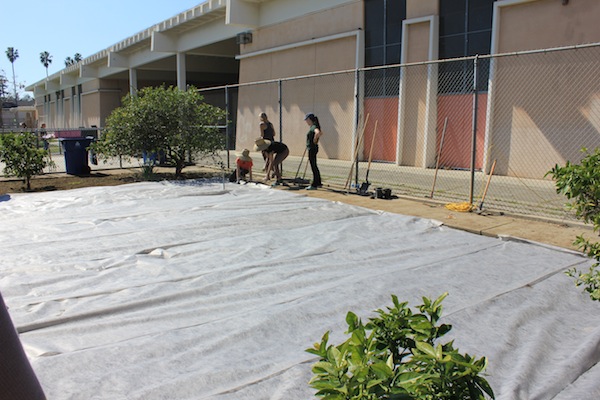 Then came the planter boxes. Expertly assembled in the shade nearby, these large handcrafted planters would be the future home for the fresh artichokes, tomatoes, and kale that would soon move in. After being drilled and hammered together by our Honest friends with a builder's eye and affection for power tools, the boxes were laid out in rows to be filled with a custom blend of compost, mulch, and topsoil. Through an amazingly organized assembly line of Honest volunteers, over 1000 cubic feet of dirt was transported from a nearby parking lot and spread across the planters.
Side Note: The soil used in these beds was from a local company that collects manure from humanely treated dairy cows and uses it to produce something called biodynamic compost that repairs your soil's ecosystem. Super cool, right?! Check them out at Malibu Compost.
Final stop: Plants! After a quick round of planting, the garden was complete. Assorted lettuces, herbs, vegetables, and flowers were neatly wrestled into their beds and ready to grow and harvest. In fact, we even came across several varieties of edible flowers that Honest employees remarked upon thinking "those are too pretty to eat!" followed by "I'm going to try to grow those at home." The garden was beautiful, filled with love, and set up to endure the many years ahead.
Time for the bell to ring and class to start at Widney High!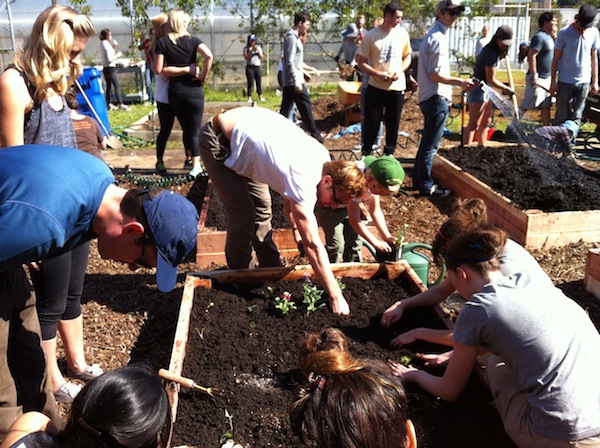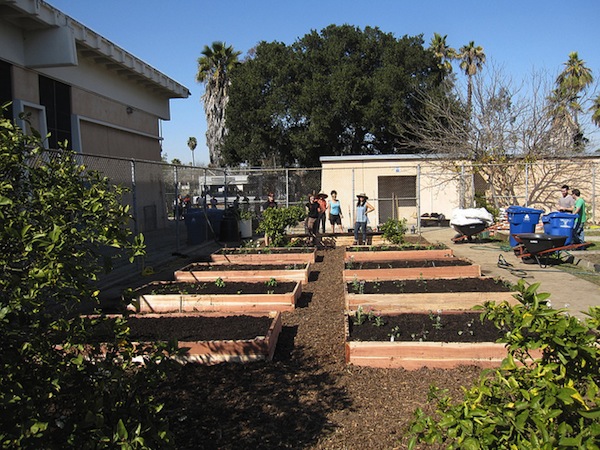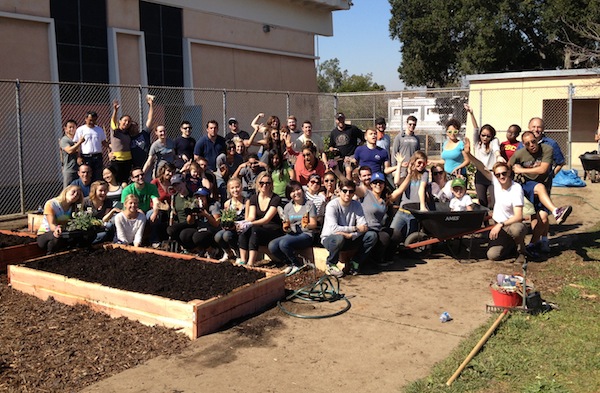 And then the real final stop, another food truck! To wrap up an amazing day, our hungry team chowed down on gourmet french fries and grilled cheese from the Fry Smith Truck. Who knew kimchi went so well with fries or that vegetarian chili could be so good? Bottom line, this food truck was the perfect reward for all the hard work that went into that beautiful garden.
With full stomachs and warm hearts, we all headed home – most straight to the showers. Although our backs still ache and our hands keep unveiling new splinters, we would all do it again tomorrow. Groups like The Garden School Foundation and Widney High School are what community is all about. After all, staying true to The Honest Company's motto, together we can make it better!
If you are looking to volunteer in your own neighborhood, do it! Our Honest Saturday proves that even a few hours can make a huge difference. Check out sites like volunteermatch.org to find opportunities near you.
We can't wait for the second Honest To Goodness Employee Volunteer Day!
~ Honest Ashley
We aim to provide you with the most honest and credible information possible. This article was reviewed for accuracy by The Honest Team and was written based on trusted sources that are linked at the bottom of the article.
blog_review_statement