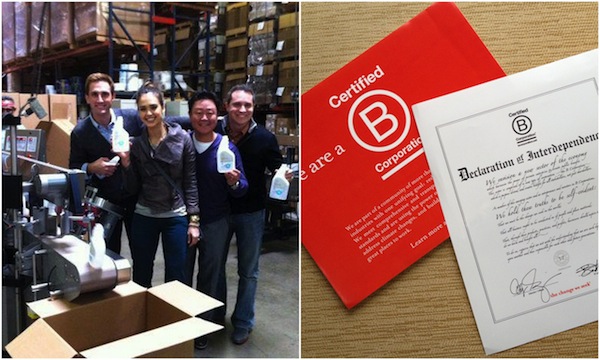 We are excited to share that The Honest Company recently earned its B Corporation Certification. The "B" stands for benefit, which represents a new breed of businesses that harness their power and resources for public good. This designation is much like a Fair Trade or LEED certification and signals that we are committed to making a profound social difference, safeguarding people and the planet, and meeting higher standards of transparency, performance, and accountability. This is big news for us because we get to join a diverse community of over 500 certified organizations across 60 industries—including Etsy, Patagonia, and Egg—who are dedicated to one unified goal: redefining what success means in business.
Since the beginning, we've dreamed of The Honest Company being more than just another e-commerce brand. We want to deliver safe natural products to our customers, and we want to positively change the way people, companies, and even governments make impactful decisions related to social goodness, environmental protection, and mindful workplace practices. It's always been our desire to make things better together, and becoming a member of this new sector of B Corporations will allow us to learn from like-minded people and turn this vision into a reality.
B Lab, the non-profit organization that certifies and supports B Corporations, conducted a rigorous evaluation of The Honest Company and determined that we met its comprehensive performance standards for certification, which included measuring the company's impact on all stakeholders—employees, suppliers, customers, the global community, and the environment. "Having a third party evaluate your business and product processes and measure your performance is really motivational," says Christopher Gavigan, our co-founder and Chief Product Officer. "Seeking B Corp certification and submitting ourselves for review was a necessary and proactive step to make sure we're doing better from the start."
Significantly, the B Corp movement also is gaining recognition at the state level. Currently nine states have passed Benefit Corporation legislation, which we find extremely exciting. It not only signals a cultural shift in how the country thinks about corporate responsibility, but also means a B Corp might eventually be legally recognized in all 50 states as a new corporate form (like a C Corp or an S Corp) and receive tax incentives, procurement preferences, or a social stock exchange for sustainable businesses. While The Honest Company is incorporated in Delaware, a state that has not yet enacted such legislation, we have elected to expand our corporate responsibilities and meet the higher social and environmental standards expected of all B Corporations—borrowing from Gandhi, we feel it's important that we are the change we wish to see in the world.
"Receiving the B Corp Certification confirms The Honest Company's mission of providing a sound environment for not only our consumers but also our employees. We strive to educate both our consumers and employees on socially conscious decisions that will affect their life choices, including the purchase of The Honest Company products," shares our co-founder and Chief Operating Officer Sean Kane.
Because we've always sought to rethink what it means to be a healthy, sustainable, and honestly transparent business, we thought we'd share what helped us earn our B Corp certification. Our open-concept office space meets green building standards (100% of our energy comes from renewable sources!). All earnings from the last fiscal year were related to products that use less toxic materials than market alternatives. A majority of our suppliers have social or environmental certifications. Our employees have the option for 100% health care coverage and can enjoy an on-site child play space. We have a social goodness program, where a portion of our earnings goes to Baby2Baby.org. And this is only the beginning.
As Brian Lee, our co-founder and CEO, states: "We are proud to be a member of growing community of like-minded businesses committed to conscientious and sustainable growth. This certification allows us to have open and honest conversations around the company and in the board room about our social and environmental impact, and sets ongoing operational and performance goals for us to achieve as our business continues to grow." Continuing forward, we are eager to establish ourselves as a leader and positive voice in the B Corp movement and hope to inspire others to participate in this new business sector.