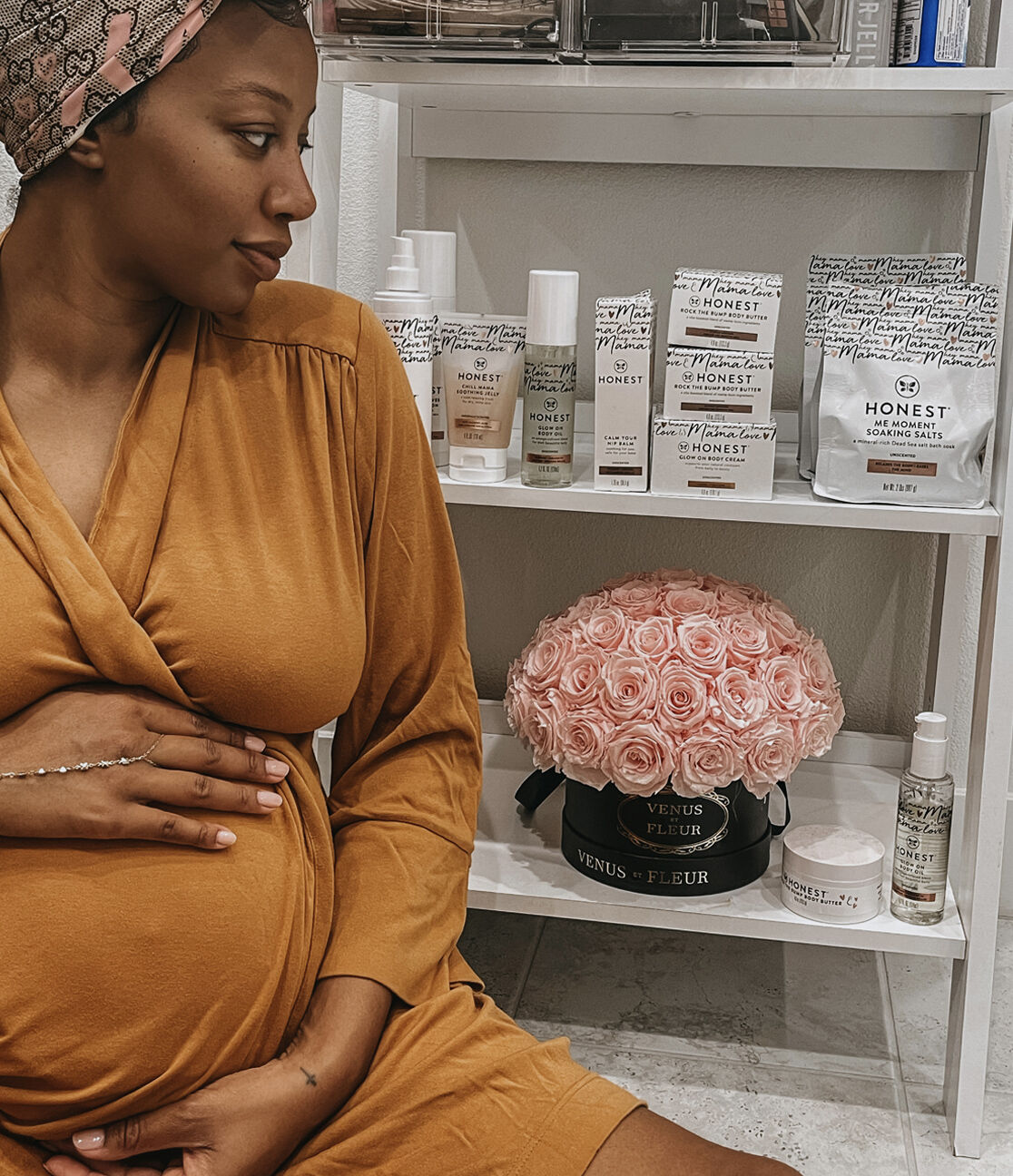 Image by @anthoniallen
Hey Mama! These days, you're juggling all the things for the fam, the home, the job and school—and all moments from the laughs, the cries, the boo-boos, the accomplishments and everything in between. We see you! With all the craziness multitasking mamas are balancing on the reg these days, we feel like every mom deserves a lil' extra TLC this Mother's Day. Whether you're a mother yourself or you've got several moms in your life you'd like to treat to something special, we got you. Keep scrolling to discover the perfect Mother's Day gift for every mama on your list, designed for her badass-mama lifestyle and amazing self-care rituals that she'll appreciate.
FOR THE MAMAS-TO-BE
If you want to treat an expecting mother who's just beginning her bump journey, give her a thoughtful gift that really shows you understand.
Our Bump Love Bundle contains the perfect duo for nourishing growing bellies and beyond: our organic, plant-based Glow on Body Oil formulated for stretch mark-prone skin and our Rock the Bump Body Butter that deeply moisturizes and nourishes dry, pregnant bellies + skin for 24 hours.
Take it to the next level with our Honest Mama Bump Care Kit, featuring our mama-fave body oil and body butter, plus our Sweet Curves Body Lotion that quenches dry skin with moisture and our Chill Mama Soothing Jelly that instantly cools + moisturizes dry, itchy skin and helps revitalize swollen ankles + feet when massaged into skin.
For the expecting mama who deserves allll the love, give her the ultimate Mama care package. Our Pregnant + Pampered Gift Set is the whole kit 'n' kaboodle, packed with our essential mama care spa and skincare products that help her unwind (including our Me Moment Soaking Salts)!
FOR THE MAMAS WHO WANT EXTREME MOISTURE
Treat those curves to some serious luxury, mama! For ultra moisturization you need our Chill Like a Mother Prenatal Routine. This kit is loaded with all the Mama moisture faves, including our new Clean Curves Cleansing Oil that gives you a rich, silky lather in the shower and leaves pregnancy skin feeling soft, supple and luscious. Complete the routine with our must-have body butter, body oil and soothing jelly that nourish and moisturize from morning to night!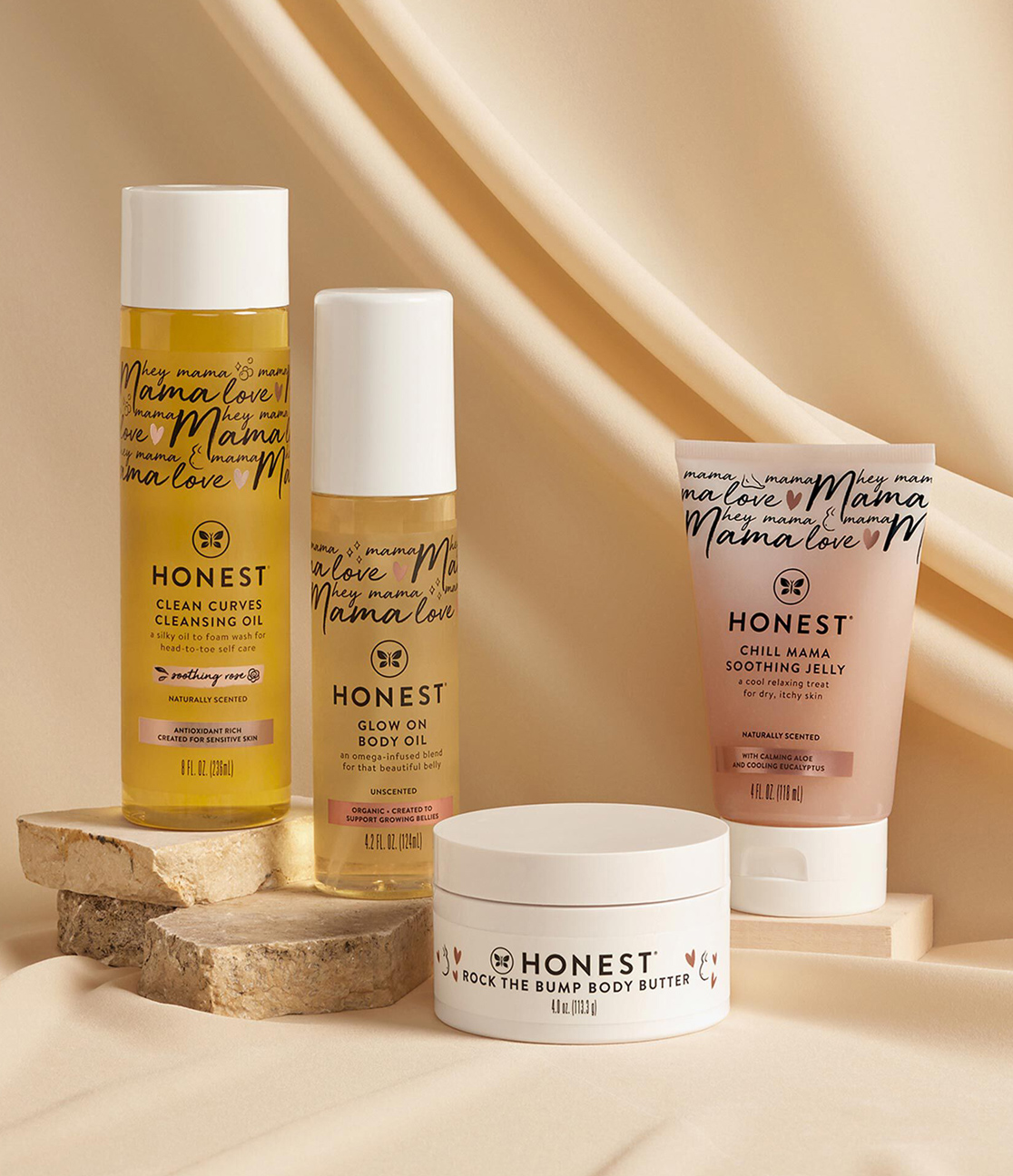 FOR THE BFF MOMS
Wanna show your sis, your bestie or work comrade some extra love this holiday? If you're looking to outdo yourself as best gift-giver this Mother's Day, treat the deserving mama in your life to an all-star of a gift. Whether she's just starting out on her baby bump journey or she's adjusting to life with a newborn, our curated prenatal Pregnancy BFF Gift Set and Postpartum BFF GIft Set are our holy grail of care packages. Our prenatal gift set is loaded with all our mom-to-be essentials, including soaking salts, cleansing oil, and moisturizing jelly, body oil + body butter—plus, our pregnancy glow-boosting Mama's Gotta Glow Face + Body Wash. For the new parent, our postpartum kit comes packed with our hydration-loving cleansing oil, body cream, nip balm and body oil, along with Jess's must-have Prime + Perfect Mask and adorable Fuzzy Headband.
FOR THE MOM LOOKING FOR SELF-CARE
In order for Mom to bring her best every day, she's got to feel her best too. Treat tired parents and the self-care-lovin' mamas in your life to our max-level spa gift set, the Me Time Kit. She can create the perfect nightly escape by lighting up the aromatic Calming Myrrh Scented Candle (made with 100% soy wax) and adding The Wind Down Bubble Bath to her sultry soak. Get all the self-love vibes with our moisturizing Prime + Perfect Mask that leaves skin looking firmer + supple, followed by our multitasking Organic Beauty Facial Oil for a decadent, hydrated feel. Did we mention it comes complete in an adorable gift bag?
FOR THE NEW MOMS
Is mom dealing with postnatal dry skin, itchiness, and just general … uncomfortableness? IYKYK. Give her the Honest Mama Beyond the Bump Kit designed to support every curve along her journey. She'll love the super-soothing soaking salts that help melt away the day, our moisturizing body lotion that gives her a dose of 24-hour hydration, our omega-infused body oil, plus our safe-for-her (and baby!) Calm Your Nip Balm that brings gentle relief with a nourishing blend of natural ingredients.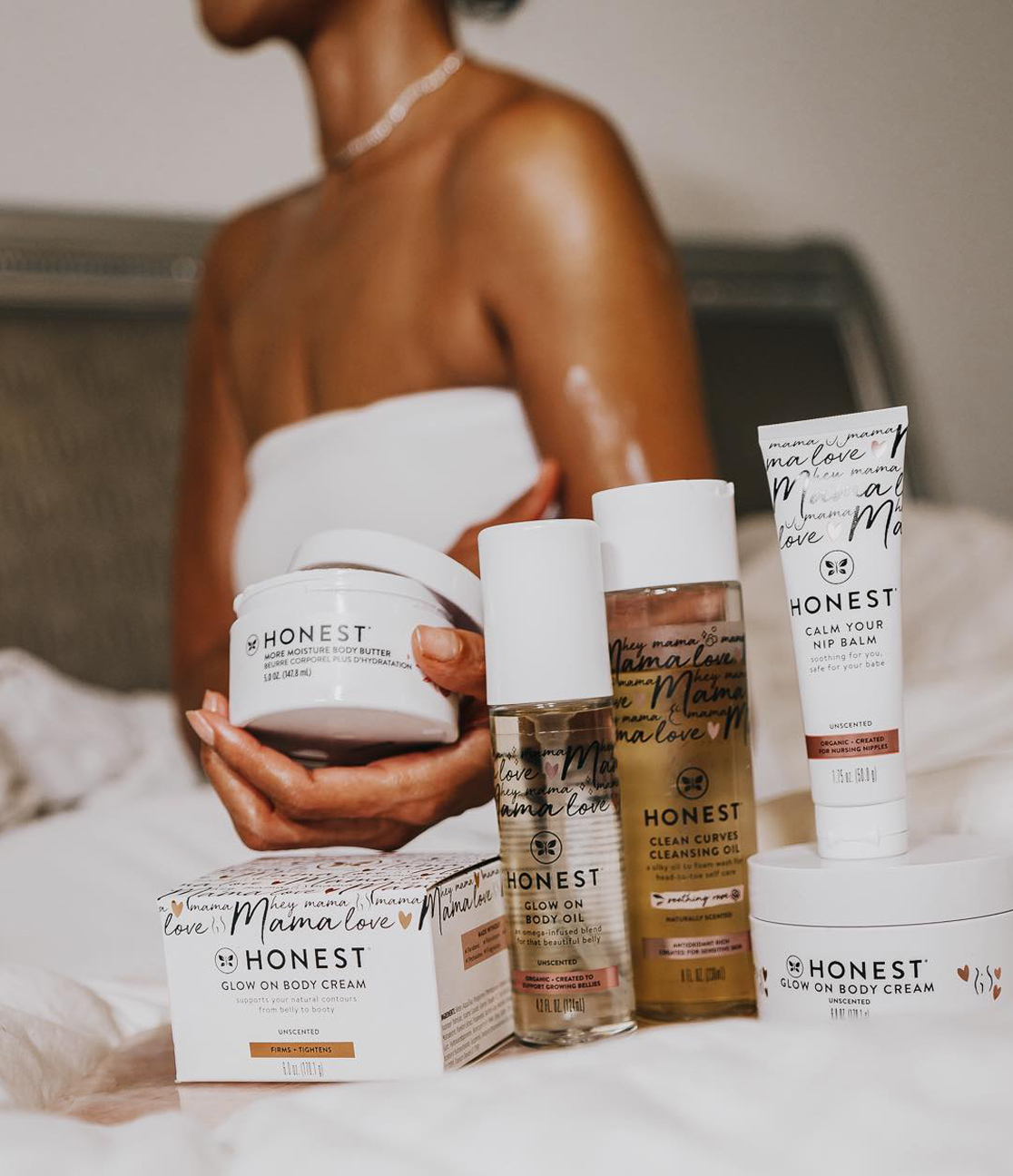 Image by @momcrushmonday
For the new moms who would like a seriously luxurious gift (yes, please!), get her our Glow Like a Mother Postnatal Routine Kit. It's filled with all the essentials to help her unwind and have a me-moment at the end of her busy day. She can add the duo-action cleansing shower oil to her shower or bath and enjoy a cleanse that transforms into a rich foam AND leaves skin feeling mega moisturized. Then, she can bump up that glow with our new Glow On Body Cream that firms, tightens and supports the natural contours from belly to booty. The organic (and unscented!) Glow on Body Oil hydrates and helps soothe dry, itchy skin while the organic Calm Your Nip Balm gives her the perf finishing touch to her mom bod skincare routine.
FOR THE EXPERIENCED MAMA
Got a Mom who always has the answers + the solutions (all while lookin' on point!)? Give her the gifts that help her be her natural best.
An all-in-one, no-fuss, done-in-a-flash makeup kit for the mom who just knows. Our No-Makeup Makeup Kit is Jess's go-to makeup routine for a full-face makeup look without the effort. Includes Everything Primer Glow + 2HA, CCC Clean Corrective with Vitamin C Tinted Moisturizer Broad Spectrum SPF 30, Luminizing Glow Powder, Lit Powder Blush, our award-winning 2-in-1 Extreme Length Mascara + Lash Primer, Eyebrow Pencil, and Tinted Lip Balm.
Hard-working mamas deserve a hand! Our Hand Care Gift Set allows Mom to treat her busy hands to ultra moisturization + a sweet scent for a lil' me-moment. Comes complete with 3 of our signature scents of our Hand Cream and 100% GOTS-Certified Organic Cotton Moisturizing Gloves.
From expectant mothers to nursing moms, new moms to experienced mothers—we're here to support all the mamas every step of the way on their multi-hyphenate journeys. Celebrate all the hardworking moms in your life with the gift of luxurious R&R designed around her busy lifestyle (and that helps remind her how amazing she truly is)! Want to see more Mother's Day Gifts - shop our mama care gifts here.
When Mom is always on the go, give her the perfect travel companion that delivers hydrated skin no matter where the day takes her. Our Icons Mini Clean Skincare Trio is small but mighty, complete with our Mini Gentle Gel Cleanser that removes makeup + impurities without overdrying skin, our Mini Vitamin C Radiance Serum that boosts skin's natural glow-from-within, and our Mini Hydrogel Cream that moisturizes skin with a big dose of cooling hydration.
We aim to provide you with the most honest and credible information possible. This article was reviewed for accuracy by The Honest Team and was written based on trusted sources that are linked at the bottom of the article.
blog_review_statement