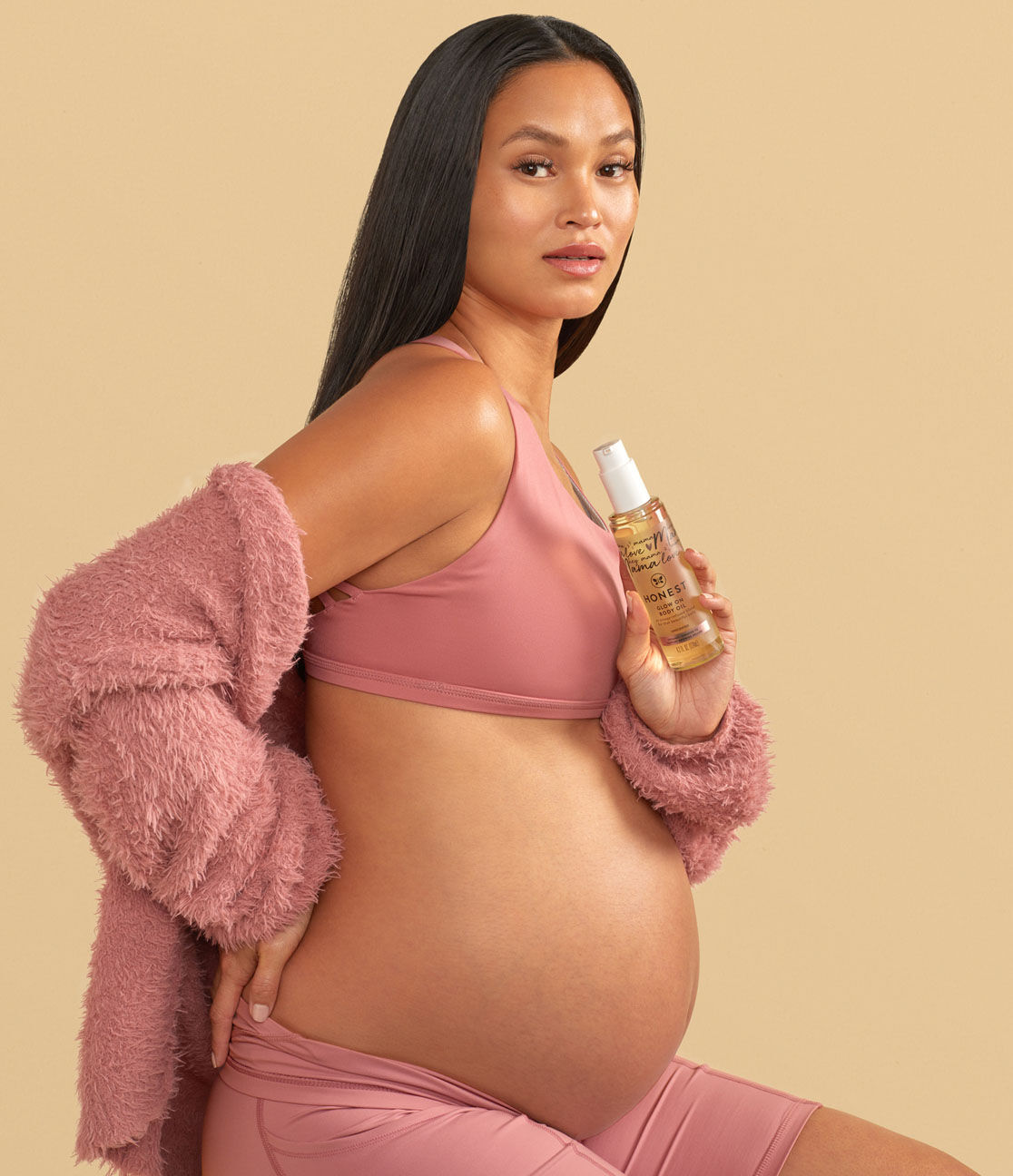 Scars and stretch marks are a beautiful testament to your strength—and the time, effort, and love you're putting into growing your beautiful baby. And no scar implies fortitude more than your pregnancy stretch marks.
However, if you're looking for ways to lessen the appearance of your stretch marks, we've compiled a few tips and tricks so you can stay feeling your best.
What are Stretch Marks?
Simply, stretch marks are scars that occur when skin loses its elasticity through rapid stretching. Although common on expectant mothers, they also occur frequently on weightlifters, during puberty growth on teenagers, and on just about anyone who experiences rapid weight gain or loss.
The medical term for pregnancy stretch marks is striae gravidarum, which is Latin for "stripes of pregnancy." More than 90% of mothers-to-be report developing them during their pregnancy on their lower abdomen, breasts, and upper thighs. Like any scar, stretch marks may diminish naturally over time and with treatment, but they cannot be removed entirely.
So what's a new mama to do?
Learning what can be done about stretch marks starts with understanding why they occur in the first place.
Causes and Risk Factors
According to research, three major factors play a part in whether an expectant mother can also be expecting stretch marks:
Family history of stretch marks
Body mass change during pregnancy
Baby's birth weight
Basically, thank your own mama (and her cooking) for those stretch marks. But beyond monitoring your pregnancy weight gain to make sure you stay in a healthy range, there are other steps and self care practices you can incorporate into your routine that help your skin look and feel its best and to help diminish the appearance of stretch marks should they appear.
What Can Be Done About Stretch Marks?
Taking proper care of your skin can help it look and feel its best. Because stretch marks can occur when your skin's elasticity starts to lessen, keeping your skin supple, healthy, and nourished as your bump grows goes a long way towards the appearance of stretch marks. Here are some tricks to help keep your skin pliant:
Hydrate – Water, water, water. It's simple and easy. Drink at least 8 to 10 cups a day. Your whole body will thank you.
Eat a nutrient-rich diet – Certain foods high in vitamins and minerals have been shown to help boost skin health and skin elasticity.6 These include:

Foods high in zinc

Lean red meat
Shellfish (cooked completely)
Nuts
Legumes
Eggs

Foods high in Vitamin C

Citrus fruit
Acerola cherries
Chili peppers
Guava
Sweet, yellow peppers

Foods high in Vitamin E

Sunflower seeds
Almonds
Beet greens
Pumpkin
Spinach and collards
Mango
Avocado
Soak up the sun, within reason – Although research on this particular subject is still sparse, one study did show a correlation between a decrease in vitamin D and an increase in non-pregnancy stretch marks. Luckily, vitamin D is easy to absorb from sunshine, but be sure not to overdo your exposure, as your skin might be extra sensitive during pregnancy. If it's for more than just a few minutes to get a little vitamin D daily, be sure to wear sunscreen.
Nourish your skin directly – Probably the kindest way to treat yourself to a little stretch mark prevention is by creating a body care routine that works for you. Start by keeping your skin soft, soothed, and hydrated with a daily dose of high-quality lotion or baby bump oil. Pregnant women may find that the rapidly expanding skin on the belly tends to itch, and moisturizer often provides some relief. It's important to note that pregnant or breastfeeding individuals should check with their doctor before using any new product, as they know your history best.
Taking proper care of your health and skin during pregnancy can help you navigate your pregnancy with confidence, and maintain your glow from the first trimester to the last.
Butter for Your Bump, Honestly
At Honest® we understand that pregnancy isn't always rainbows and roses, which is why we've compiled a collection of mama care products for any expecting mama to indulge in. We're here to support you throughout your pregnancy journey. From our Rock the Bump Butter to our Glow on Body Oil, we've got what you need to keep your growing bump hydrated and gorgeous.
Our Rock the Bump Body Butter, made with ingredients like shea butter, avocado oil, and Vitamin E, deeply moisturizes stretch mark prone skin for 24 hours and is made without silicones, lanolin, parabens, or fragrances. Add an extra drop of sunshine to your bump-care routine with our natural, plant-based body oil with organic coconut, avocado and olive oils.
We also offer various new mom essentials, like the Pregnant + Pampered Gift Set, Honest Mama Bump Care Kit, and the Bump Love Bundle made for every woman preparing to become a new mama. Live honestly with Honest®.
Sources:
Stretch Marks: Why They Appear and How to Get Rid of Them. American Academy of Dermatology. https://www.aad.org/public/cosmetic/scars-stretch-marks/stretch-marks-why-appear
Stretch Marks During Pregnancy: A Review of Topical Prevention. (2015, March). The British Journal of Dermatology. https://pubmed.ncbi.nlm.nih.gov/25255817/
Risk Factors of Striae Gravidarum. (2015, April). International Journal of Cosmetic Science. https://pubmed.ncbi.nlm.nih.gov/25440082/
Relationship between Vitamin D and Striae Distensae. (2015, November 9). Dermatology Research and Practice. https://www.hindawi.com/journals/drp/2015/640482/
Stretch Marks: An Unblessed Event. The New York Times. https://www.nytimes.com/2008/05/29/fashion/29SKINstretch.html
Eat Your Way To Fabulous Skin. BBC Good Food. https://www.bbcgoodfood.com/howto/guide/eat-your-way-fabulous-skin
We aim to provide you with the most honest and credible information possible. This article was reviewed for accuracy by The Honest Team and was written based on trusted sources that are linked at the bottom of the article.
blog_review_statement