Yoga has been a gift in my life and, as a parent, it's a gift that I want to share with my kids. Integrating yoga into their lives at a young age consciously prepares them for its benefits and challenges, making it a part of their physical, mental, and emotional development in fundamental ways. Of course, different children have different abilities and interests, so it's up to parents to figure out how it works for your own children and for you.
Before we had the convenience of carriers and cribs, parents had to carry their children everywhere, on our backs, in our arms, from place to place. I began my yoga bond by carrying my baby as soon as he had good head and neck control. With him nestled securely in my arms, I did gentle forward bends, focusing on how the feel of my touch, the sound of my voice and the delight in my eyes soothed him. Embracing and smiling at him during my yoga practice deepened our connection and helped build motor skills, so it wasn't just about our time on the mat. I found that encouraging that feeling of contentment helped him sleep longer and helped me get back into my exercise and eating rhythms, as well.
Your yoga practice changes as your children do. If you have a toddler, you can probably see what makes them such natural yogis (and so hard to keep up with): they're incredibly present with their own bodies and they've got amazing mental and physical energy to channel! Simple poses can strengthen your child's nervous system, helping to regulate the glandular system and manage energy levels with positive effects for your routines, as well.
Enjoy the chance to bridge their imagination and their physical activity — it gets them thinking about standing tall and feeling grounded at the same time. Instead of the phrases I use in the studio, like "lift your sternum up" and "press your toes to the floor while you lift the arches of your feet," I encourage my little yogi to  "reach high to the sky and really plant your feet on the earth" or "squat like a frog and when you stand say ribbit!" A friend of mine also taught her toddler to do a diaper changing yoga routine: it's a "happy baby" pose for cleanup (makes sense) and a "bridge" pose for diaper switch. What used to be a chance to fuss is now a fun moment to share.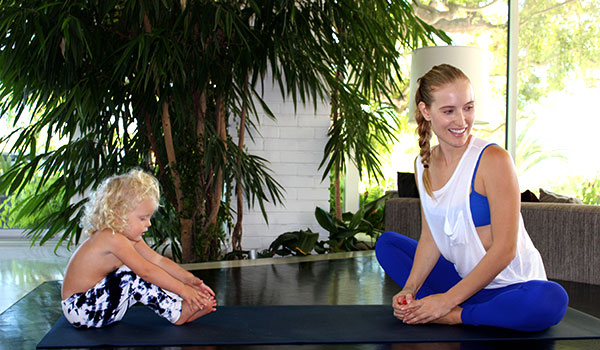 After years of home practice, parents can hope that the gift of yoga is something that grows as they grow into teenagers. It's a non-competitive opportunity to support self-awareness and encourage one to stop, breathe, and focus, a practical skill for stress reduction that benefits teens as they face fresh challenges. A clearer state of mind — something I wish I had as a teenager — can also help improve confidence and school performance. As they need to make their own way in the world, it's helpful for parents to support them discovering "a yoga of their own." Find a yoga class that specifically engages teens and acknowledges how rapidly their minds and bodies are changing. Offer to drop them and their friends off at a yoga class so they can try it together — there's always the reward of a smoothie on the ride back (some things never change)!
I've found that yoga for my children is the gift that keeps giving in so many ways and hope that you do, too. Not every child can be a quarterback — but yoga can help if they are; not every child wants to be a yogi — but they all can be, if you make the practice enjoyable and easy.
- Jessica James
Over the course of 12 years as a yoga practitioner, Jessica James has completed 3 yoga alliance certified teacher training courses. Her yoga sets are developed to sculpt the body and clear the mind. She has also developed a unique fitness-based prenatal yoga program inspired by her second pregnancy. Jessica currently lives in Los Angeles with her family.