While I spend most of my time blogging, I also have a soft spot in my heart for soup. About three years ago, I was a stay-at-home mom searching for a creative assignment of sorts and decided to create new homemade soup recipes each week that I would chronicle online. Since then I have created over 100 soups (and counting) and, after a lull this summer, I'm back at it.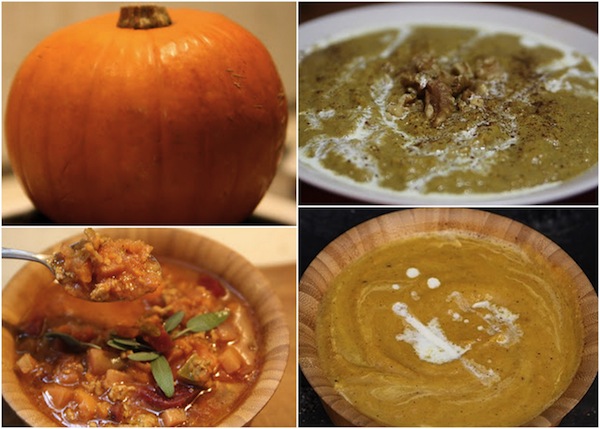 My family's investment and excitement over soup has proven to be a blessing as we move into the colder months and attempt to stay on the path of living naturally. As temperatures dip in NYC, it truly becomes harder for me to shop outside at farmers' markets or even stay motivated to walk to the grocery store. When it's 20 degrees outside, Chinese takeout or a box of neon mac'n'cheese can be tempting. But the problem is that—even though easy—these are lacking in the health department, they don't fill us with the immunity and mood boosting vitamins we need during this time of year, and they don't leave you satisfied. Also, now that I understand the food system a little better, I don't want to take that route.
Soups, on the other hand, are an incredible way to incorporate local or frozen organic ingredients and numerous vitamins and minerals. They provide a sense of warmth to keep you comforted and at ease. And they help prevent overeating at holiday time.
With fall, I am excited about all the pumpkin and butternut squash recipes because these veggies are full of serotonin that helps fight off winter blues. I also love soups that incorporate cabbage, spinach, and kale because they are filling and full of antioxidants. If you're worried that soups are time intensive, you can keep organic broth, frozen veggies (they have more nutrients than canned and you don't have to worry about BPA), and whole-grain or gluten-free pastas stocked in your pantry. All make a great base!
I am so excited to share some of my favorites. Enjoy, and I can't wait to hear about what are some of your favorite soup recipes.
Butternut Squash and Carrot Soup
Serves 4-6
Ingredients:
1 butternut squash, cubed

1 yellow onion, peeled and diced

2 -3 cloves of garlic, minced

Drizzle of olive oil

2-3 cups of water

2-3 carrots, cut up

1/4 cup of organic cream

2 teaspoons of nutmeg, approx.

2 teaspoons of cinnamon, approx.

1 teaspoon cloves, approx.

salt and pepper, to taste
Directions:
Pre-heat oven to 350 degrees. Cut squash open lengthwise and scoop out the seeds. Coat squash in garlic, olive oil, salt, and pepper. Let cook for 30 minutes or until soft.  Boil water. Cut up the onions, garlic, carrots and toss in pot.  Add the cooked squash, along with the cinnamon, cloves, nutmeg, and salt and pepper to the pot. Let cook for 20-30 minutes. Add the cream and blend with an immersion blender or in a standalone one.
Chunky Pumpkin Stew with Walnuts
Ingredients:
1 medium-sized pumpkin

1 can of organic pumpkin purée

2-3 cups of water, approx.

1/4 cup organic cream

1 yellow onion, peeled and chopped

3 cloves of garlic, minced

1/4 cup of walnuts, crushed

1 cup of cauliflower, chopped up

2-3 potatoes, cut up

1 yellow squash, cut up

3 tablespoons of olive oil, approx.

5 cardamom pods, crushed

2 tablespoons of cinnamon

2 tablespoons of cloves

2 tablespoons of ginger

2 tablespoons of nutmeg

pinch of salt and pepper, to taste
Directions:
Pre-heat the oven to 350 degrees. Cut open the pumpkin (from the top) and remove the seeds and place in the oven. Cut up the onion and garlic and add them to a pot, along with the olive oil. Turn on a low flame and let cook as you cut up the potatoes, squash, and cauliflower. Add them to the pot, along with the canned pumpkin, cream, cardamom, cinnamon, ginger, nutmeg, and cloves. Check on the pumpkin after 40 minutes and scoop out the roasted pumpkin and add it to the pot, along with the crushed walnuts and cover. Let cook for another 15-20 minutes, stirring periodically and/or adding some water (you will know if you have to). Turn off the flame, add salt and pepper to taste, and place some of the soup in a blender. Serve chunky with walnuts and enjoy!
Roasted Root Vegetable and Turkey Soup
Serves 10-12
Ingredients:
2 sweet potatoes, peeled and cut up

4-5 cups of water

2 turnips, cut up

5-6 beets, peeled and cut up

1 spaghetti squash

2 carrots, cut up

1 yellow onion, peeled and cut

1 pound of turkey meat

1 leek, cut up

1 celery stalk, chopped up

2 shallots, peeled and cut

2-3 garlic cloves, minced

1 small apple

1 bunch of fresh sage (about a handful)

1 teaspoon of red pepper flakes

1 teaspoon of celery salt

salt and pepper

drizzle of olive oil (enough to coat the vegetables)
Directions:
If you can, chop up all of the vegetables and marinate them overnight in olive oil, salt, and pepper. The next day, pre-heat oven to 350 degrees and add the veggies to a baking sheet covered with aluminum foil. Let roast for 1 hour. While it is cooking, add some olive oil to the pan and cook the turkey, along with the shallots, and leeks. Add water to a pot, along with the onion, garlic, apple, sage and the roasted vegetables. Add the celery salt, pepper, and salt and let cook for an hour, stirring periodically and tasting. Add more water if necessary and serve after 2 hours of cooking.
~ Serena Norr of Mama Goes Natural