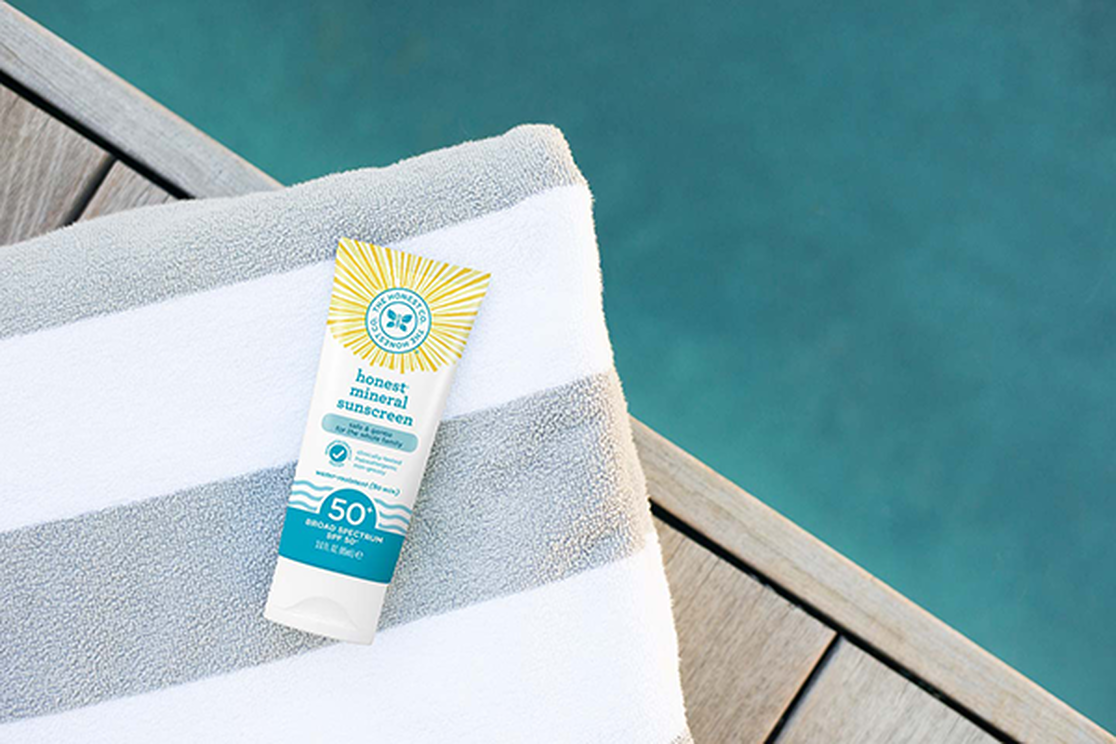 Did you know skin cancer is the most common cancer in the U.S (1,2)? More than 8,500 people are diagnosed with it every day (3-5). With this in mind, protecting your skin from the ultraviolet (UV) light that can potentially lead to this devastating (and sometimes deadly) disease is no small matter. Spending time in the sun increases your risk of skin cancer and early skin aging. To decrease this risk, limit time in the sun, especially from 10 a.m.-2 p.m., wear long-sleeved shirts, pants, hats, and sunglasses, reapply after 80 minutes of swimming or sweating, immediately after towel drying and at least every 2 hours. In addition to limiting time in the sun during peak hours and wearing protective clothing, sunscreen (with a Broad Spectrum SPF value of 15 or higher) is an essential part of a complete sun safety regimen. Often though, it's not as simple as grabbing any product on the shelf, as there are so many choices. Did you know that there are significant differences between formulas and the way they protect? Today, we're exploring the difference between mineral and chemical sunscreens so you can make informed decisions before you buy.
There are two categories of active ingredients in sun protection: chemical absorbers and physical barriers.
Chemical absorbers

, such as

oxybenzone and octinoxate,

work by absorbing the energy of UV

rays and converting it to heat that is then dispersed in the skin (6)

. These types of sunscreens are also known as "organic" sunscreens

– not because they were raised without pesticides – in chemistry, that means the chemical is built from carbon molecules.
Physical barriers

(mineral sunscreens) reflect the UV rays, bouncing them away from the skin (6). They are also known as "inorganic" sunscreens because they do not contain carbon molecules.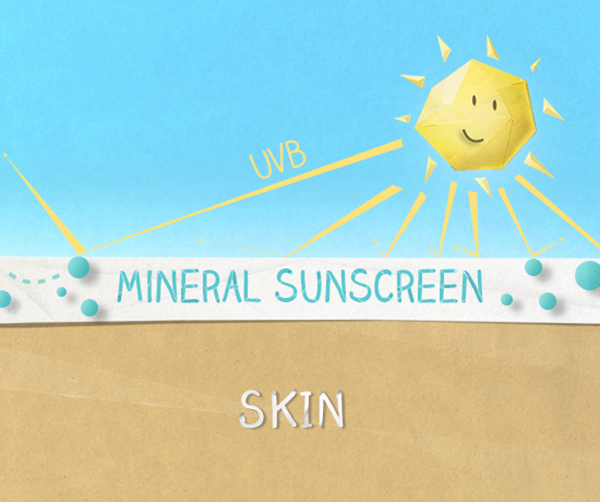 Here are a couple of other very important factors that set these two types of sunscreens apart.
PHOTOSTABILITY
Photostability is the ability of a product to retain its integrity upon exposure to UV light. If a sunscreen is not photostable, UV rays will break down the active ingredients and leave your skin vulnerable to UV rays. Unfortunately, photostability testing and labeling is not mandatory, making it difficult for consumers to know what they're getting.
Chemical sunscreens vary widely in their photostability. Avobenzone and ensulizole, and padimate O are widely known to be

unstable (7-11)

. Oxybenzone, octinoxate, and homosalate break down over time, too (9). Oftentimes manufacturers include more than one type of organic active ingredient in their formula to enhance photostability for a wider range of the UV spectrum. Preservatives and other ingredients can also impact photostability – sometimes for the better, sometimes for the worse. Photostability is one reason sunscreen has to be reapplied repeatedly.

The Skin Cancer Foundation Seal of Recommendation

is reserved for sunscreens that have met their photostability standards.

Mineral sunscreens are generally photostable (12).
COMEDOGENICITY
Comedogenicity refers to the possibility that an ingredient or formula can clog pores, potentially leading to whiteheads, blackheads, and pimples.
Chemical sunscreens tend to be more irritating to skin (6).

Mineral sunscreens are gentler, which is why they're the active ingredients typically used in baby sunscreens (6).
For help finding safe and effective sunscreens, look for products with the Seal of Recommendation from the Skin Cancer Foundation. (You can also find recommendations on their website.) They require manufacturers to submit studies proving their products are photostable, not a contact irritant, and don't cause phototoxicity (13).
We're proud to say our Honest Mineral Sunscreens passed the Skin Cancer Foundation's rigorous review and they recommend them as effective, broad spectrum sunscreens!
References:
Guy GP, Thomas CC, Thompson T, Watson M, Massetti GM, Richardson LC. Vital signs: Melanoma incidence and mortality trends and projections—United States, 1982–2030. MMWR Morb Mortal Wkly Rep. 2015;64(21):591-596.

Guy GP, Machlin S, Ekwueme DU, Yabroff KR. Prevalence and costs of skin cancer treatment in the US, 2002–2006 and 2007–2011. Am J Prev Med. 2015;48:183–7.

Rogers HW, Weinstock MA, Feldman SR, Coldiron BM. Incidence estimate of nonmelanoma skin cancer (keratinocyte carcinomas) in the US population. JAMA Dermatol. Published online April 30, 2015.

American Cancer Society. Cancer Facts & Figures 2016. Atlanta: American Cancer Society; 2016.

Siegel RL, Miller KD, Jemal A. Cancer statistics, 2016. CA Cancer J Clin. 2016; 66:7-30.

How to decode sunscreen lingo. (n.d.). Retrieved March 14, 2016, from

https://www.aad.org/public/spot-skin-cancer/learn-about-skin-cancer/prevent/sunscreen-labels/how-to-decode-sunscreen-lingo

Afonso, S., Horita, K., e Silva, J. S., Almeida, I. F., Amaral, M. H., Lobão, P. A., ... & Lobo, J. S. (2014). Photodegradation of avobenzone: stabilization effect of antioxidants.

Journal of Photochemistry and Photobiology B: Biology

,

140

, 36-40.

Farage, M. A., Miller, K. W., & Maibach, H. I. (2010).

Textbook of aging skin

. Berlin: Springer.

Layton, C., & Reuter, W. M. The Analysis of Sunscreen-Active Ingredients and Parabens in Lotions and Lip Balms by UHPLC with PDA Detection.

Deflandre, A., & Lang, G. (1988). Photostability assessment of sunscreens. Benzylidene camphor and dibenzoylmethane derivatives.

International journal of cosmetic science

,

10

(2), 53-62.

Serpone, N., Salinaro, A., Emeline, A. V., Horikoshi, S., Hidaka, H., & Zhao, J. (2002). An in vitro systematic spectroscopic examination of the photostabilities of a random set of commercial sunscreen lotions and their chemical UVB/UVA active agents.

Photochemical & Photobiological Sciences

,

1

(12), 970-981.

Schlossman, D., & Shao, Y. (2005). Inorganic ultraviolet filters.

Sunscreens: regulation and commercial development. Florida: Taylor & Francis

, 239-80.

Skin Cancer Foundation. (n.d.). Retrieved March 14, 2016, from http://www.skincancer.org/prevention/seal-of-recommendation/seal-of-recommendation-tests
We aim to provide you with the most honest and credible information possible. This article was reviewed for accuracy by The Honest Team and was written based on trusted sources that are linked at the bottom of the article.
blog_review_statement