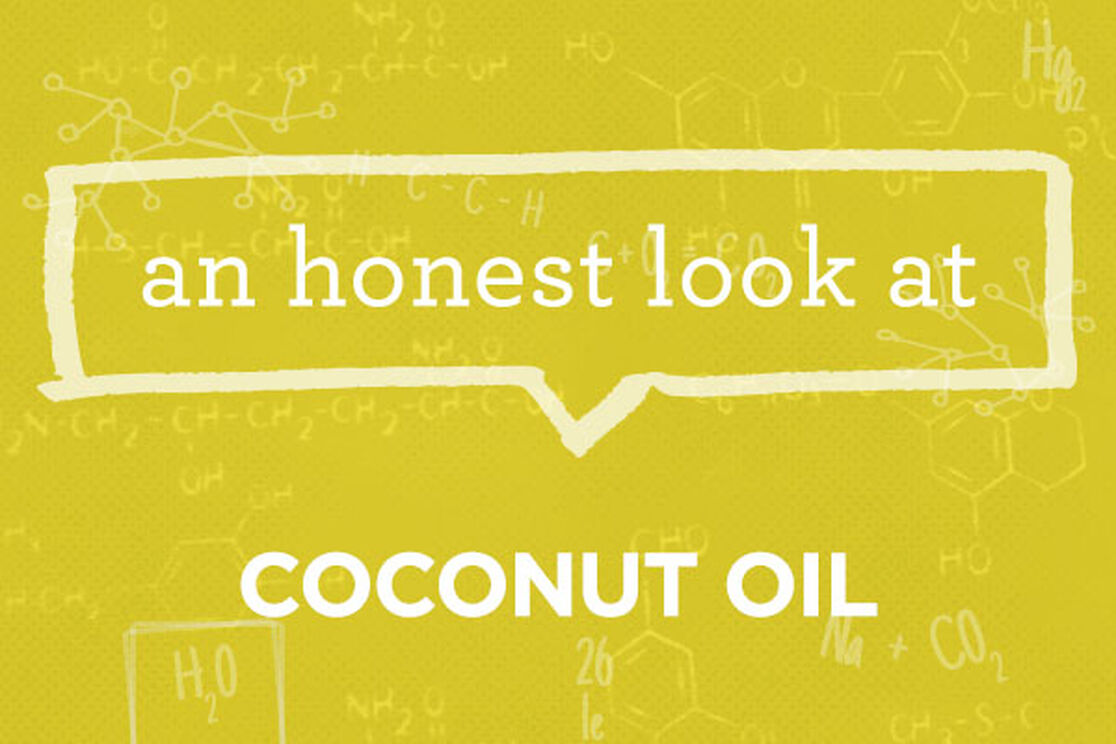 This is part of our ongoing series helping consumers better understand chemicals, chemistry, and product formulations. We translate the science, bust the myths, and give you an honest assessment, so you can make informed choices for your family!
Ingredient:
Coconut Oil
Botanical name:
Cocos Nucifera — a name which originates from the Portuguese in the 16th Century.
Coco = Portuguese for "grimace" — referring to the three holes on the bottom of the shell creating a face-like appearance

Nucifera = Latin for "nut-bearing"
What it is:
Coconut oil is from — can you guess? — coconuts! It's extracted from the kernel (or 'meat'), to be precise.
What it does:
Coconut oil is a pretty incredible ingredient. It's packed with rich fatty acids, vitamins, and antioxidants which help fight damage causing free-radicals (1). Also, coconut oil molecules are quite small which helps with absorption for amazing conditioning and moisturizing benefits (2,3). Throughout the globe, wherever coconut trees grow, people have been relying on coconut oil to condition the hair and support the skin (among many other benefits) for thousands of years. Research is on-going, but preliminary studies show coconut oil can help:
Support skin health (4)

Nourish, moisturize, condition, and soothe, skin and hair (3,5,6)

Function as an antimicrobial agent (5,7,8,9)
Fun Fact: Pacific Islanders consider value the coconut palm so highly as both a source of food and medicine that it is called "The Tree of Life."
Why we use it:
"Why not?" might be a better question. Seriously, coconut oil is not only amazing for skin and hair care, it's extremely versatile. It's safe for you and your family, plant based, and naturally resistant to rancidity (10) so it has a long shelf-life.
Why we're featuring it today:
We've received a lot of questions from parents of kids with nut allergies wondering if they need to be concerned about coconut oil. The American College of Allergy, Asthma & Immunology (ACAAI) states: "Coconut is not a botanical nut; it is classified as a fruit, even though the Food and Drug Administration recognizes coconut as a tree nut. While allergic reactions to coconut have been documented, most people who are allergic to tree nuts can safely eat coconut. If you are allergic to tree nuts, talk to your allergist before adding coconut to your diet."
The available medical literature contains documentation of a very small number of allergic reactions to coconut and most occurred in people who were not allergic to other tree nuts (11,12). Still, anyone with severe tree nut allergies should use with precaution and consider discussing specific products with their healthcare provider as they know their medical history best and can provide valuable guidance.
References:
Marina, A. M., Man, Y. C., Nazimah, S. A. H., & Amin, I. (2009). Chemical properties of virgin coconut oil. Journal of the American Oil Chemists' Society,86(4), 301-307.

Sarkar, R., Basu, S., Agrawal, R. K., & Gupta, P. (2010). Skin care for the newborn. Indian pediatrics, 47(7), 593-598.

Rele, A. S., & Mohile, R. B. (2003). Effect of mineral oil, sunflower oil, and coconut oil on prevention of hair damage.

Journal of cosmetic science

,

54

(2), 175-192.

Nevin, K. G., & Rajamohan, T. (2010). Effect of topical application of virgin coconut oil on skin components and antioxidant status during dermal wound healing in young rats. Skin Pharmacology and Physiology, 23(6), 290-297.

Verallo-Rowell, V. M., Dillague, K. M., & Syah-Tjundawan, B. S. (2008). Novel antibacterial and emollient effects of coconut and virgin olive oils in adult atopic dermatitis.

Dermatitis

,

19

(6), 308-315.

Agero AL, Verallo-Rowell VM. (2008). A randomized double-blind controlled trial comparing extra virgin coconut oil with mineral oil as a moisturizer for mild to moderate xerosis.

Dermatitis : Contact, Atopic, Occupational, Drug

[2004, 15(3):109-116]

Elmore LK, et al. (2004).

Treatment of Dermal Infections With Topical Coconut Oil:

A review of efficacy and safety of Cocos nucifera L. in treating skin infections.

Natural Medicine Journal, 6(5).

Ogbolu, D. O., Oni, A. A., Daini, O. A., & Oloko, A. P. (2007). In vitro antimicrobial properties of coconut oil on Candida species in Ibadan, Nigeria.

Journal of medicinal food

,

10

(2), 384-387.

Sheshala R, Ying LT, Hui LS, Barua A, Dua K. Development and Anti-microbial Potential of Topical Formulations Containing Cocos nucifera Linn. Antiinflamm Antiallergy Agents Med Chem. 2013 Jul 10;12(3):253-64.

Sachs, M., Von Eichel, J., & Asskali, F. (2002). [Wound management with coconut oil in Indonesian folk medicine].

Der Chirurg; Zeitschrift fur alle Gebiete der operativen Medizen

,

73

(4), 387-392.

Hannaway PJ. On the nature of food allergy. Copyright 2007; Page 111

. Published by Lighthouse Press.

Sicherer SH, et al. A voluntary registry for peanut and tree nut allergy: characteristics of the first 5,149 registrants.

J Allergy Clin Immunol 2001; 108(1):128-132.
We aim to provide you with the most honest and credible information possible. This article was reviewed for accuracy by The Honest Team and was written based on trusted sources that are linked at the bottom of the article.
blog_review_statement