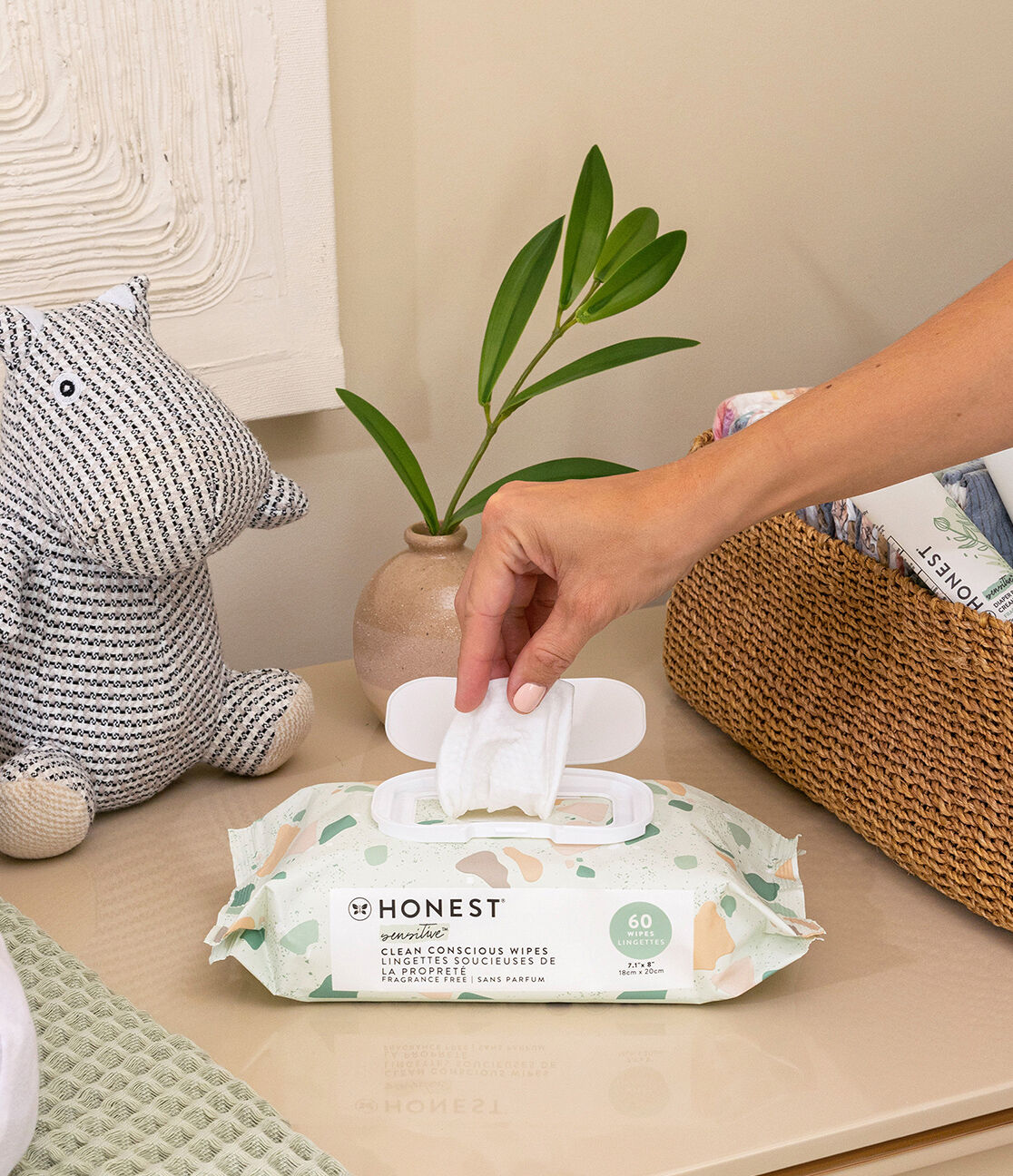 4 Unique Ways To Utilize Baby Wipes (Other Than On Baby's Bum)
When you're at the store running errands, there's nothing worse than when they don't have one of the items you need in stock. You've got everything else for your cleaning kick, from the mops to the glass cleaner to the bleach—but they're out of wipes.
Rather than go out of your way and head to another store, you can use this one easy substitute: baby diaper wipes. As it turns out, they're good for a lot more than wiping baby bottoms.
Put that pack of wipes in your cart and read on for four genius baby wipe uses.
#1 They Can Wet Mop Floors
You're finally in the mood to clean the crumbs off your floor, so you break out the wet mop and go to grab one of the wet cleaning cloths for it. The only problem? They're bone dry.
(Did you leave the lid off again? Yep. Can you blame it on the kids? You bet.)
While it might be tempting to give up on cleaning entirely and go back to binging a tv series, you don't have to call it quits yet. Instead, try out one of our favorite cleaning hacks by taking a diaper wipe and attaching it to the bottom of your mop in the same way you would with the wet cloth.
This way, you can:
Pick up grime
Give your floor a quick clean
Tidy your home without using harsh ingredients
You don't have to worry about a dip in the quality of your clean either. Baby wipes can help trap dirt and grime like a cleaning cloth.
#2 Wipe Down Your House Plants
You make sure to water your plants daily, put them in the sunlight to make them happy, and give them lots of space to grow in big pots. That said, doting on them doesn't stop them from becoming dusty.
No matter how much you try to clean, it's hard to stop a fine layer of dust from settling on everything—including your plants. This dust is just as important to keep off surfaces as it is for your plant babies.
If left to settle on their leaves for too long, it can:
Stop them from photosynthesizing
Stress your plants out
Jeopardize your plants' health and make them more disease-prone
To keep your plant dust-free and thriving, you'll need to give your leaves a quick wipe—but not with any old chemical-sopped wipe. That's why gentle baby wipes come in clutch for cleaning house plants.
Pro tip: We think our Honest Baby Wipes are the best ones for the job. Our Hydrate + Cleanse Plant-Based Wipes are made with aloe and can be trusted on your plants because of their clean, mild formula, made with over 99% water.
#3 Help Decrease Your Pet's Mess
If you have a furry animal in your house, you know that pet hair winds up everywhere. It sticks to your clothes when they sit on your lap, and it somehow finds a way to spread all over your rugs and couches no matter how hard you try to keep them off the furniture.
But baby wipes can minimize pet messes. Running them over your animal helps:
Remove loose hairs before they shed
Clean mud off of paws
Get drool or grime off your pet's face
Our Benefit Wipes are the perfect product to give your furry baby a quick wipedown. They're made without harsh chemicals, offering your pet an ultra-clean scrub—and you peace of mind.
#4 Keep Your Keyboards Squeaky Clean
Most work now requires a computer to do it—and many of us require an assortment of snacks to help us get through the workday. But after a few times of eating or drinking over your keyboard, you might start to notice sticky keys or crumbs settling into the nooks and crannies.
How do you restore your keyboard to tip-top shape? Cleaning with water doesn't usually mix well with tech gadgets, and a regular wet wipe can sometimes make it stickier than when you started.
Fortunately, baby wipes are a solution to this cleaning conundrum. That's because they:
Wipe stickiness off keys
Sweep away crumbs
Offer a non-sticky, dry clean
If you don't have a microfiber cloth and computer-cleaning spray on hand, your next best option for polishing up your keyboard and workstation is to reach for your baby wipes.
Find a Clean You Can Trust with Honest
If you've been eyeing the unopened pack of baby wipes in your closet and wondering "what are baby wipes used for besides bums when it's time for a diaper change?", you now have four answers. From cleaning pets to keyboards, baby wipes can tackle a wide range of messes—and they're ready to become your new cleaning BFF.
Part of what makes baby wipes a top-notch cleaning tool is their gentle formula—and we've mastered that formula here at Honest. Our baby wipes are 100% plant-based, so you know you're in for a clean you can trust. (No harsh chemicals like pesky parabens to be found here.)
Try our baby wipes today and tackle messes with confidence.
Sources:
Iannotti, M. (2018, December 19). Why you should clean the leaves of Houseplants. Knox County Agricultural News. Retrieved March 15, 2022, from https://u.osu.edu/knoxcountyag/2018/12/19/why-you-should-clean-the-leaves-of-houseplants/
We aim to provide you with the most honest and credible information possible. This article was reviewed for accuracy by The Honest Team and was written based on trusted sources that are linked at the bottom of the article.
blog_review_statement