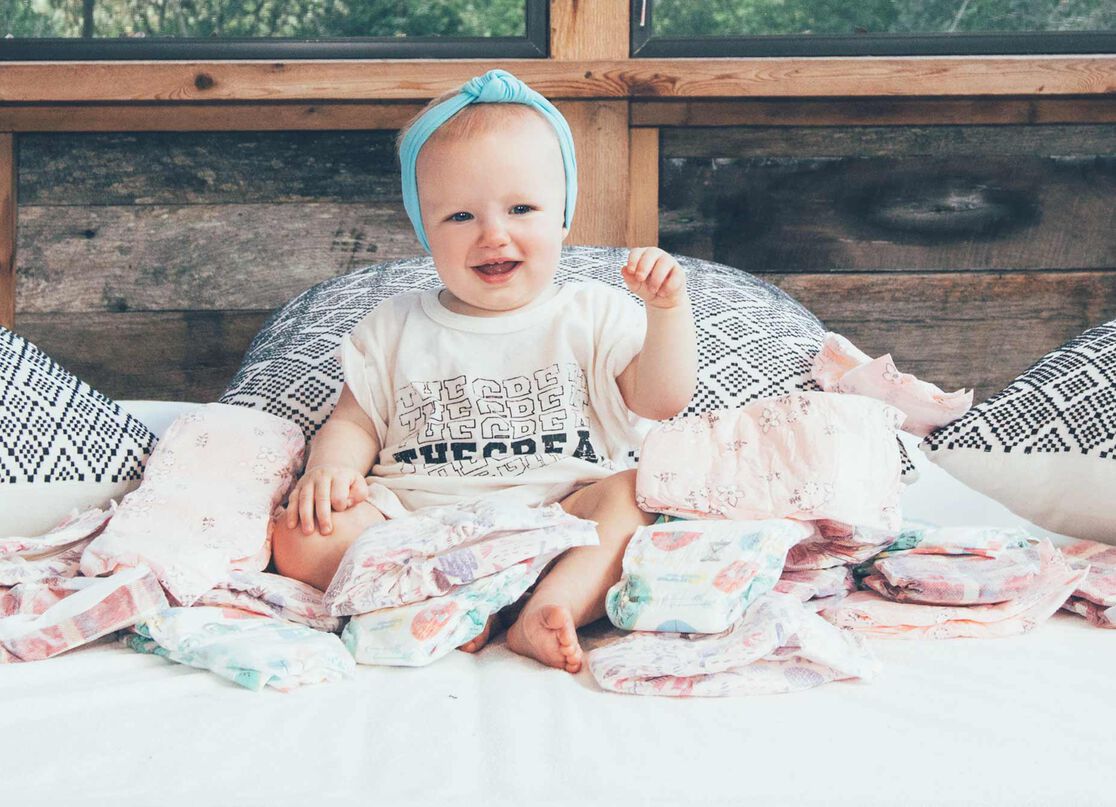 How Many Newborn Diapers?
Naturally, pretty much every new parent wants to know how many newborn baby diapers they'll need, but don't stress too much about it. If you are asking yourself, "How many newborn diapers do I need?" We are here to help. In this guide, We'll be breaking down all the newborn diaper numbers you'll need to know before your little one arrives. As a first-time parent, it's normal to have many questions regarding diaper usage for a newborn baby. At Honest, our experts will be covering everything you need to know so you can properly prepare for your newest family member.
How Many Newborn Diapers Do I Need?
Newborn diapers only fit babies that are up to 10 lbs. So, considering that most babies are born weighing between 5 and 8 lbs, you might only need them for the first month or less. When preparing for your newborn baby, it's important to remember that you will have to buy different baby diaper sizes as your newborn continues to grow. Therefore, don't plan on buying a year's supply for newborn baby diapers. Generally speaking, 7 packs of newborn disposable diapers is a good number to follow.
So, how many diapers per day do newborn babies need? While this number can range, most professionals recommend having 8-12 diapers on hand per day. Considering you'll need one clean baby wipe per diaper change, you'll use about 10-12 wipes on average per day while caring for a newborn baby. When added up, you'll need around 341 baby wipes the first month of your baby's life.
How Many Size 1 Diapers?
Size 1 diapers fit babies that are 8 to 14 lbs. This is the stage where you'll need the most diapers per month because you're baby's — ummm — output will be slightly higher before they start eating solids. We estimate that you'll go through around 8 to 10 disposable diapers per day, so just to make sure you have enough extras for special cases, we suggest that you have 245 diapers on hand each month during this time.
How Many Diapers After Size 2?
As your baby grows, you'll go through less and less diapers per month. Rather than playing the guessing game check out our

Diaper Chart

:


So, How Many Fitted Diapers Does a Baby Use in a Year?
Between 1800 and 2200. Between all those changes, new parents don't have time for math and they certainly don't need any surprises. That's why we love our diaper Bundles; they're designed to take the learning curve out of diaper duty. Each time your baby sizes up in diapers, we send you the right amount, no guesswork.
How Many Diapers Come in a Pack?
Disposable diaper packs can range in size from 4 to 70. At Honest, our diaper bundles include 70 disposable diapers in a variety of fun prints. Plus, we also offer a diaper subscription option so you can be stocked up at all times. All you have to do is select your size, diaper and wipes print, choose the delivery cadence, and then you're set!
How Are Honest Diapers Different?
Your baby's diaper shouldn't be made of toxic or hazardous materials. At Honest, we make sure your baby's health is our number one priority. That's why we've created a disposable diaper that's eco-friendly and free of harmful chemicals. Not only are they made from the best materials, but they also offer superior leak protection and comfort, making it the ultimate diaper for your little one. Plus, each disposable diaper is offered in a fun and playful print, keeping your baby stylish and dry on all their tiny adventures.
Whether you're preparing your newborn stash yourself or are looking for items for your baby registry, having a couple of extra overnight diapers on hand is always a good idea!
Still looking to learn more about newborn babies? Whether you're trying to figure out how to dispose of diapers safely (and cleanly), or what the best baby rash remedies are, our blog is an excellent resource for soon-to-be mamas. Get all of your questions answered today!
We aim to provide you with the most honest and credible information possible. This article was reviewed for accuracy by The Honest Team and was written based on trusted sources that are linked at the bottom of the article.
blog_review_statement