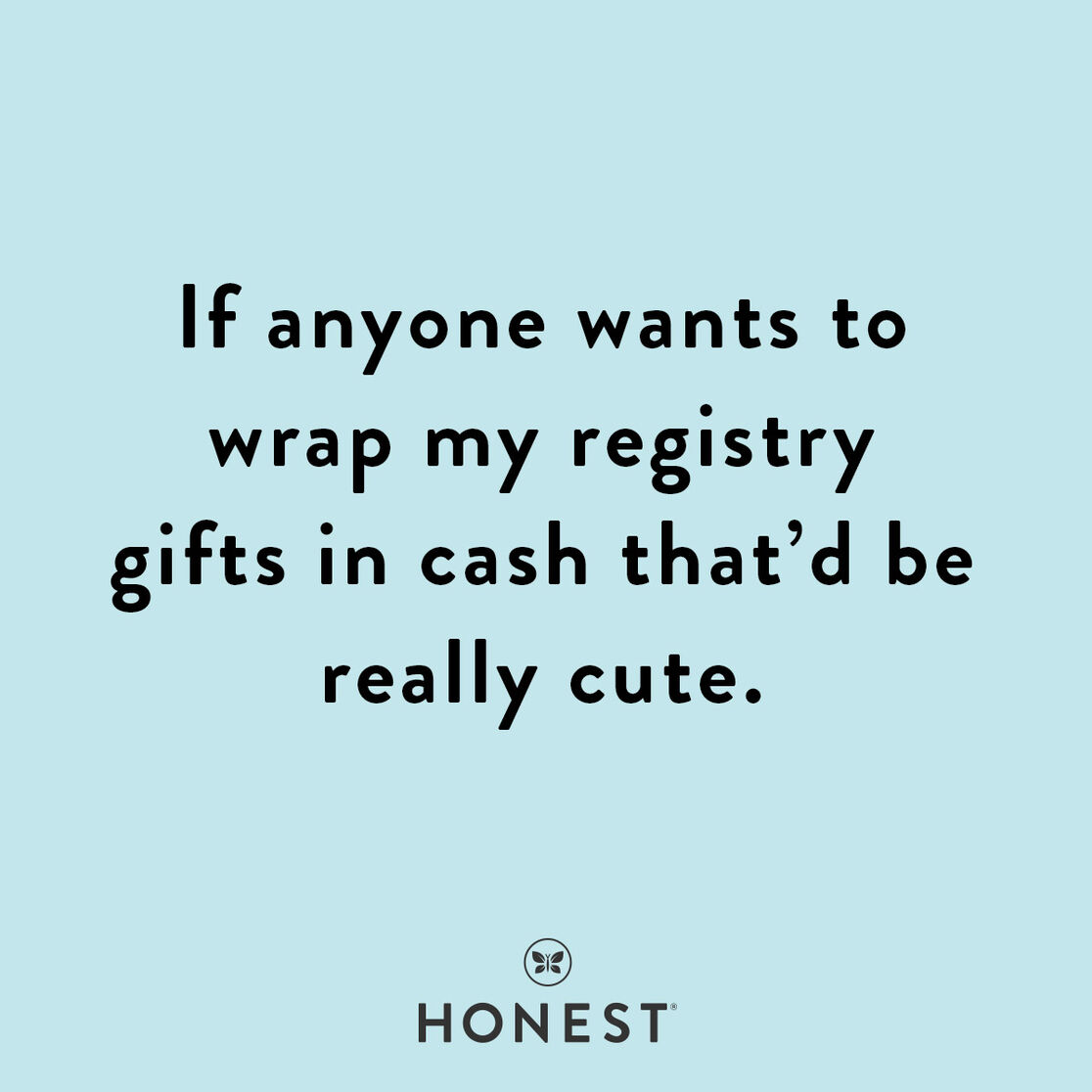 Registering for your new baby — especially when it's your first — is one of those things that triggers the thought that your life is about to change in a major way.
I wish I could hire someone to do my baby registry for me. This is stressing me out.

— Freethinking_Q (@Naturaly_Me252) May 19, 2019
Right there, on the screen in front of you are pages and pages of new gear you're going to need, some of which you're not even totally sure why. Then, seeing all those price tags makes you realize you're about to go through a huge financial change, too.
Between diapers, wipes, new clothes every growth spurt and, not to mention childcare (if you're working or ever want to have date night again), this new chapter is going to cost a lot.
You know what always sounds good when you find yourself faced with a big financial change? Cash.
Asking for Cash, Is it Taboo?
No, definitely not, the whole point of your baby registry is to help you get what you need as a new parent. And, if extra cash is what you really need to help you afford childcare, convert your extra room into a nursery, or hire a baby proofer then you should let your friends and family know.
"If we could get 1 or 2 people to give us $100,000, that'd be helpful." -husband, when I told him I added a cash fund to our baby registry

— Mariah Justice (@mariahthejust) February 22, 2017
However, there are going to be people like your great aunt Susan who are used to a more traditional registry and they might not love it. Luckily, there are ways to drop a delicate hint that nudges that certain stubborn someone in the right direction.
Make it Easy
Don't just tell people you'd rather have money and expect them to show up at your baby shower with envelopes of cash (but doesn't that sound nice). Honestly, who wants to go out and find an ATM these days?
Good thing, there are two great ways to allow your friends and family to gift you cash at the click of a button.
1. Make Your Own Website
This is the best option if you are running an all-or-nothing cash only baby registry. Squarespace offers sleek and (best of all) easy to use templates, so that pretty much anyone with basic computer skills can build a beautiful semi-custom website.
Make the page fun by adding pictures, telling your family's story and adding anecdotes about your pregnancy journey — weird cravings, your silliest pregnancy brain moments — and of course, what you'd use the cash for.
Then, you can use their Donation Plug In to allow your loved ones to easily gift you cash. 
2. Use Babylist
Yes, there is an actual baby registry where you can ask for cash — Babylist. It's great because they make it easy to add multiple cash funds for different purposes, so your family can feel like they're choosing a specific cause they want to help you out with. But don't let your commitment phobia stop you, all the money goes into your bank account in one lump, so you can really use it for whatever you want.
Another bonus is that with Babylist you can add items from all your favorite shopping sites, so family members still have the option to send you an actual gift... if they must. 
 More Tips on How to Ask for Cash
If you're still not convinced that your more old fashioned family members won't understand why you'd rather have money in your bank account than a Snoo.  Here are a couple other things you can try:
Give Them All the Details
One reason people have an aversion to the cash gift is that it can feel so disconnected. They won't truly know what you'll use it for and plus they want to pop into your mind every time you wrap your little one in that super-soft blankey they sent you.
Whether you choose to create your own site or use Babylist, make sure to share a little story about why the cash would be helpful. This helps bring the gift to life. Here are some great examples we've seen:
Child Care Fund

"As two working parents, our biggest need for the baby will be childcare. Any little bit will help us as we transition back to work after leave. Thank you!"

Babysitting Fund

"Let's face it — mom and dad are going to need a night out every once in a while. But, we love you way too much to ask you to babysit and, anyway, we'd much rather be out to dinner with you. Any contribution will be thoroughly enjoyed. Xo!"

Nursery Fund

"Our dream nursery is almost complete! We just have a few more finishing touches to add any little bit would be an amazing step in helping to give our little girl her new home."
Drop the Hint with Gift Cards
Asking for gift cards is just a softer way to ask for cash and it's pretty much just as good. Especially in the first few weeks, making your own home-cooked meals is going to be nearly impossible. Registering for gift cards from food delivery services like Postmates, Grubhub and UberEats is a millennial parent hack you don't want to miss out on.
Is it acceptable to put an olive garden gift card on a baby registry?

— C h e l s e y (@chelsshewett) May 22, 2019
Aside from food, the number one thing you're going to need to survive your first year as a parent is diapers. Lots and lots of diapers. Register for a Diapers + Wipes Bundle Gift Card. You can get your first month, even your first whole year of diapers delivered to your doorstep. It might be the best gift ever.
Add Some of the Things You Would Use the Cash For
Is it acceptable to put dry shampoo on your baby registry because I feel like I'm gonna need a ton of it

— Amber. (@abreuer94) May 22, 2019
If you were lucky enough to have had most of the traditional baby essentials handed down to you from friends or family members, or if this is your second baby, there's still a ton of things you'll need for life with a baby. 
Maybe don't go overboard on this one and register for a new Dyson Hair Dryer, but you should totally register for things like baby-safe makeup products (you will be kissing your baby with those lipstick-covered lips after all), baby-safe cleaning products or even some post-maternity clothing to get you through the next couple months.
Trust us, your mom friends will get it and be happy to help.
Ask for Gifts to Charity
One of the reasons parents-to-be don't want physical gifts is that they just don't want more stuff.  But there are so many families out there that do really need gear and supplies for their new baby and they can't afford it. 
A great option for families that don't want gifts is to create a registry on Target, Amazon or Babylist and set the shipping address to a charity like Baby2Baby.
Just make sure to check that the charity you pick accepts the types of items you put on your registry.
Don't be Afraid to Make it Your Own
At the end of the day, the whole reason registries exist is to help your family and friends understand what you need for your new life chapter — because everyone is different. So, you shouldn't be afraid to be honest about that. Just remember to take extra care to keep your loved ones feeling involved in a special way, because that's really what they're looking for.
We aim to provide you with the most honest and credible information possible. This article was reviewed for accuracy by The Honest Team and was written based on trusted sources that are linked at the bottom of the article.
blog_review_statement