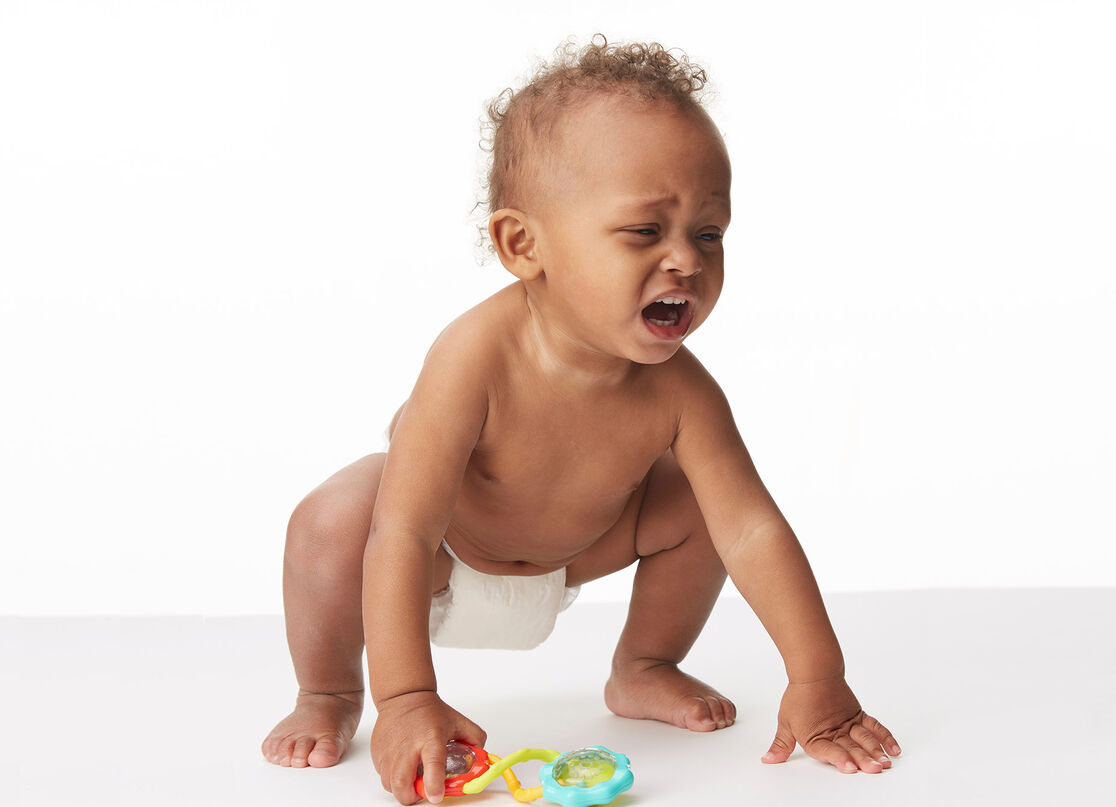 What is Diaper Rash?
Diaper rash is irritated, inflamed skin that shows up on your baby's bottom, skin folds, or general diaper area, like the thighs.
The first sign that your baby has a diaper rash is usually that they are extra fussy or seem uncomfortable. One of the most common diaper rash symptoms is red, irritated skin. When your baby has developed this kind of skin irritation, it's essential that you keep the affected area clean and dry until the rash has disappeared.
Almost every baby gets a diaper rash at some point, so don't feel too guilty about it. Even though it's heartbreaking to see your baby uncomfy, no matter how careful you are it's just kind of one of those things that happens.
Diaper rash should usually be gone within 5 days, but if it's not going away or you see any broken skin, give your doctor a call. If you think that your baby's rash is more symptomatic of a skin condition such as eczema, try an eczema cream with naturally-derived ingredients.
Our Top Diaper Rash Remedies
It's a good idea to have diaper rash cream on hand, either in the diaper bag or in the nursery changing table because it protects chafed skin. How, you ask? Diaper rash cream forms a protective layer on your baby's skin to help soothe the affected area.
All babies have delicate skin, but one that's dealing with diaper rash is especially sensitive so make sure you choose a diaper rash cream with a gentle formula. We think the best baby diaper rash cream opts for non-nano zinc oxide and natural ingredients like organic shea butter and jojoba oil.
How to Prevent Diaper Rashes
According to Cleveland Clinic, a baby diaper rash is related to wet diapers, skin sensitivity, and chafing. So, changing diapers frequently and making sure your diaper is super absorbent are both good ways to help preempt a rash.
The right diaper should be able to absorb quickly and wick away moisture from your baby's skin, even overnight diapers. That way even if you can't change them immediately, it'll help keep their skin dry and comfortable. If your baby has a wet diaper, make sure to swap it out for a clean one right away to prevent a mild diaper rash from forming.
When it comes to diaper rash remedies, you are going to want to keep a diaper cream on hand at all times. A baby's rash can worsen quickly, which is why you will need to be on top of each diaper change and apply the diaper cream as needed in order to prevent further skin irritation.
Best Diapers for Diaper Rash
All babies are unique, but generally the best diapers for diaper rash-prone babies are ones that are designed especially for sensitive skin. What exactly does that mean? Here's what we think makes the best diapers for sensitive skin.
Best Baby Wipes for Diaper Rash-Prone Skin
A lot of parents ask, is it okay to use a baby wipe on a child with diaper rash? Well, the gentlest way to clean your baby's bum is with pure water, but if you're on the go and can't do that, you can use a baby wipe just be extra delicate with their skin.
If your baby is continuing to get a lot of diaper rashes you might want to consider switching to a wipe that's made for sensitive skin. Good baby wipes for sensitive skin are hypoallergenic, fragrance free, made with at least 99% water and use a plant-based cloth.
Diaper Rash Treatment for Babies with Diaper Rash
There's a few more steps you can take to help your baby when they have a diaper rash. Here's what to use for diaper rash:
Cleanse the area with a fragrance free baby shampoo or body wash

Let baby's skin air dry for 5 minutes

Liberally apply diaper rash cream

For extra daunting diaper duty, use a soothing bottom wash that doesn't irritate skin
We aim to provide you with the most honest and credible information possible. This article was reviewed for accuracy by The Honest Team and was written based on trusted sources that are linked at the bottom of the article.
blog_review_statement