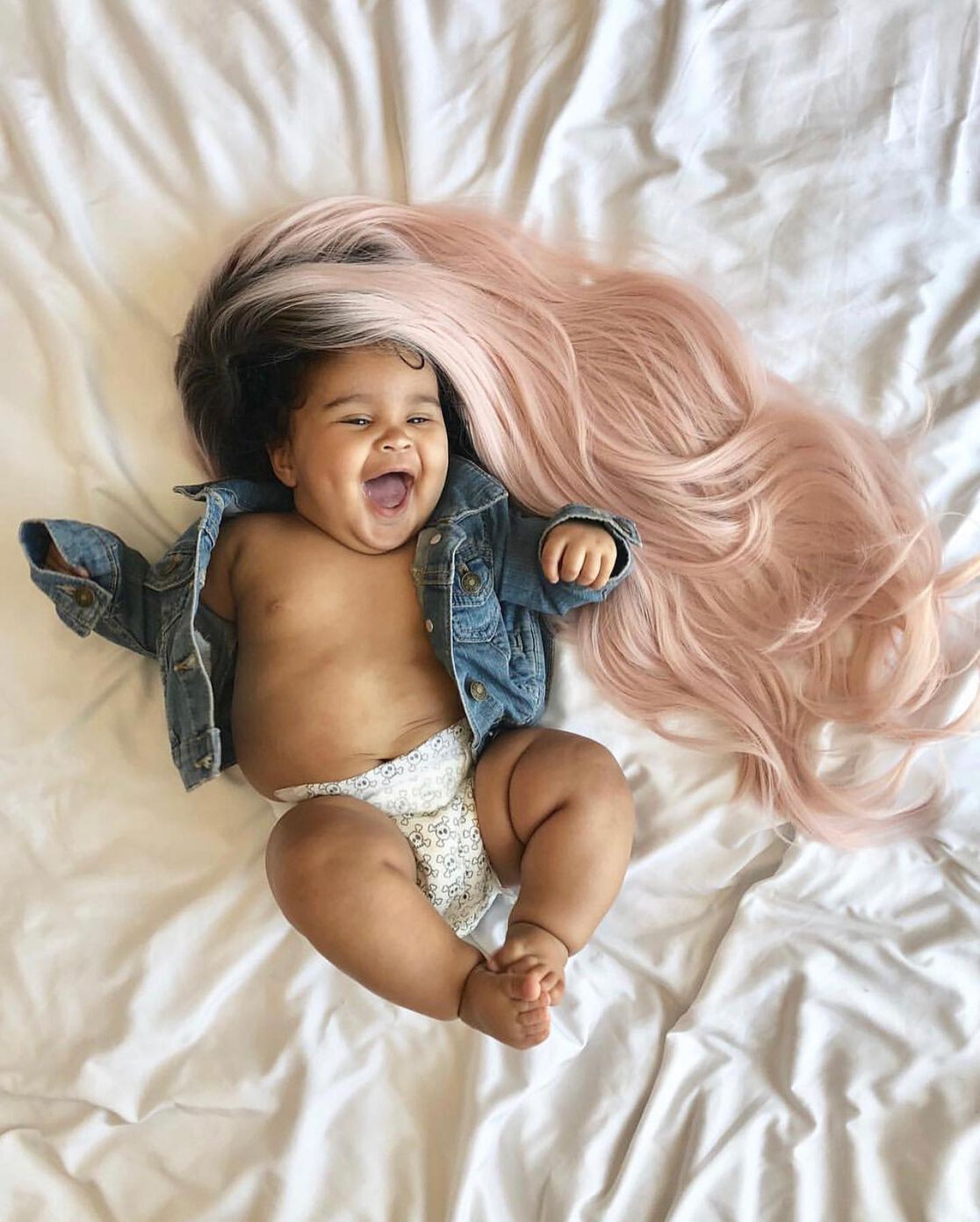 Image shared by @mirellamanelli
On a mission to revive your hair this season? Let your family tag team along! Teaching good hair care habits is an enjoyable bonding experience for parents and kids. After all, even children can appreciate the feel of soft, healthy tresses.
To give your entire family the luscious locks they deserve, here are the best hair care routine tips.
Use the Right Ingredients
When it comes to hair, products can make or break your routine. And that's because of hair's magical anatomy. Hair strands are porous and multi-cellular protein structures, with the ability to stretch, fracture, and absorb ingredients. When you use a shampoo, it will actually enter your hair strand shafts.
This makes choosing natural, non-toxic ingredients a must for hair care. To start your family's hair journey, begin with what's lying around in your shower.
Shampoo & Conditioner
You may be tempted to buy the discount shampoo or conditioner at your local drugstore. But like any body part, your hair deserves quality products for maximum health. Let your kids know that investing in hair health isn't vain, it's part of maintaining self-care.
Start by reading the back of the bottles. Most common brands include harmful chemicals that cause long-term damage or dullness. When shopping for bath time, here's a breakdown of the ingredients to avoid in shampoo and baby conditioners:
Silicones – Additives that cause product buildup and clog scalp pores
Parabens – Preservatives that can potentially disrupt hormones and irritate skin
Artificial Dyes & Fragrances – Often consist of irritating and damaging toxic chemicals
Sulfates – Strong cleansers that strip natural hair of its essential oils and cause dryness
Formaldehyde Donors – Preservatives that cause scalp irritation and hair loss
Alternatively, the best shampoo and conditioner for kids will include these nourishing ingredients:
Coconut Oil – Provides extra nourishment and shine to dry locks
Aloe – A natural moisturizer that helps repair damaged hair
Lauryl Glucoside – A more gentle version of sulfate cleansers
Biotin – B vitamin known for promoting hair and nail growth
If you're concerned about the costs of upgrading, there are many affordable options that will keep your kid's hair (and your wallet) plump and healthy. Our gentle combination shampoo & body wash steers clear of all ingredients to avoid in hair products and is tear free for babies and kids.
Other Products
Shampoo and conditioner are hair care necessities. But if you really want to boost your family's hair game, consider some supplementary products. Whether you're looking for strength, shine, or damage repair, these products are superb additions to shower time:
Deep or Leave-In Conditioner – Dryness causing extra frizz and breakage? Use a deep conditioner weekly to transform your locks. After shampooing, apply a leave-in treatment onto your kid's hair before their final rinse. That fifteen minutes of bath playtime will double as stress-relief and hair nourishment.
Detangler – If you have kids, you know how quickly hair can get knotted. After a bath or shower, spray a detangling solution onto hair. The product's oils and protein polymers prevent excess breakage while combing out the snarls. For more information check out our article on how to untangle matted hair.
Oils & Serums – Despite popular belief, oils do not always lead to greasy hair. For those with finer hair, apply a lightweight serum on damp hair ends to seal any breakage. For family members with thick coils or extra-dry locks, full oil treatments (go for argan and coconut oil varieties) will provide needed moisture and shine.
Brushing it Out
You might think any old rat tail comb will do the trick with hair. Turns out, the way we use brushes and combs make a big difference.
The key to healthy brushing behavior? Gentleness. These techniques and tools will prevent any avoidable damage.
Tools of the Trade
Depending on hair texture, wetness, and damage level, you will need different tools for detangling sessions. Start by choosing a brush or comb type best suited for the situation at hand:
Paddle Brush – Got a thick head of hair with some killer knots? Paddle brushes are excellent for detangling. For after shower use, make sure your brush says it's approved for wet hair.
Round Brush – Most children will not need a round brush. But if you're aching for a fresh salon look, round brushes both detangle hair and create voluminous curls under a dryer's heat. A much less damaging option than curling irons.
Boar-Bristle Brush – A perfect option for those with sensitive, fine, or easily breakable hair. Boar bristles are way softer than typical bristles, leading to a gentler brushing session. Be aware that these only work well on dry hair, though.
Wide Tooth Comb – If you want to ensure equal moisture throughout hair, wide tooth combs have your back. Use one in the shower to distribute conditioner or leave-in product across all strands.
Tangle-Free Technique
Pause before handing over the brush to your kids. By demonstrating healthy brushing habits, you can save kid's hair from their own hasty hands.
For wet hair, here are a few essential brushing steps to take:
Start Ahead – Use a wide tooth comb in the bath or shower with conditioners
Damp Over Wet – Wait a few minutes after washing to tackle knots
Bottoms First – Start at the bottom half of hair and work up to the roots
Angling – Turn your tool slightly up instead of straight down
Strokes – Use small, soft strokes to work through difficult sections
For dry hair, brushing is slightly less worrisome. Keep things gentle, and you will eventually get through any knots. And remember—less can be more. Over-brushing can actually cause greater hair loss. Twice a day will do the trick.
Teaching Good Hair Habits
When raising children, every moment is a teaching opportunity. And good hair habits are one of the thousand ways you can show kids the value of establishing routines.
Outside of brushing, your hair needs a little extra help to keep split ends and damage at bay. Keep your family's heads shining with these worthwhile habits.
Staying Trim
To avoid split ends, it's best to get hair trimmed every three to four months. The solution? Home haircuts. We know wielding the scissors can be scary. But forget the pressure to make big style changes. Stick to these basic tips for trimming healthy locks in the home:
Proper Tools – Your kid's school scissors won't "cut it" here. Buy some hair-cutting shears or precision scissors for smooth lines. Make sure you keep the sharp blades away from any young hands.
Cut Dry – You may argue that your stylist always cuts your hair wet. However, you are (probably) not a licensed hair cutting professional. Dry hair allows you to see length changes better and avoid uneven trimming.
Sections Are Key – For longer hair, you will need a few clips by your side. Start with the deepest layer of hair, pinning the rest on top of your kid's hair. Release another layer of hair down once you finish each trim.
Above all, be conservative with cutting your family's hair. Movie-style hair makeovers can wait until you're comfortable making a salon trip.
Protect in Style
Reaching for the flatiron at the first sight of frizz? That sleek heat may actually be causing your flyaways. Protect your family's hair by implementing gentler styling in your home.
Whether asleep or awake, at the gym or playing in the park, here are some key takeaways to styling your hair for maximum protection:
Lower the Heat – Easier said than done. But if you want to really turn your hair health around, drop the heated tools. Even air-drying for a week will start to regenerate your hair's natural oils. If you absolutely need that flatiron polish, at least use a heat-protective spray from roots to ends.
Sleep Safe – Bed head isn't just a cute name for tousled tresses in the morning. That mess can indicate damage wreaked overnight. Invest in silk pillowcases for minimal friction against hair at night. If possible, try not to sleep with wet hair. And to protect growing baby hairs, use headwraps at night as a protective barrier.
Gentle Styles – Going for a tight high ponytail every workout? Switch up your family's styles to prevent damage when on the go. For kids (and even adults), braids will keep hair safe from tangle-inducing weather. Consider buying soft scrunchies for both you and your long-haired children for a cute yet protective style.
Growing Good Hair with Good Habits
Hair is a personal matter. Whether you prefer fresh blonde highlights styled in smooth waves or natural hair with beautiful coils, your hair connects to your style and personality. And with these healthy hair care tips, you can help your entire family look and feel their best.
If you aren't sure where to start, Honest® has your family's well-being in mind. With toxicologist-audited products, we know that natural nourishment goes a long way in hair health.
A good place to begin is with our kid-friendly hair care kit. Full of clean ingredients for healthy hair, it's all you need to start your child on their journey to luscious hair.
Sources:
NCBI. Hair Cosmetics: An Overview. https://www.ncbi.nlm.nih.gov/pmc/articles/PMC4387693/
Nutrafol. 15 Harmful Shampoo Ingredients to Avoid. https://nutrafol.com/blog/15-shampoo-ingredients-to-avoid/
Good Housekeeping. 11 Types of Hair Brushes and Combs – Plus What They Do. https://www.goodhousekeeping.com/beauty/hair/g2918/hair-brush-guide/
Healthline. The Benefits of Hair Brushing and How to Do It Properly. https://www.healthline.com/health/brushing-hair#frequency
Well + Good. This is *Exactly* What Happens to Your Hair When You Stop Using Hot Tools Day by Day. https://www.wellandgood.com/what-happens-when-you-stop-heat-styling-your-hair/
We aim to provide you with the most honest and credible information possible. This article was reviewed for accuracy by The Honest Team and was written based on trusted sources that are linked at the bottom of the article.
blog_review_statement