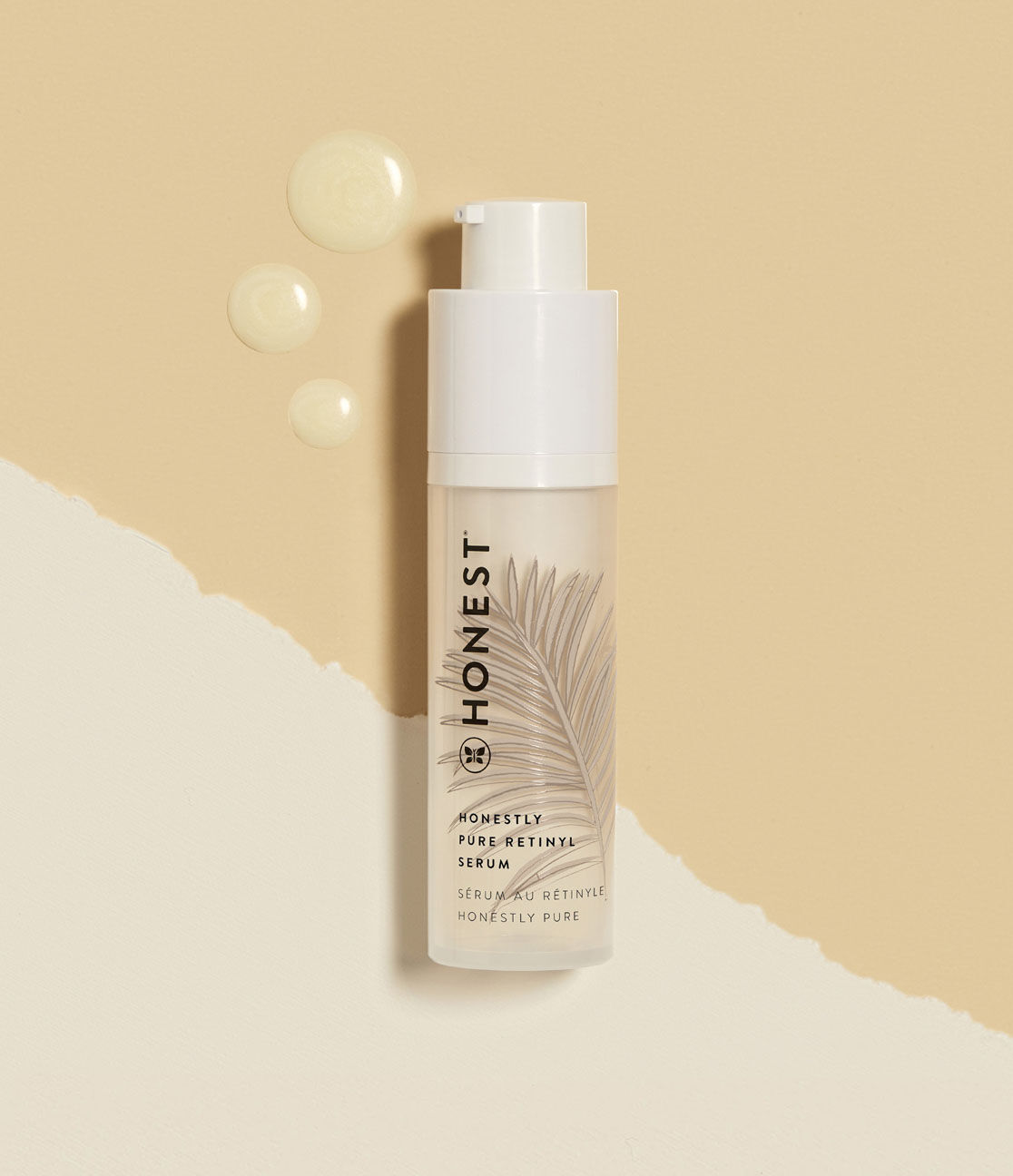 Because of their many skincare benefits, both retinol and its derivatives, like retinyl linoleate, are highly regarded by skincare experts. You may already be familiar with retinol, but if you are new to retinyl linoleate (or maybe have never heard of it before), not to worry. We're here to break down retinol vs. retinyl linoleate and why you'll want to add this powerful ingredient to your everyday skincare routine. And we're not just all talk—we here at Honest tried out our new, amazingly moisturizing Honestly Pure Retinyl Serum or ourselves, and now can't get enough of it! We're here to spill the tea on all-things retinyl and why this serum has become our new fave addition to our winter skincare regimen.
What Is Retinyl Linoleate and What Does It Do for Your Skin?
It's seriously like magic! This wonder ingredient helps reduce the signs of aging as it helps skin appear more even, radiant + bright. But, to better understand how it works exactly, it helps to know the difference between retinol and retinyl linoleate.
Retinol is a Vitamin A active and is commonly used in skincare products (especially nighttime serums) to help reduce signs of aging, even out skin tone, or smoothen texture. It can be quite potent, which may make it efficacious, but it's also known to cause dryness, redness, increased sensitivity, and flaking for some. Plus, within the industry, it's notoriously unstable and hard to formulate with⎯retinol tends to degrade over time, meaning it can lead to products becoming less effective the longer they are used. So, while there are many benefits to using retinol, it does require a fine balance.
Retinyl linoleate, on the other hand, is like a gentler offshoot of retinol. A derivative of retinol, retinyl linoleate is known to reduce the appearance of fine lines + wrinkles and to exfoliate the skin for a renewed look. In addition, it's known to be more stable in formulas and offer better long-term stability in products than retinol. What's more, it's known to be more gentle than retinol. It's all in the application: Once retinyl linoleate comes in contact with the skin, it slowly converts to retinol and linoleic acid. This conversion process gives the skin a more gradual dose of the active to minimize irritation. Linoleic acid (Vitamin F) is an essential fatty acid that plays an important role in maintaining a strong skin barrier, as it contributes to the formation of ceramides (essential moisturizing elements for our skin).1 By supporting the skin barrier, this can help make it less susceptible to some of the well-known side effects of retinol. Skin is left looking more radiant, smoother and youthful!
If this all sounds good to you, and you're ready to bump up your regular skincare routine with a little extra glow, then our new Honestly Pure Retinyl Serum is the perfect addition to your lineup. Gentler than our Honestly Pure Retinol Serum, this nightly serum is formulated to help refine skin's texture for more radiant-looking skin with a youthful glow. Made with retinyl linoleate for exfoliation to encourage revitalized skin, and hyaluronic acid that's known to hydrate skin and increase the feeling of elasticity, this serum awakens the complexion + leaves it looking more supple and radiant. Plus, it feels so good going on the skin—it spreads easily and absorbs quickly (no greasy feel!) as it moisturizes.
Made without harsh ingredients like parabens, phthalates and mineral oil, our serum, with a retinol ester to help reduce the telltale signs of aging, moisturizes skin and leaves behind a smoother, softer feel. What's not to love?
What's the Best Way to Add This Serum to Your Routine?
In general, retinyl linoleate is great for improving overall skin appearance, texture, and tone. When you're ready to give it a try, start slowly. Begin using it a few times a week at night. If your skin seems to be handling it well, increase your usage to every night. For extra-sensitive skin types, you may want to try layering it over your moisturizer instead of under it. If you are using any products with AHAs or BHAs, adding a retinol or retinyl to your routine may actually cause increased irritation or sensitivity, so it's probably not the right time to add it to your routine. Still not sure if it's right for you? It's always best to consult your doctor or dermatologist to make sure a retinol fits your specific skincare goals.
What Other Products Should Be Used with a Retinyl?
Sunscreen! Although the Honestly Pure Retinyl Serum should only be used at night, you'll want to protect your skin from sun exposure during the day. When using any retinol or retinol derivative product, the skin becomes prone to higher sun sensitivity (like sunburn), so it's always important to have a daily sunscreen in your routine as well.
Get the glow-up you crave this winter! If you want a skincare routine that targets signs of aging yet is still gentle on the skin (especially for sensitive types or skin that tends to be drier during these colder months), then our new Honestly Pure Retinyl Serum may be the perfect addition to a complete skincare routine.
Reference:
We aim to provide you with the most honest and credible information possible. This article was reviewed for accuracy by The Honest Team and was written based on trusted sources that are linked at the bottom of the article.
blog_review_statement