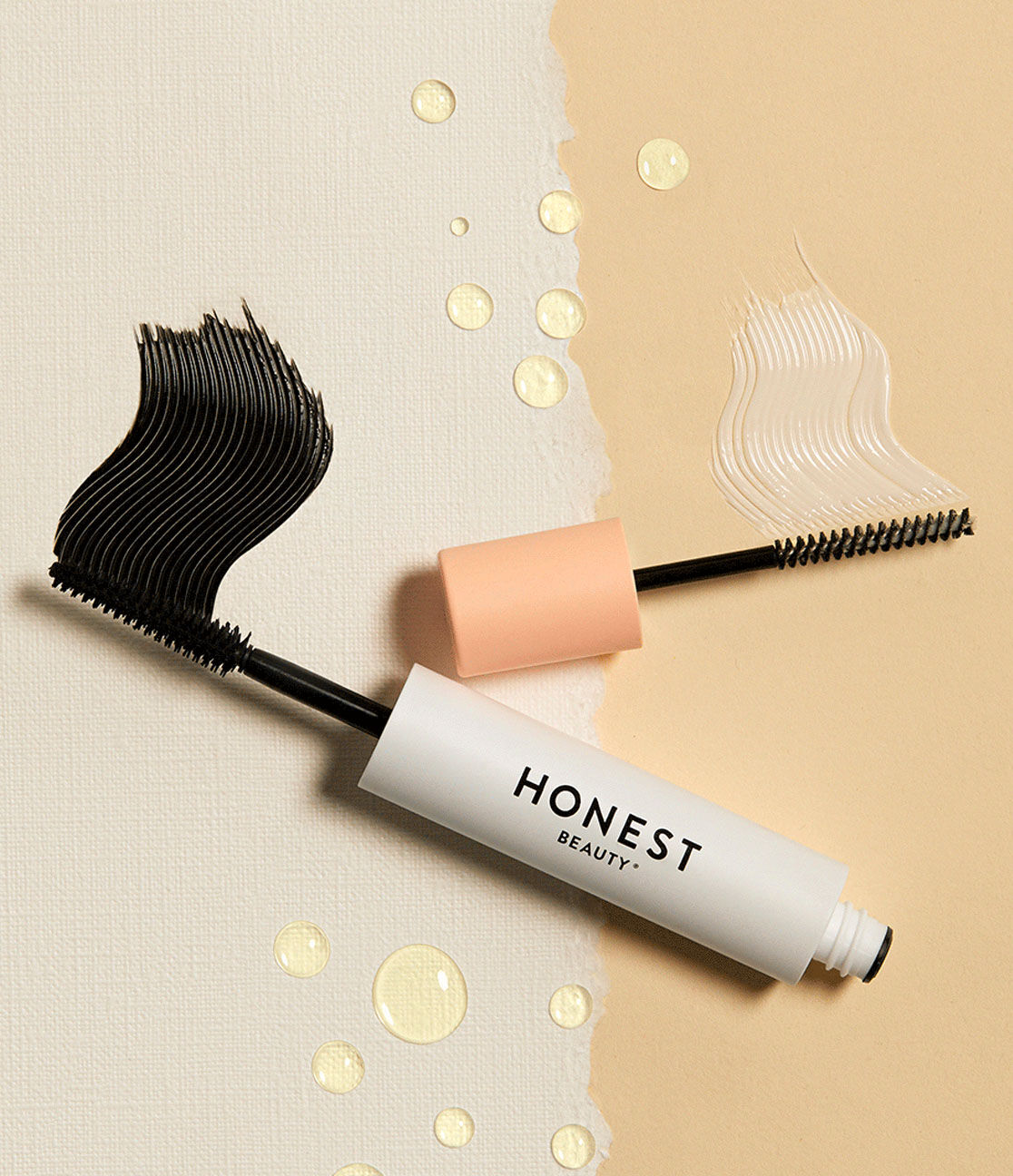 Whether you're the bare-minimum makeup type or always go full-face glam, the one product we can all agree on as The Essential is mascara. No matter the mood or the occasion, mascara is that one beauty wonder that can instantly give you a completed look (even on those days when you're not feelin' it—just a few swipes is all it takes!). As the ultimate finishing touch, mascara and the formula that we choose to flaunt every day is pretty deserving of our attention.
As we approach this 2022 year with new, clean-lifestyle intentions, it's important that we also align our beauty routine, like making the switch to a clean mascara. We're here to happily report: It IS possible to achieve lusciously long, full-fringe lashes using a clean-mascara formula that builds length, defines and amps UP your lash look (all without 3,500+ ingredients found on our NO List™!). If you're ready to clean out your beauty drawer and level up with a mascara that is high-performing AND doesn't sacrifice on safety or wellness, keep reading to get the full deets + get started on a new clean-beauty path.
Should I Be Using a Clean Mascara?
If you're anything like us, mascara is just one of those beauty essentials we never go without. And as we're kicking off a new year, we're deff thinking about ways to clean up our daily makeup routines, which includes switching to products that are efficient (hello, time savers) and clean (look good, feel good, repeat). For you, if this entails ditching your traditional mascara, do not fear you'll be missing out on the va-va-voom level of lashes you might be used to building:
1. You'll be doing your eyes a favor. You may avoid the chance of exposing your highly sensitive eye area to ingredients that can be harsh or irritating. Plus, if you are a contact lens wearer or deal with issues like dry eyes, you know the struggles of finding a mascara that lives up to your expectations. Our eyes take care of us each day, so it's important to take care of them back with trustworthy products that feature carefully selected ingredients. Upgrade to a toxicologist-audited mascara formula that is also paraben-free, silicone-free, and made without potentially harsh ingredients.
2. You can rock lashes with wow-worthy length using a clean mascara! The search is over for a cruelty-free mascara that uses plant-based fibers AND can deliver defined-looking lashes with serious lift.
Give your lashes a major (clean) upgrade with our go-to Extreme Length Mascara + Lash Primer. What makes this award-winning mascara such a game-changer? We're talking lush, lifted lashes that last, thanks to a 2-in-1 lash-lengthening mascara formula that contains plant-derived fibers and jojoba esters.
💡 What are jojoba esters?
A product of jojoba oil, jojoba esters are commonly used in cosmetics as an emollient and are known to moisturize and condition
It starts with our 2 multitasking formulas that work together to build length, volume and definition for a dramatic difference coat-by-coat. The lash primer on one side creates an even base for a smooth color application + enhances the mascara's lash-lengthening performance and staying power. Follow up with a coat of the rich, smooth mascara to build extreme length and sky-high lift.
It doesn't stop there. Our mascara is formulated to our Honest Standard and is free of ingredients like parabens, paraffins, silicones, mineral oil, and synthetic fragrances (just to name a few). Instead, our gentle lash-extending mascara is ophthalmologist-tested and is suitable for contact lens wearers (thank you). Try it once and you'll notice lashes that are visibly more defined + lengthened and instantly make your eyes POP.
Ready to bat your lashes and turn some heads? Treat your peepers to a cleaner mascara formula with Extreme Length Mascara + Lash Primer—and start enjoying rich, luxe color and falsie-level lashes with every swipe.
Source
Stackline / Amazon U.S., Mascara, Retail Sales (April 2020–April 2021).
We aim to provide you with the most honest and credible information possible. This article was reviewed for accuracy by The Honest Team and was written based on trusted sources that are linked at the bottom of the article.
blog_review_statement