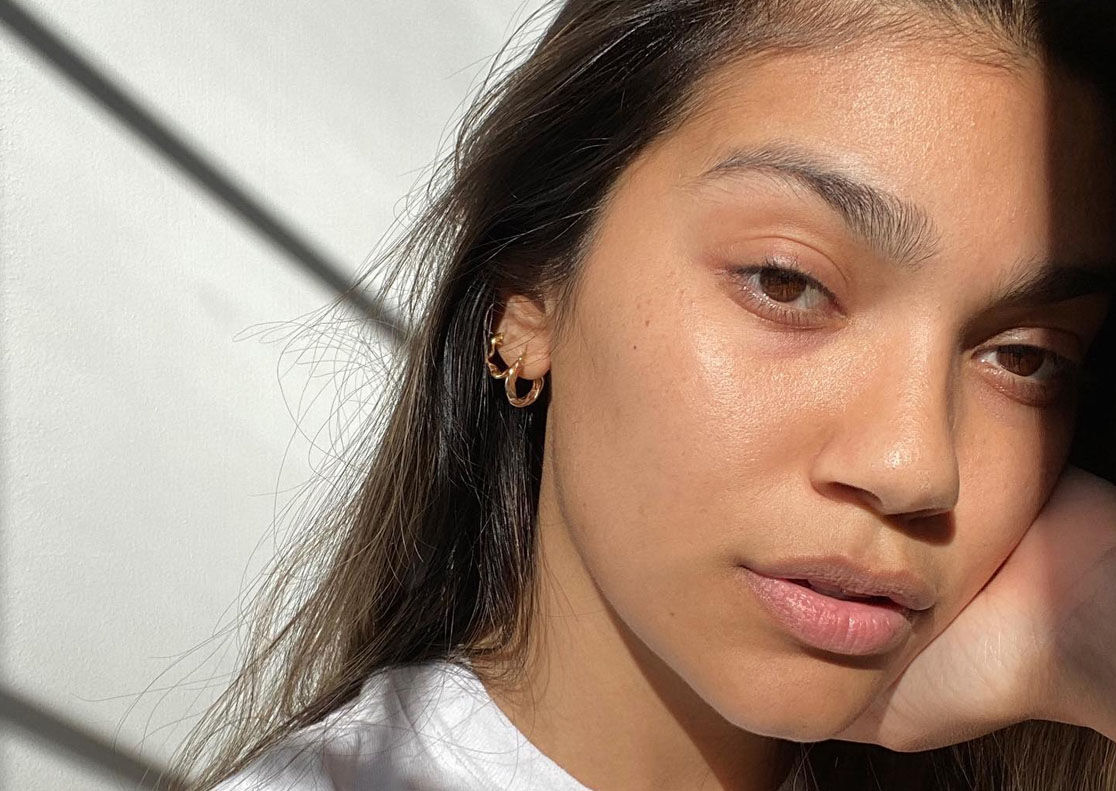 Image by @taraleighrose
Oh, castor oil, that wonder oil that's been around for millennia. It's at the center of nearly every old-wives tale you can find, and has been used forever by natural healers because of the many touted health benefits it offers.
Some think it first was discovered by the Ancient Egyptians, with one story being that Cleopatra used it as eye drops to help make the whites of her eyes brighter. While we don't recommend using castor oil for that purpose, there are still many other ways you can incorporate the benefits of castor oil into your life.
So, What is Castor Oil Anyway?
Castor oil is a plant oil that has been used in the medicinal field, as well as in the household for centuries. The oil is colored with a translucent yellow tint, and has a thick, viscous structure.
Castor oil is derived from the castor bean, extracted from the seeds of a plant called Ricinus Communis. However, it's worth noting that these seeds do contain a toxic enzyme that can be dangerous if you aren't aware of it.
Thankfully, through the heating process required to produce the oil, the poisonous chemical is destroyed which is why castor oil can be used safely for many purposes.
What is Castor Oil Used For?
USE CASTOR OIL AS A MOISTURIZER
Castor oil is great as a natural moisturizer for the skin due to its unique ingredients. It is rich in ricinoleic acid, which is a monounsaturated fatty acid. This fatty acid––when applied to the skin––works as a humectant and draws moisture from the air into your skin to keep it hydrated.
Additionally, the triglycerides in castor oil help to maintain moisture in your skin and prevent water loss by creating a thick protective layer on the skin's surface. However, if you are interested in learning how to hydrate skin with the use of castor oil, it's important to note that since castor oil is very thick and strong, it should always be mixed with a carrier oil before applying it to your skin.
USE CASTOR OIL FOR ANTI-AGING EFFECTS
Fascinatingly, castor oil also exhibits some excellent anti-aging effects. It may be used to help reduce the appearance of wrinkles, and ultimately slow down the process of aging by deeply nourishing your skin.
As an added benefit, the triglycerides that are present in castor oil play a role in cleansing your skin by removing dirt and debris from your pores. Since castor oil is also non-comedogenic, there's very low risk of it clogging your pores more and creating additional unwanted skin issues.
USE CASTOR OIL AS AN ANTI-FUNGAL
Castor oil has also been shown to have antifungal properties and may be especially beneficial for dental health. Candida Albicans is a type of fungus that causes root canal infections, plaque overgrowth, and gum infections.
Castor oil works remarkably efficiently against this particular type of fungus. You can try using the oil-pulling method for your teeth and swish a tablespoon of the oils for 20 minutes or so. Then be sure to spit, rinse, and brush thoroughly.
USE CASTOR OIL AS AN ANTI-INFLAMMATORY
The ricinoleic acid present in castor oil not only works as a humectant, but also provides an anti-inflammatory property. Topical application of castor oil may result in pain relief, and soothe inflammation as well as swelling. Thanks to these properties, castor oil can also be used to treat and soothe the symptoms of psoriasis, such as irritated and dry skin.
USE CASTOR OIL AS AN ANTI-ACNE TREATMENT
Although castor oil is rich in fatty acids, it is still very beneficial for the treatment of acne. Inflammation of the skin is a huge factor in triggering acne, as well as the spread of bacteria on the skin. Since castor oil is both anti-inflammatory and anti-bacterial, similar to jojoba oil for the skin, it can make a world of difference to this skin condition. When applied topically, it has been shown to help control the spread and growth of acne-causing bacteria, while also soothing inflamed skin.
USE CASTOR OIL TO PROMOTE HAIR HEALTH
As we've already established, castor oil is extremely nourishing and moisturizing. However, these benefits are not limited to just your skin. There are also wonderful castor oil benefits for hair and scalp concerns.
For instance, regular application of castor oil helps to moisturize your hair shafts, reduce friction and the risks of breakage, while also increasing flexibility. It can transform dry and damaged hair into phenomenally healthy and nourished hair––provided you use it regularly. Additionally, due to its anti-inflammatory and anti-fungal properties, it can even be used to treat dandruff, too!
USE CASTOR OIL TO PROMOTE WOUND HEALING
In addition to all those nourishing and moisturizing and anti-fungal castor oil benefits for skin we've already highlighted, it's also known to stimulate cell and tissue growth. This is a quality that makes it excellent for wound healing.
When applied to a wound, it helps to create a moist environment that prevents the sore from drying out, while promoting healing. This is why castor oil is often used in ointments for clinically treating wounds, especially pressure ulcers.
USE CASTOR OIL TO HELP RELIEVE ARTHRITIS PAIN
Another interesting use for castor oil––due to its anti-inflammatory properties––is helping in the treatment and management of rheumatoid arthritis, which is an inflammatory disease. You can incorporate these benefits by using castor oil for a gentle massage to affected areas.
USE CASTOR OIL TO HELP WITH CORNS, MOLES, AND CYSTS
Finally, castor oil may also be helpful in treating moles, cysts and corns. Some assert that by applying a layer of castor oil mixed with baking soda, you can dissolve moles and corns with ease.
Even simply the direct, topical application of castor oil can treat corns and cysts. However, be careful as with anything and always do a patch test. Though castor oil is natural and largely good for your skin, there are still some who could have a negative or even more severe allergic reaction.
Tips for Using Castor Oil Safely and Effectively
DILUTE YOUR CASTOR OIL
One of the best ways to use castor oil is to dilute it with a carrier oil. This can not only make the oil safer to use––especially with sensitive skin––but also may help increase the oil's absorption into your skin.
Plus, the carrier oil will offer additional benefits for your skin, depending on what you use. A carrier oil can be anything from olive or coconut oil, to peanut or almond oil. For best results, mix castor oil in a 1:1 ratio with the carrier oil of your choice and then use topically.
AVOID CASTOR OIL DURING PREGNANCY
Castor oil is widely known to induce labor, probably because it boosts blood circulation. Although it is used by medical professionals to induce labor when necessary, for home use, you should avoid castor oil at every stage during your pregnancy unless otherwise directed by your doctor.
CASTOR OIL MAY CONTRIBUTE TO ALLERGIC REACTIONS
Since castor oil is very thick and rich, it can cause allergic reactions when it comes into contact with your skin. These reactions can include symptoms like itchiness, redness, rashes, and swelling. To maintain safety, always do a patch test first, and always dilute your oil before application.
Looking for more insight on the latest trends when it comes to skincare and makeup? Visit Honest® today for our articles on how to make makeup last all day, faux freckles, foundation finishes and more!
Sources:
https://www.healthline.com/nutrition/castor-oil
https://www.webmd.com/diet/castor-oil-health-benefits#1
https://www.medicalnewstoday.com/articles/319844#benefits
https://timesofindia.indiatimes.com/life-style/health-fitness/diet/health-benefits-of-castor-oil/articleshow/40063531.cms
https://www.verywellhealth.com/the-benefits-of-castor-oil-89087
https://castoroil-guide.com/castor-oil-for-teeth-and-gums/
We aim to provide you with the most honest and credible information possible. This article was reviewed for accuracy by The Honest Team and was written based on trusted sources that are linked at the bottom of the article.
blog_review_statement