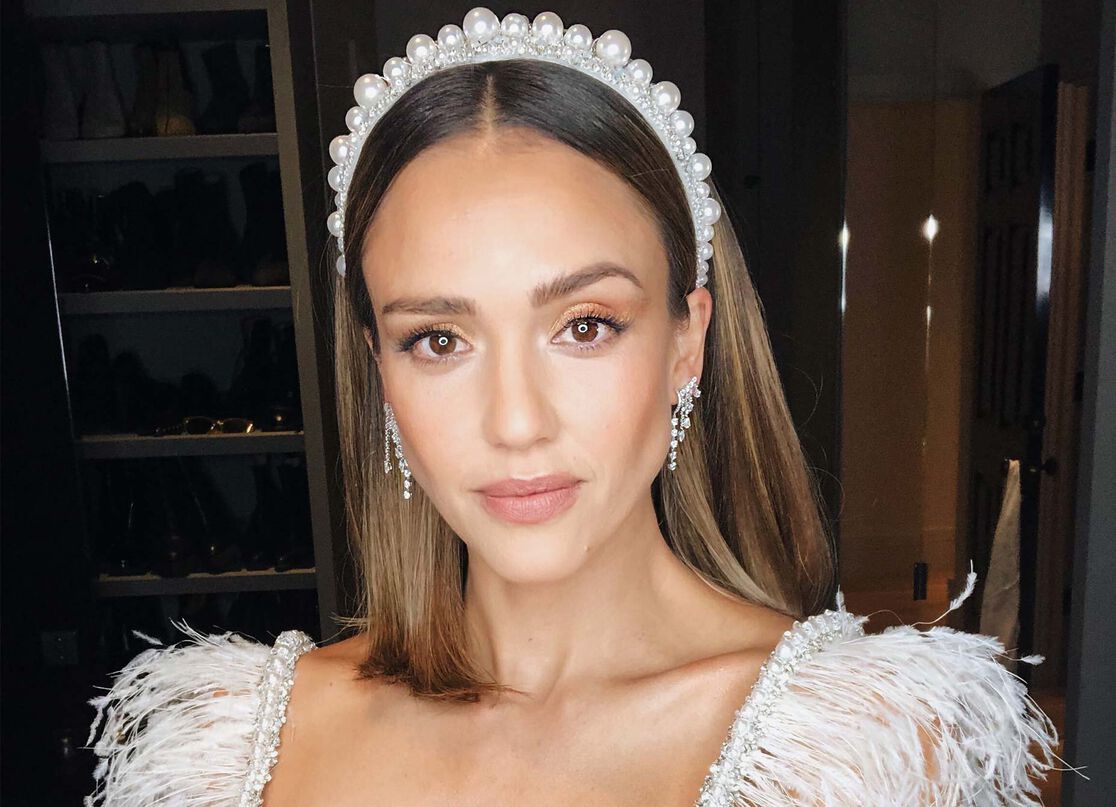 Shoutout to my peeps @monkiablunder and @jesushair for doing all the things to help this mama get glammed up for a good cause at the Baby2Baby Gala — it really does take a village! Here's how we did my makeup for holiday party #1 (of many, I hope) with our clean beauty faves for a clean glam look:
Step 1: First, Prep & Prime
I never do makeup, holiday glam or otherwise, without first hydrating my skin. I love how Hydrogel Cream feels cooling and fresh the minute it hits my skin. I use both our Everything Primer - Matte and Everything Primer - Glow — matte where I don't want any shine like the forehead and glow where I want extra luminosity (everywhere else, basically).
Step 2: Then, Create Your Foundation
Prepped and primed skin is going to be a better canvas for your foundation. My go-tos are the Everything Cream Foundation in Amber and Cream Blush in Peony Pink. The trick to getting that air-brushed flawless-skin look with cream products is to just keep blending! Try misting your brush with Elevated Hydration Mist first to give your skin an extra dewy finish.
Step 3: Gold & Glam Eyeshadow
I'm obsessed with KOSAS Liquid Eyeshadow in Supreme, a warm glittery gold that took my look from natural to glam in ten seconds and looked so good with our new liquid liner, which I'll get to right after mascara...
Step 4: Bring Your Lash Game
Extreme Length Mascara + Lash Primer is the clean beauty product I cannot glam without. I curl my lashes first when I want a more exaggerated look, but this mascara is seriously so good at lifting on its own that it does the curling for you, especially if you roll the wand as you comb it through.. My IRL secret for a longer (and longer-lasting) lash game? Wait a full 30 seconds after applying the lash primer to really let it dry before doing your mascara.
Step 5: Liquid Liner (Just a Little)
For this look, I kept my eyeliner on the simple side, staying just along the lash line instead of going for a full cat eye. With the felt precision tip of our high-pigment Liquid Eyeliner getting that glides-on, stays-on line is way easier than you think. (Don't think you can do liquid eyeliner? Think again...and learn 4 ways to wing it from a pro, aka my friend Daniel Martin). IMO, the best liquid eyeliners have to be two things: 1) easy to use and 2) super black — this one is both of those without using any carbon black pigment in the formula.
Step 6: Lip Layers
Since I already have a glam glitter eye going on, I wanted a perfect nude pout for this look. To get it, I used Tinted Lip Balm in Lychee Fruit as a sheer, moisturizing base before layering Liquid Lipstick in BFF on top. If you're in the mood for some more festive lip makeup, I also adore the combo of Tinted Lip Balm in Blood Orange layered under our classic bright-red Liquid Lipstick shade Love.
Step 7: Keep the Party (Look) Glowing
Wherever I go, red carpet or kids' recitals, I always take Magic Beauty Balm with me to dab onto my cheeks and lips for a little moisture (and glow) boost. It helps my skin (and therefore my makeup, too) keep that fresh dewy look going strong.
Get the Clean Glam Look with Honest Beauty Holiday makeup looks aside, I'm so proud of the whole Honest Beauty team! Without them working their magic to formulate clean beauty in-house (like, right down the hall from my office) that srsly works, this mama wouldn't be glamming at all.
We aim to provide you with the most honest and credible information possible. This article was reviewed for accuracy by The Honest Team and was written based on trusted sources that are linked at the bottom of the article.
blog_review_statement