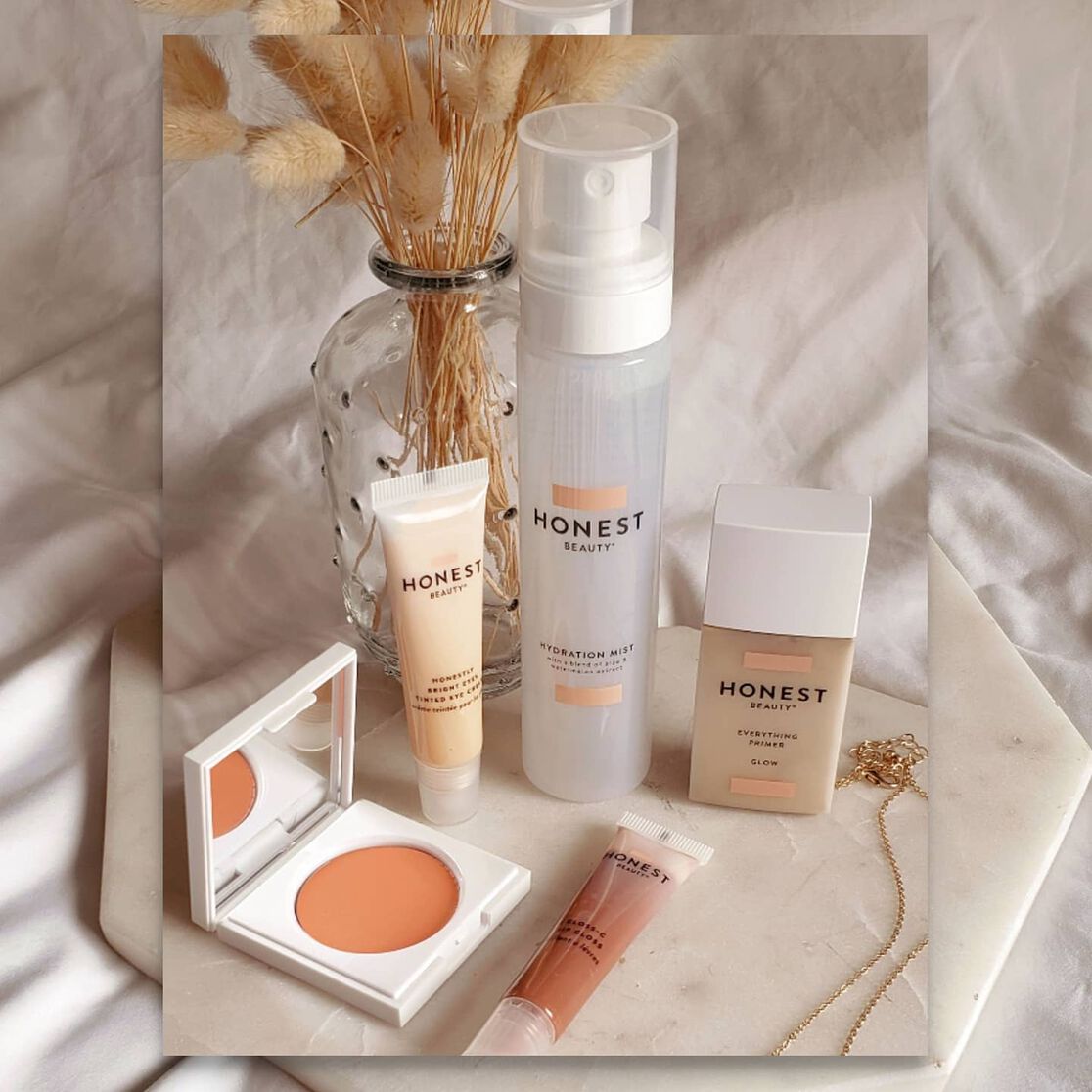 Image shared by @itssimplyskincare
Let your beauty shine on your big day with natural wedding makeup
You've spent months searching for the perfect venue and the wedding dress that's completely you. Now it's time to think about how you'd like your bridal beauty to look on the big day from your makeup to your hair. You'll be photographed on your wedding day more than any other day of your life (it's important to capture all those precious memories). So, you'll want to make sure that you look your best and feel confident.
As you explore all the wedding makeup ideas (and believe us, there are a lot of them), you may be considering utilizing your own makeup artistry. Maybe you're looking to save money on your makeup application so you can spend more on your wedding hair. Or you might be worried that you won't end up looking like yourself if someone else cakes on the cosmetics. We get it! It's your wedding day, and no matter what anyone says (including your future mother-in-law), there's no right or wrong way to do it.
It doesn't matter whether you're a makeup master or a novice, it's possible to achieve gorgeous, natural wedding makeup that makes you feel like the best version of yourself. Read on to learn how to DIY your wedding day makeup look and let your natural beauty reign supreme.
First of all, can you do your own wedding makeup?
When it comes to beauty, just about anything is possible. But you still might be wondering if you can make yourself up on your wedding day. You don't have to be a professional makeup artist to achieve a natural wedding makeup look. In fact, you don't even have to be someone who regularly wears eyeshadow, highlighter, or false lashes.
The internet has plenty of bridal makeup tutorials and "best waterproof mascara" guides. You can learn you how to do everything from a dramatic smokey eye to a more natural makeup look. You can also find articles (like this one) that contain all the makeup application tips you need to look absolutely stunning when you walk down the aisle.
Answering your next burning question: What is natural bridal makeup?
Depending on who you ask, you might get different answers when you ask what a natural bridal makeup look is. However, most people can agree that it's using cosmetics in a way that highlights your natural beauty, rather than masking it. It's a look that makes you feel confident, and when you look in the mirror, you say "Wow! That's me." Natural makeup isn't about using cosmetics to create an almost-unrecognizable version of yourself. Instead, a natural look tends to focus on dewy, luminous skin, and a soft color palette. As an added bonus, this look tends to be more timeless than trendy contouring and statement brows.
You may have heard that you need to wear more concealer or tons of eyeshadow for the camera. Yes, photos do cause makeup to appear lighter and softer. But that doesn't mean you need to cake on the bronzer or apply bold lip colors if you don't want to. To feel like you and end up with amazing photos, most of the time you only need to add a bit of blush or lipstick for a little pop.
Taking the plunge: How do you apply natural wedding makeup?
It should come as no surprise that there's not just one way to do natural wedding makeup. You will want to pick a natural makeup look to complement your skin tone, wedding dress, and hairstyle. Between eye and hair color and skin tone and type, each woman is unique. This means you'll need to take stock of your coloration and skin type (whether you have oily skin, dry, combination, or sensitive skin) before you pick up a makeup brush.
Also, way before you start applying products, you'll want to focus on skincare to achieve that airbrush makeup glow naturally. Getting into a healthy skincare routine weeks or months before the big day can make achieving a natural bridal look so much easier. For the best results, you should be cleansing and moisturizing (think a product with hyaluronic acid) twice a day, once in the morning and again before bedtime. Also, don't forget that sunscreen (SPF is everything). Think of all this as creating a beautiful canvas, one that you wouldn't dream of covering up with heavy makeup application and products.
If you find that you're struggling with skincare woes that aren't responding to at-home self-care (think acne or scarring), you can turn to a dermatologist. These docs have committed their lives to help women and men overcome skin conditions. Rely on their expertise to help you get clear and beautiful skin.
Next, you need to start thinking about what type of products you'll wear on your face. It doesn't have to be a lot. You can opt for a light foundation with buildable coverage like the Honest Beauty Everything Cream Foundation Compact. Or you can turn to a lightweight multitasker like the Honest Beauty CCC Clean Corrective with Vitamin C Tinted Moisturizer.
What about concealing any little imperfections like undereye circles (being a bride-to-be can be exhausting)? Concealer products, like the Honest Beauty Honestly Bright Eyes Tinted Eye Cream, can help you hide those dark circles so that you look like you got your full eight hours, even if you were up until 3 AM finalizing the seating chart.
Adding a little color: Don't forget the cheeks, eyes, and lips
Once you have your gorgeous face prepped, it's time to start adding a little color. Starting with the cheeks, blush is one of the best ways to get a fresh-faced, natural bridal look. For a sheer and dewy glow to your makeup, The Honest Beauty Créme Cheek Blush is the perfect pick. This cream blush works well with any skin type and has just enough pigment to last you throughout the long day. If you prefer a matte texture, The Honest Beauty Lit Powder Blush brings together the power of a blush and highlighter (we love products that can do double-duty). Before committing to color though, think about your skin tone.
Soft pink shades are the best to achieve a natural look on fair skin.
Medium skin tones with warm undertones should select deep peach shades. While rich pink and mauve shades create a natural look for medium skin tones with cool undertones.
Dark skin tones with cool undertones should select fuchsia or light berry shades. As for dark skin tones with warm undertones, warm brown and tangerine shades are great.
When it comes to your wedding eye makeup, a smokey look is universally flattering. You can use the Honest Beauty Get It Together Eyeshadow Palette to achieve a smokey eye. But depending on your eye color, you can explore different shades to really make your natural beauty pop.
Blue eyes look amazing with orangey earth tones and rich browns.
Green and hazel eyes stand out in neutral pinks, taupe, and shades of purple.
Silver, gunmetal, and icy blue shades are great for gray eyes.
Brown-eyed girls can wear most colors, so experiment to see what you like.
After applying your eyeshadow, it's time for mascara. To make your eyes look bigger and brighter, you'll first curl your eyelashes. Once your lashes have a nice little curl, it's time for black mascara. Start at the lash line to enhance your eyes and apply an even coat or two to your lashes. Just make sure to allow your lashes to dry in between coats. You don't have to be a pro at eyeliner or false lashes to achieve the perfect wedding makeup look.
You don't want to forget about your brows when it comes to natural bridal makeup. The first step should be to pluck any stray hairs and use some tinted gel to help groom your brows. Then, you can turn to a brow pencil, like the Honest Beauty Eyebrow Pencil, and fill in any bare spots (we all have them).
The final step is your lips. Many women wonder how they can make their lip color stay on between the kissing and the champagne toasts. The trick is to use a product with staying power like a lip stain. When applying your lip stain, blot, pat, and layer for a natural-looking effect.
To select the best wedding lipstick or lip makeup color for you, pay attention to the undertone of your skin.
Skin with cool undertones looks best in lipstick with blue or purple hues.
Warm undertones pair well with red and orange-hued lip colors.
Those with neutral undertones are lucky because of a wide spectrum of colors works.
Together forever (or at least through the last dance): Making your wedding makeup look last
Now that you know how to get a long-lasting nude lip, you probably want to know how to make the rest of your face stay in place. The two keys of any wedding makeup artist are a primer and a translucent powder.
Primer comes into play before you start applying your makeup (Honest Beauty Everything Primer - Glow is a great option), and setting powder is the product you put on after applying your foundation (think Honest Beauty Invisible Blurring Loose Powder). This dynamic duo will make your makeup last from the moment you put it on until you leave for the honeymoon suite.
Natural wedding makeup is for everyone
Now that you know there's no need to shy away from doing your own natural wedding makeup, it's time to explore. Pick some products, put on a wedding makeup tutorial, and start experimenting. Use the time leading up to your wedding to find the bridal look that feels like you!