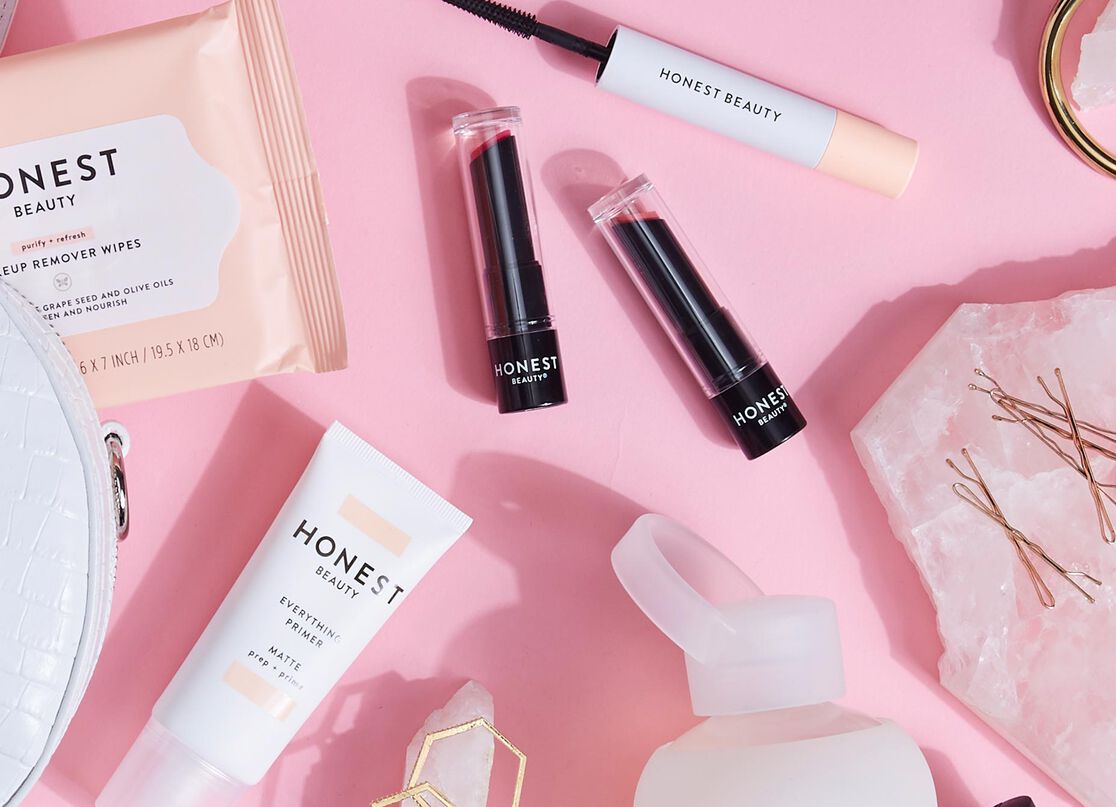 Disclaimer: As always, if you're pregnant or breastfeeding, check with your doctor before starting the use of any new product, as they know your history best.
Makeup for Mamas to Be
Is pregnancy glow a thing? 98% of the time it doesn't feel like it. That's where makeup can be a huge mama-to-be confidence booster. The tricky part is whatever products you chose for your makeup routine, you're also choosing for your little one. So, it's super important to pick clean pregancy safe makeup products that still make you feel like the beauty that you are.
To make it easy for you (because you have enough on your plate right now), we created three makeup looks using only pregnancy-safe products so you can have more of those "oh, I'm a goddess" kind of days, whether or not your have the energy to go through a full glam situation.
Look 1: Get Out the Door
First on our list of pregnancy makeup is a safe skin primer. After your skincare routine, apply Everything Matte Primer all over your face and neck. For sun protection and a little bit of coverage, use clean hands or a makeup sponge to apply a

tinted moisturizer with SPF

.

Then dab

Tinted Lip Balm

in Fruit Punch onto your bottom and rub your lips together to spread the color evenly and naturally. This vegan, hydrating, pregnancy-safe lipstick is great for both day and night, giving you the perfect pout at all times.

Apply a few dots of

Cream Blush

in Coral Peach to the apples of your cheeks and blend with your fingers or a

buffing brush

.
Look 2: Enhance the Glow
Dab Luminizing Glow Powder over the tops of your cheekbones and blend. This lightweight highlighter has the perfect subtle shimmer for your dewy look.
Then, apply one coat of Tinted Lip Balm in Dragon Fruit

over the lips.

Using our

Eyeshadow Palette

create an in-a-minute eye look starting by sweeping Vanilla'd Velvet over your entire eyelid.

Then, apply Iced Cotton from the lash line to the crease. Line your upper lashline with Gilded Mauve.

Finish by relining your eye with Burnt Mocha.
Look 3: Full Goddess Glam
Start by applying

Everything Creme Foundation

all over your face and neck using a

buffing brush

. This pregnancy-safe foundation is buildable, so you can also use it as a concealer! Using your ring finger apply in dots to your under eye area and just over your cheekbones. Then, blend again. Our tinted moisturizer acts as a primer, sun protector, and moisturizer.

Using your brush sweep

Creme Cheek Blush in Peony Pink

over your cheeks and working upward, following your natural bone structure. Smile and add a bit of blush over those apples.

Starting at the edges of your lips, apply Liquid Lipstick in Passion

almost like you would a lip liner, then work your way in toward the center. Lightly press your lips together to even out your color.

Using our

Eyeshadow Palette

create a smudged cat eye starting by sweeping Vanilla'd Velvet over the entire eyelid as a base.

Then, grab a liner brush and apply Burnt Mocha across the upper lash line and up above the corner of your eye to create a wing.

Apply Gilded Mauve to the outer corner of the eyelid and smudge out the shape of the cat eye wing.
The Finishing Touch, Always
Finish off each one of these looks with our favorite Honest Beauty products, our eyebrow gel, eyebrow pencil and Extreme Length Mascara + Primer. This pregnancy-safe mascara adds volume to your lashes without clumping them together. Whether you are getting ready for the day or getting dressed up for a night out, this mascara is perfect for any occasion.
A Complete Skincare & Makeup Routine
We recommend pairing this routine with our safe skincare product line so you can keep your complexion glowing from the inside out all pregnancy long. Your pregnancy skin care routine might vary from what you're used to as your skin and body may have different needs. Once you've created a smooth and healthy base with your adapted skincare routine, your makeup look will just be icing on the cake!
How to Choose Products For You
Finding products free of harmful chemicals and ingredients can be tricky, especially if you're new to the cosmetic world. When shopping for a new skincare product or makeup product, we suggest sticking to paraben-free makeup. Before making a purchase, do some research on the different makeup items a brand offers and see what kind of ingredients they are putting into their products. Sticking to safe makeup brands is key not only for when you're pregnant but really for everyday use.
At Honest, we take pride in providing our customers with the safest cosmetic products around. Whether you're looking for a new moisturizer, eyeshadow, lipstick, or sunscreen, all of our products have been designed with you in mind.
Still looking for more pregnancy safe makeup tips? Find out everything you need to know about safe skincare and makeup products right on our Honest blog!
We aim to provide you with the most honest and credible information possible. This article was reviewed for accuracy by The Honest Team and was written based on trusted sources that are linked at the bottom of the article.
blog_review_statement