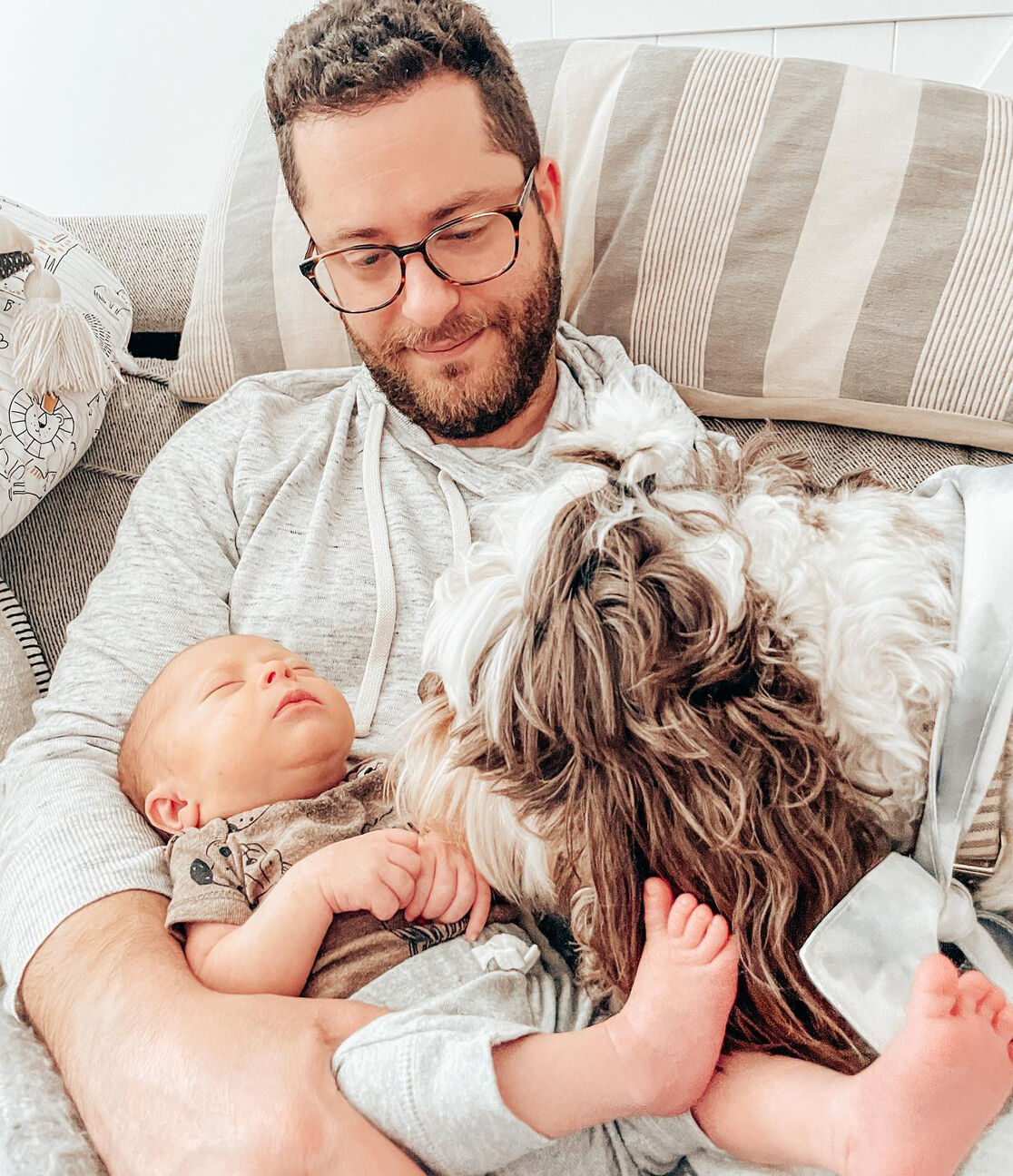 Images by @lady_sfraga
This year, Father's Day is June 19th, and it's a perfect opportunity to show some love to the father or father figure in your life. For kids, Father's Day offers a chance to celebrate the man who raised, guided, and loved you. Meanwhile, partners can seize the moment and thank their co-parent for joining them on the rollercoaster ride of parenthood.
Do you have Father's Day ideas prepared? Here's a hint—put away the wrapping paper, forget the stress of finding the perfect gift, and instead, focus on creating a memory the whole family will cherish for years to come. However, if you can't help yourself and are scoping out the best Father's Day gifts, we have you covered to that extent as well.
To that end, here are six creative Father's Day ideas to make him feel special the entire day.
#1 Let Him Sleep In and Make Him a Late Breakfast
Whether you're looking for an idea for a dad's fiftieth Father's Day or a first Father's Day idea for a brand new dad, you can't go wrong with the gift of an extra-long snooze.
Every other day of the year, the dad in your life wakes up to excited morning baby squeals, the eager patter of little feet, or the hustle and bustle of school kids preparing to seize the day. But on this special day, let dad catch a few more Z's.
While he's snoring up a storm, you and your family can (quietly) prepare a breakfast of champions. You can't go wrong with a few breakfast recipes like:
Classic bacon and eggs
Smiley-faced pancakes
Breakfast muffins
A build-your-own waffle bar
Breakfast burger and homefries
…or, if you're not culinarily inclined, you can always rely on takeout from Dad's favorite brunch place. For bonus points, make sure Dad can enjoy a clean kitchen by the time he wakes up!
#2 Give Him a Hand-Written Note and a Scrapbook to Keep It In
Once dad has woken up, you can kick off Father's Day on a high note by giving him a thoughtful present he'll cherish forever—a handwritten letter from your spouse and kids, especially if it has been lovingly decorated by the munchkins.
Said aloud, words of affirmation tend to float away. However, when you tell your dad, husband, or grandfather just how much he means to you in writing, that's something he can save and return to, again, and again, and again.
By putting this note in a scrapbook, you can give him a special place to store this and all future notes—a treasure box he can open up anytime he wants to smile. You can also fill the scrapbook with:
Pictures of the two of you
Drawings
Ticket stubs
Postcards
Fun stickers
Cute coupons for activities like movie nights or chores
Whatever you add to your scrapbook, it will be special. Because as long as it's meaningful to you, your dad will love this thoughtful gift full of memories. Make this experience a Father's Day tradition and add a new page to the scrapbook each year.
#3 Bring the Spa to Him
Another way to celebrate Dad is by treating him to a day of self-care. With all that fathers do for their loved ones, they deserve a bit of rest and relaxation—some "treat yo-self" time.
Whether you want to hire a professional or pamper together as a family, you can put together a luxurious spa day that gives him a chance to unwind.
Try these ideas for a Spa-pa day (what, you thought you could read a blog about father's day ideas without a dad joke?):
A trip to a sauna
A massage
A foot rub
A full-fledged mani-pedi
Homemade face masks or even better, our 3-in-1 Detox Mud Face Mask—best enjoyed while watching Dad's favorite show
#4 Make A Video of Everyone's Favorite Memories of Dad
Even if your family is spread out all over the country, from LA to New York and anywhere in between, you could bring them close for the day with a group video. Ask everyone to take a few seconds to record a quick clip where they say something appreciative or share a special memory of dad. Sometimes the best gifts are simply showing people how appreciated and loved they are.
Do you lack editing skills? Are you concerned about everyone sending videos in different formats?
Don't worry, there are group video compilation apps that make it simple to create a tribute video for any special occasion. These fun, collaborative tools let you:
Invite friends and family members to record a video
Collect the videos in one place
Compile the final video in a matter of minutes
Just be sure to keep the tissues on hand when your dad finally watches the film (for his allergies, of course).
#5 Make a Day of Dad's Favorite Hobbies
What's dad into? What are his hobbies, his favorite activities?
If he likes to golf, a family day on the local 9-hole might be called for. If he's an angler, you could take a jaunt to the local fishing hole. For the foodies, try a cooking class or a new restaurant he's been eyeing. And for the outdoorsy dad, a weekend camping trip could be the perfect getaway.
Maybe he'd like to hike or bike, go shopping, enjoy the beach, or visit a museum—whatever it is, find an activity that he loves and go share that experience together as a family.
You can also take the opportunity to invite dad to teach you more about some of his interests. He will spend the day sharing his love of model trains, soccer, or woodworking with his favorite people, and you may have the chance to see a whole new side of your father figure.
#6 Have an Outdoor Movie Night
If you're looking for a cinematic idea for Fathers Day, transform your backyard into a drive-in theater. Just hang a bed sheet, pull out the projector, grab some popcorn smothered in butter, then invite dad to a night at the outdoor cinema. This Father's Day gift will not only give you an excuse to watch a movie under the stars with a big bowl of popcorn in your lap, but will bring the whole family together to spend quality time.
Need some ideas for movies?
If you have younger kids, family-friendly dad movies include:
Are the kids grown up? Here's a list of epic films that dad might love (and may end with him shedding manly tears):
The Good, the Bad and the Ugly
The Bridge on the River Kwai
An Honest Celebration of Father's Day
Hopefully, these Father's Day ideas have left you feeling more prepared to celebrate the best dad you could ask for. Or, maybe, they triggered a different idea that your dad will appreciate.
At Honest, our mission is to always support and celebrate families. We seek to empower the mothers and fathers who make a difference, the people who mold and shape us into who we are, and who we could be.
So, as Father's Day approaches, let's raise a glass to all the dads out there—we salute and celebrate you.
We aim to provide you with the most honest and credible information possible. This article was reviewed for accuracy by The Honest Team and was written based on trusted sources that are linked at the bottom of the article.
blog_review_statement