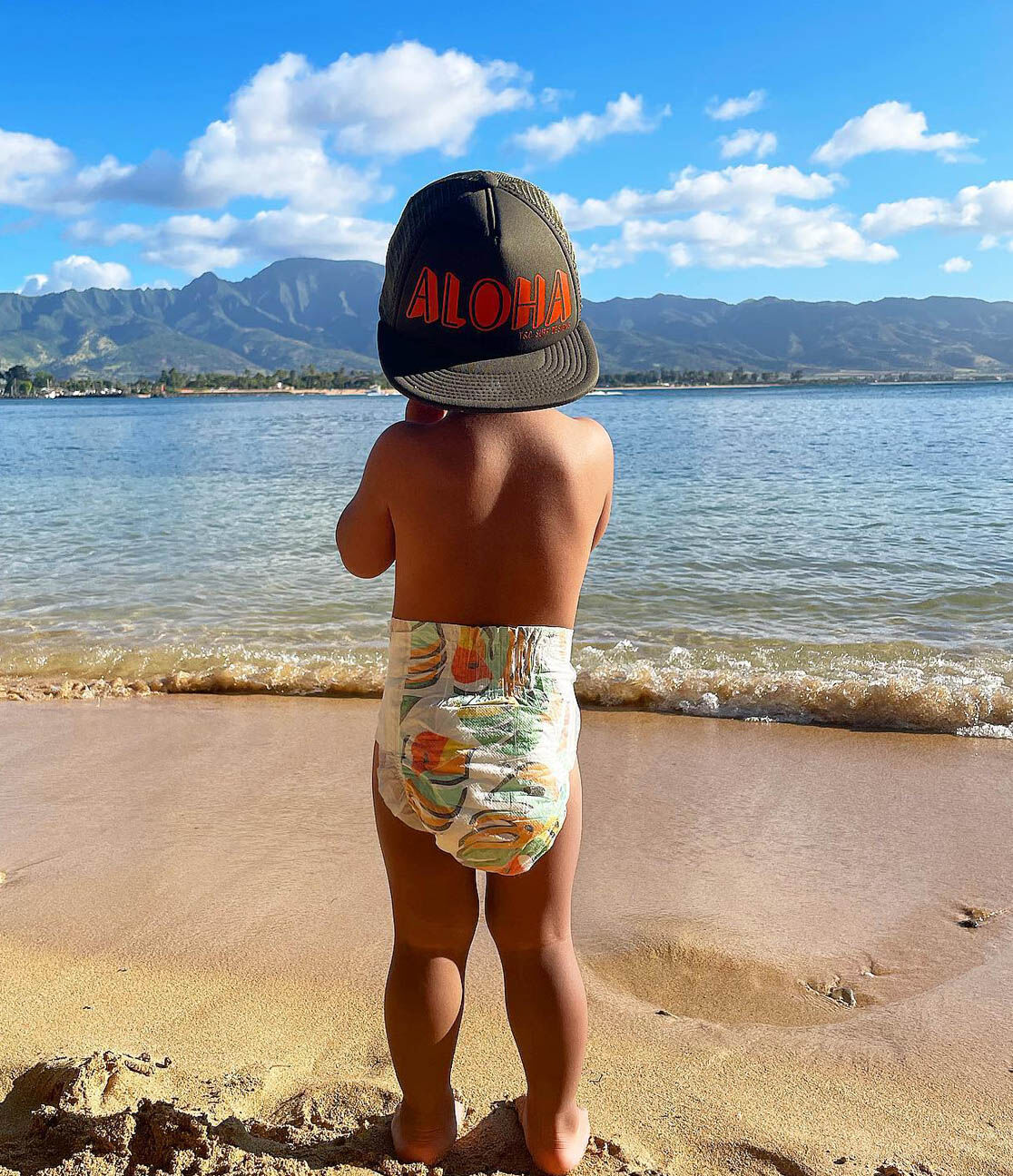 Image by @alohajakeyboy
It's almost time to experience the next big first with your baby–their first beach day! You're fluctuating between excitement and nervousness. Do you have all of your beach bag essentials? Will they love the waves just as much as bathtime? Will they put sand in their mouths? (Yes, they probably will).
Questions will certainly ebb and flow through your mind as your prep for baby's first beach trip, and we want to make sure you're feeling only positive vibes when you get there. So, we've compiled a beach packing list of the 6 best beach essentials for baby to help you prepare for the big day.
6 Beach Necessities
As you unload your car, you may find yourself juggling more than a bottle of sunscreen and your squirming sweetheart. Taking your baby on a beach trip is sure to be filled with giggles, curiosity, and a couple of sandy cheeks, but you'll also need to fill your beach bag with a few baby beach essentials that prioritize your little one's safety and comfort.
Packing an SPF for face and body is a must—for you and your tiny one. But, it's not recommended for babies under six months to use sunscreen, so you may want to save the beach vacation for another time if your baby hasn't yet celebrated their half birthday.
For babies who are old enough to sport sunscreen, we recommend one that includes the following:
Broad-spectrum – If your sunscreen says it's broad spectrum that means it protects your little one's skin against UVA and UVB rays.
Titanium dioxide or zinc oxide – Both ingredients remain on the surface of your baby's skin, meaning they are less likely to cause a reaction.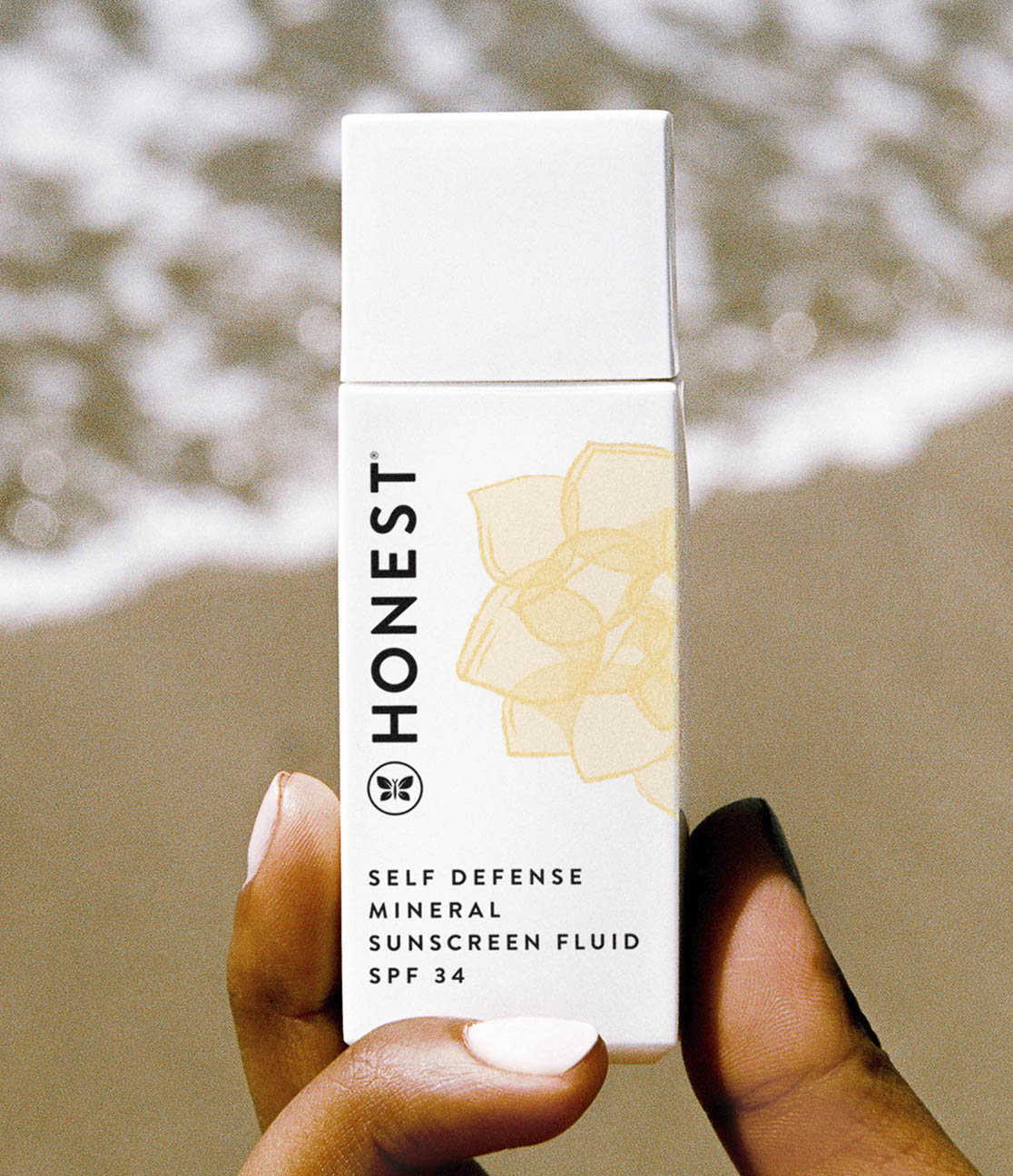 When scanning the isles for sunblock that will provide adequate sun protection, it is very important that you have a clear understanding of the differences between mineral vs chemical sunscreen. From there, you will be able to determine which will be best for you and your baby.
#2 Baby Wipes
Baby wipes are sure to make the beach packing list. Yes, baby wipes can help out during an unexpected baby blowout, but they have so much more value than that. Here are a few additional baby wipe uses:
Wipe off the extra sunscreen from your hands
Get rid of pesky salt and sand before getting into the car
Clean off surfaces
Our Hydrate + Cleanse Wipes and Nourish + Cleanse Wipes are perfect for your beach day adventures. Both completely plant-based, the Nourish + Cleanse wipes include jojoba and almond oil to keep your baby's skin nourished, while the Hydrate + Cleanse wipes are made with cucumber and aloe perfect for hydrating after a day in the salt and sun.
#3 Baby Diapers
If you plan on getting your little one in the water, make sure they have swim diapers. Swim diapers don't absorb liquid like a normal diaper would, so they won't get bloated and heavy the second the diaper hits the water.
However, you will want to make sure you have a regular diaper at the ready so you don't have any accidental leaks once you leave (yes, we're talking about pee leaks). Once you've dried off your little one and dusted off all the sand, you can throw on a clean conscious diaper and a onesie and hope that your little one snoozes all the way home.
With many classic prints to choose from—and some limited edition prints—do they really even need pants? Our Clean Conscious Diapers' style speaks for themselves, not to mention they're made with fewer materials, which means less bulky but with the same magical power of absorption.
#4 Beach Shade
Whether your little boo is under six months and isn't quite ready for sunscreen or they're lathered up in a layer of sunscreen, it's a smart choice to bring something that can provide extra protection for them (and ideally yourself, too).
Keeping your babies in the shade helps keep the sun's harmful rays off of their sensitive skin. It also provides a little relief from the heat of the day. There is different beach gear to consider when looking into how to provide shade, including:
Baby beach tent – Made just for your little human, a baby beach tent typically comes with a covered bottom, so your baby can avoid getting sandy. We recommend looking for one that protects against UV rays as well. Regardless, it is important to make sure that your baby has the proper clothing and sunscreen to protect from the rays.
Beach umbrella – Ahhh, the classic beach umbrella–small, but mighty. Consider looking for one that's windproof in case it's extra breezy.
Family-sized beach tent – From cabanas to pop-up tents, there are plenty of options available that provide extra protection for more than one person. You'll be able to cuddle with your little one or give them some extra space while they study seashells and play with their beach toys.
#5 Cooler Bag
When it comes to beach bag essentials, this one is a must if you're bringing breast milk—it can keep it cool until you're ready to feed your little one. You can also pack other necessities like bottles of water, fresh fruit, and sandwiches for yourself and the rest of the fam.
You can even put your wipes and other travel size toiletries in the cooler bag to use them as a small reprieve from the heat.
#6 Collapsible Wagon
So far you've got diapers, wipes, sunscreen, a beach tent, and a cooler. Oh, and a baby. How are you going to get everything down to the beach in one go? With a collapsible wagon, of course! Fill 'er right up so you can easily roll your beach day essentials down to the sand with your tiny one on your hip.
Stock Up On Beach Essentials For Baby with Honest
Your baby and me beach vacation will go just as smoothly as the rolling waves when you prep your beach bag with sunscreen, baby wipes, extra diapers, and a few cooling essentials.
Luckily, Honest is here to supply many of your beach day go-to's. From diapers designed with plant-based materials to multipurpose wipes, we have the essentials you need anywhere, anytime–not just at the beach.
So take a breath, gather your baby beach essentials, and soak in those precious memories with your little one like you're soaking in that tropical summer sun (under the comfort of your beach tent, of course).
Sources:
Should You Put Sunscreen on Infants? Not Usually. FDA U.S. Food & Drug Administration. https://www.fda.gov/consumers/consumer-updates/should-you-put-sunscreen-infants-not-usually
Venosa, A. (2020, April 24). Bringing Up A Sun Safe Baby. Skin Cancer Foundation. https://www.skincancer.org/blog/bringing-up-a-sun-safe-baby/
We aim to provide you with the most honest and credible information possible. This article was reviewed for accuracy by The Honest Team and was written based on trusted sources that are linked at the bottom of the article.
blog_review_statement