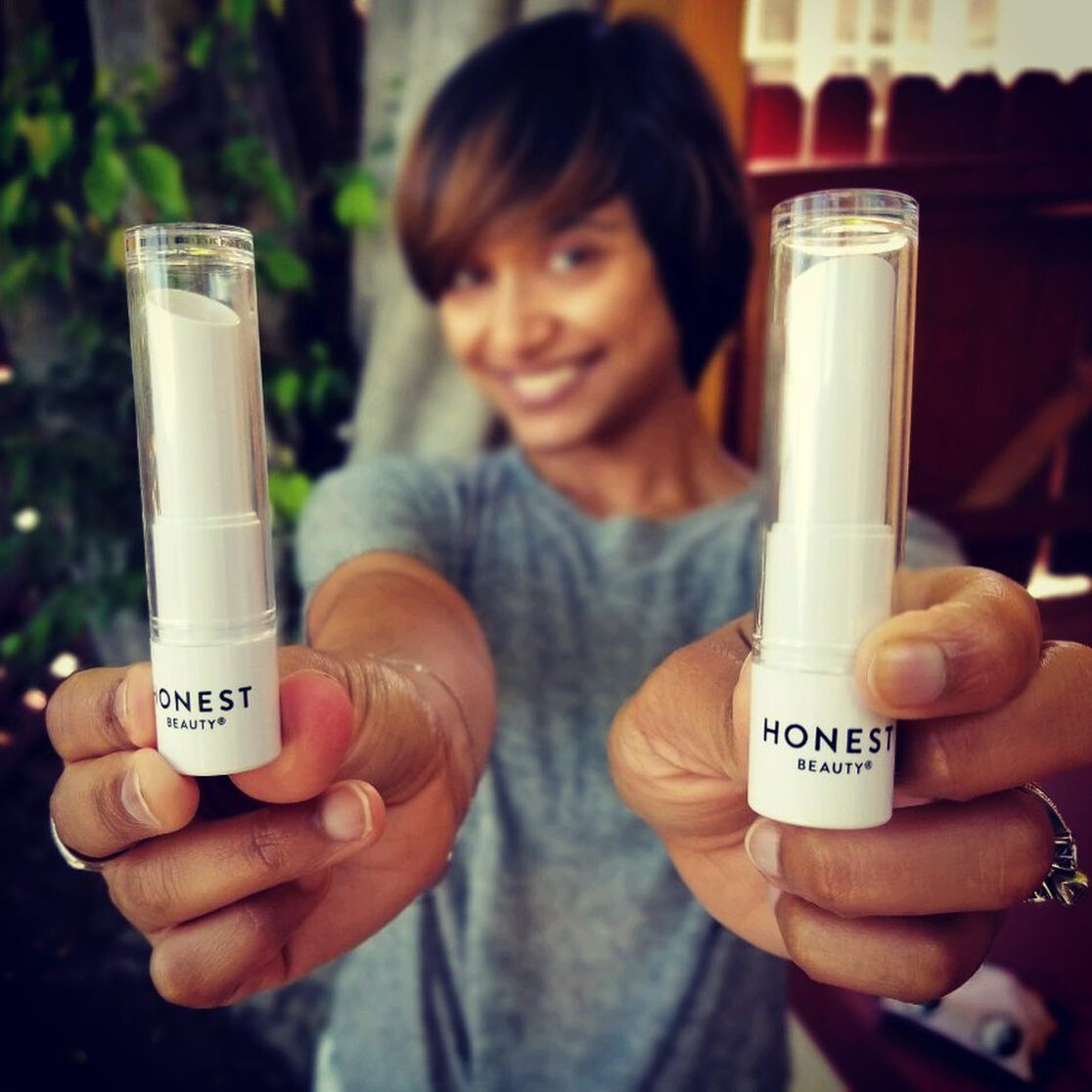 Image shared by @theperfectbalm
The holidays are fast approaching (whew, where'd all the time go?) and there's nothing quite like sitting home during a pandemic, contemplating ideas for gifts and stocking stuffers for your lady love. It's definitely one way to pass the time, though we could probably think of a few other ideas too—but we digress. Keep reading for great stocking stuffer ideas for the missus she's sure to love.
If you've been racking your brains, wondering just what in the heck you can put in your wife's Christmas stocking this year, our travel-sized face and body lotion duo is a godsend.
Made with all the goodness of sweet almond and lavender, we assert that this product is literal proof that great things come in small sizes. Or are those big things? Either way, this product is tiny but mighty.
What makes it even more attractive is that it's available for a mere $3.95, it's perfect for moisturizing and nourishing delicate skin, and it fits in almost any woman's purse. We say that makes for a pretty cool stocking stuffer idea!
Sometimes she just wants to feel a little cleaner. Maybe it's a hot day and she's developed a delicate sheen of sweat. Maybe she just wants a quick wipe down before hitting the town for dinner.
Nothing helps these problems more than our gentle cleansing wipes, and when they're available in small packs of 10, they're a perfect fit for a cosmetic bag, your wife's purse, or her car.
These hypoallergenic and dermatologist-tested wipes are free of harsh chemicals and contain more than 99% water. With their super soft feel, they are perhaps the most skin-friendly cleansing wipes you'll find. Plus, they're so versatile we like to think of them as a woman's go-to mess-cleaner. The best part about these cheap stocking stuffers is that you can get them for a mere $0.99.
Talk about a convenient stocking stuffer idea that will make its way straight to your wife's travel suitcase! This two-in-one shampoo and body wash is a gentle, tear-free formula that will keep her skin moisturized and her hair soft. Its cleansing combo is made with naturally-derived ingredients and essential oils, and even better, it's priced at just $3.95.
If your wife also happens to be a seeker of sustainable gifts that don't harm the environment, she'll love this Christmas gift even more!
What's something every woman wants in her makeup arsenal? Makeup remover wipes! And these are the right size for a stocking stuffer gift, which makes them all the more awesome.
Your wife will love the idea of being able to remove her makeup quickly and easily, without messy soaps or creams. The price for these useful Christmas gifts is great too, just $3.99 which is the stuff of a stocking stuffer's dreams.
These wipes are made with a blend of grape seed and olive oil designed to remove just about anything, including makeup and stubborn dirt.
For the woman who loves long, lovely tresses but hates to detangle them, this conditioning detangler is everything she could ever want and more. Buy it for only $5.95 to help her flaunt silky smooth locks without any annoying frizz.
Thanks to the naturally-derived ingredients including shea butter, argan oil, jojoba protein, and quinoa, your wife's hair will stay shiny and luscious, without looking like a grease head.
Since we are living in a handwashing season to beat all hand washing seasons, there's really no more perfect stocking stuffer gift than this one.
It can kill 99.9% of germs and bacteria and is available for just $3.45. It's plant-based, hypoallergenic, and dermatologist-tested too.
Even better, naturally-derived ingredients like glycerin and aloe make this hand sanitizer spray as much of a skin nourisher as it is a germ and bacteria killer. We say, win-win!
Incredibly illuminating, this beauty balm gives a hint of shimmer to every skin type. Apart from highlighting, it moisturizes too. What else might one expect from a skin product that has 'magic' in its name?
We propose that this is one of the best stocking stuffers for your wife you'll ever find. Even better, you can get it for just $14.99, which also makes it an affordable gift for your on-the-go glow lover.
Filled with fruit and botanical oils, plus a light-reflecting pigment that gives your lady a stunning hint of shimmer suitable for any occasion, when it comes to helping her pamper her soft, radiant skin, we encourage you—don't mess around! Try this one, step back, and let her enjoy the magic.
All eyebrow pencils are pretty much the same, right? Au contraire. You and your wife will discover the difference when she fills her brows using our dual-ended eyebrow pencil.
It glides on so smoothly and builds so well that her brows won't look unnatural or worse—like weird caterpillars. This is largely thanks to the combination of a soft tip and creamy formula used together with a spoolie brush, so that application is virtually painless.
The formula itself is infused with conditioning jojoba seed oil, which does a fantastic job of keeping her brow hair soft. It also happens to be available in two cool and warm shades and can be purchased for $9.99. Talk about a stocking stuffer score!
We're convinced liquid eyeliners will never fade in their popularity. They also happen to make excellent gifts for makeup lovers. Give one of these to a lady who's obsessed with dramatic eye makeup, and you'll win her heart all over again.
The flexible tip of our liquid liner helps ensure a precise application, allowing your woman the freedom to try as many liner looks as she wants—and if she's a novice, she'll be a pro in no time.
Its plant-derived ingredients are gentle for even the most sensitive skin and what's more, it stays in its place for up to a whopping 8 hours! That means she can define her eyes in the morning, without worrying about anything smudging or flaking by lunchtime. Now go on with your bad self! You can get this one for just $9.99 as a stocking stuffer and possibly win the husband of the year award.
Whoop, whoop! Looking for a great stocking stuffer that does the job of two? We've got you covered. This product comes with two wands, both equally amazing in this 2-in-1 mascara and lash primer. It's perfect for helping your wife get the look of long, luscious lashes without tinkering around with falsies.
How do we perform such magic? When the combo of a dark coat of smooth, yet beautifully lash-lifting black mascara is applied on freshly primed lashes, the result is extreme volume and length. In other words, the look of falsies, with none of the aggravation. Dare we say the perfect companion for your every day long lash lover. FYI, it's available for only $16.99.
No woman can ever have too many lip balms. Like really. You'll be loved forever for helping your wife stay top on her lip hydrating game with these organic and free of parabens wonder workers.
They are creamy, moisturizing lip balms that come in seven sheer, juicy sweet shades. High on moisture and low on stickiness, it makes them excellent for stealing a kiss or three. However, even with some stolen kisses, they can stay on all day, so she won't have to worry about reapplication every five minutes.
Plus, the seven lovely shades will give her something to look forward to every morning. Pick them all, we say! Each one of our tinted lip balms is only $8.99 and buying them all makes for a fun way colorize her stocking stuffers this year.
Under eye circles are the bane of almost every woman's existence. Give your wife the gift of never having to worry about dark circles again with our tinted eye cream.
Besides color correcting with sheer coverage, our eye cream helps gives her a healthy, well-rested look. She can use it with makeup or without—either way, her under eyes will look plump and hydrated, with no unsightly dark circles stealing away from the beauty of her loving gaze.
Infused with 2 types of hyaluronic acid, our tinted eye cream instantly brightens and hydrates, while squalene ensures her skin stays soft and supple. Our favorite thing about this product is how affordable it is. You can get it for just $23.99 and as soon as she applies it, there will be no more dark circles in sight.
There are so many stocking stuffers for your wife that we could list, but hopefully this is enough to get you started this holiday season. Happy shopping!
We aim to provide you with the most honest and credible information possible. This article was reviewed for accuracy by The Honest Team and was written based on trusted sources that are linked at the bottom of the article.
blog_review_statement