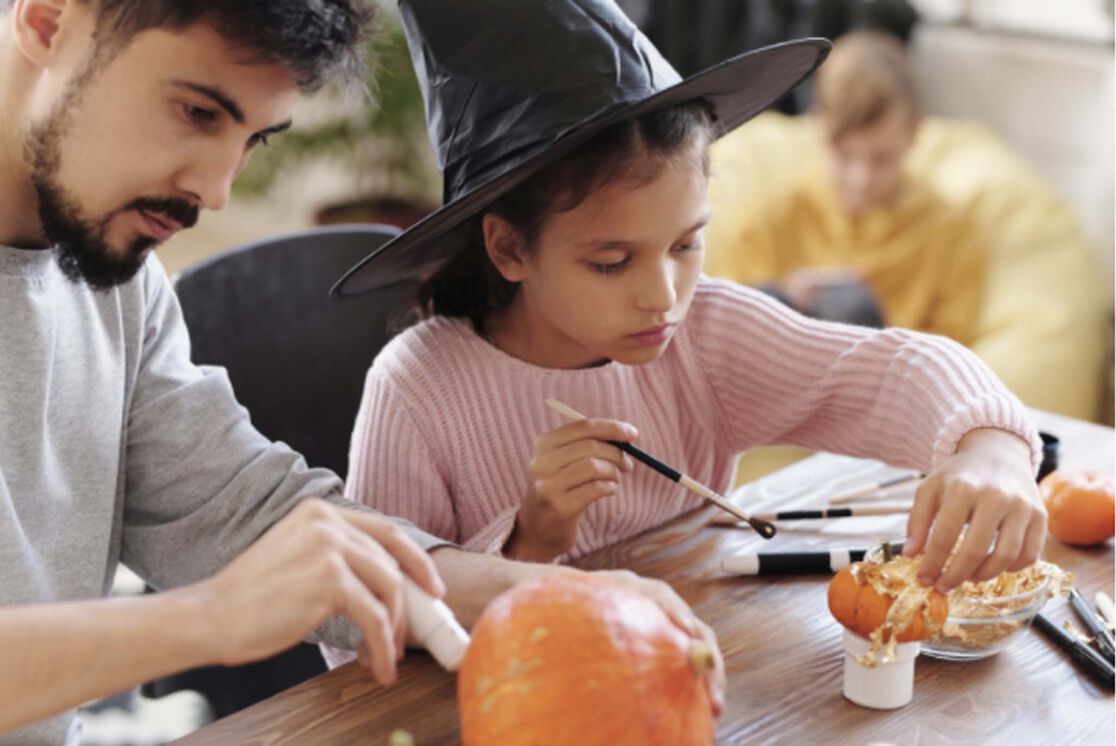 It's fall, y'all! And Halloween fun is right around the corner. There's no doubt that this year All Hallow's Eve is going to be different from the normal Halloween night. It can span varying degrees of different depending upon where you live and what level of lockdown your local area is under, but different nonetheless!
Many of you, even if your area has opened up, may choose to continue staying home and out of the crowds just to be on the safe side this Halloween night. Regardless of your reasons, whether it's COVID-19 lockdowns or self-imposed quarantining and cautious social distancing, there are plenty of fun things you can still do with your family to enjoy the Halloween holiday and get into the Halloween spirit, while surrounded by the comforts of home.
Even better, Halloween this year falls on a Sunday, which means many of you will have the whole day to engage in a little spooky, celebratory action. We predict lots of crafts, costumes, Halloween candy, scary stories, and laughs in your future!
Keep reading for some of our favorite COVID-friendly Halloween activities to do at home. Once you've exhausted all the possibilities, be sure to step outside after dark and observe the moon! No Halloween is complete without a little fresh air and the beauty of the moon.
Take a Halloween Morning Family Stroll
To kick off the day of Halloween fun, start your day off right with a bit of healthy exercise. You can take a family stroll around the neighborhood or ride bikes. Make a fun Halloween game of pointing out the houses that are decorated for the occasion and when you get home, have a family debate over which house in the neighborhood was the best decorated while you make a Halloween theme breakfast.
Spook Out Your Own Home
Just because you're hanging out at home for the day doesn't mean you can't decorate your own house for a little spooky fun to get into the Halloween spirit. You may have already decorated the exterior with Halloween decor, but why not enlist the family in decorating the inside as well?
Before you think about scrubbing your house using your cleaning products, hang plastic spiders and spider webs, put out Halloween candy in Halloween themed bowls, and set out whatever other indoor Halloween decor you've had stashed away for the holiday. Get everyone involved, and once the house is decorated, you can take silly and spooky photos to memorialize the occasion.
Halloween Dress Up Competition
Still feel stuck for ideas on Halloween activities for kids at home? Part of the fun of Halloween is dressing up in costumes and putting on Halloween makeup. So bust out the Halloween costume bin and get dressed up for the day. Once you're in costume, you can really get into character and make the day entertaining. As the night ends, don't forget to take off all your great costume makeup with either makeup wipes or a gentle face cleanser like our Magic Gel to Milk Makeup Melting Cleanser.
Plus, younger kids love playing dress-up no matter what day of the year it is, so they will be thrilled to wear their costumes all day long. You could even have a little family competition once everyone is decked out to decide who's Halloween costume is the best. The winner gets a treat of choice or gets to do the next activity of choice.
Creep Out Your Pets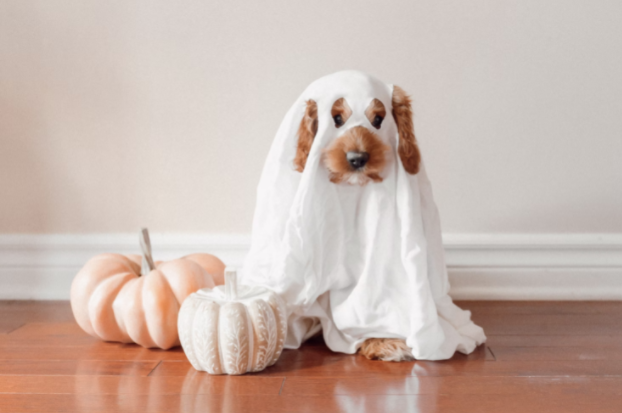 If you have pets in your family, Halloween is a great opportunity to dress them up as well! You can order a funny or cute costume ahead of time, or even make up one of your own using items from your home. Get everyone involved and take lots of pictures of the end result. It might not be pretty, and your pet may not love it, but it will definitely be funny!
Create a Spooktacular Scavenger Hunt
This is a great kid-friendly way to enjoy a little trick-or-treating without leaving the house. Depending on the age range of the kids, you can make the Halloween scavenger hunt as easy or as hard as you'd like, with plenty of clues to guide everyone to the goodies.
When we say goodies, that doesn't mean just candy, either! You can have prizes like fun gifts or toys, money, and even gag gifts for a few extra laughs. Of course, don't forget the candy because what's Halloween without a few sweet treats?
Plan a Pick-and-Eat Candy Rush
It's true, the kiddos love all the candy. Part of the fun of Halloween is collecting sackfuls of the stuff and then having a huge stash to munch on for the next year! You can still do this from home with a little pick-and-eat action in your backyard. Keep the kids inside while you and your crew go outside and 'plant' a pile of candy everywhere.
When you're ready, you can let the kids outside and start a timer while they race around and 'pick' all the candy they can find. The winner obviously has the biggest sack of candy, but you can also give the winner an extra prize to make it special. You will find lots of entertainment watching the kids racing around, trying to grab as much candy as possible!
Halloween Crafting
Crafting is an age-old way to enjoy family time at home, and it's honestly fun no matter how old you are! Choose age-appropriate crafting ideas and make sure you stock up on all you will need ahead of time.
Then set up crafting stations, put on a Halloween playlist with fun, creepy music, and get to crafting. You can even award candy prizes for the family member that makes the coolest craft once all is said and done.
One great crafting idea that's fun for everyone is painting spooky rocks and stones. Stock up on large, smooth stones ahead of time, stockpile acrylic or puff paint, and have everyone create their best scary––or funny––rock. You can display the results on a shelf all year long and remember those moments with fondness.
Host a Spooky Movie-Thon
Sometimes, a good old-fashioned movie marathon is one of the best ways to spend a day indoors as a family. Create a list of Halloween classics, pop some popcorn or bust out the candy corn, create a creepy nest of pillows and blankets, and huddle in to be creeped out together.
Of course, you don't have to go the scary route. You can opt for funny movies too. While you're watching movies, add in a little candy taste-testing. Make sure you buy a wide range of options for the candy stash ahead of time, and as you watch your movies, taste test the new candies to decide on new family favorites.
Spookish Trivia
Trivia is an excellent way to pass the time with family when you're homebound. Older kids especially enjoy a rowdy game of trivia. You can tailor your trivia questions to center around everything Halloween-related and create scorecards to keep track of who's winning. The person that guesses the most right answers wins a special prize for the day.
Have a Pumpkin Carving Contest
You'll need to make sure you purchase your pumpkins ahead of time, but people of all ages enjoy a good pumpkin carving. Make it a competition for extra brownie points and award the winner an exalted place of honor on the front porch. You can browse social sites like Pinterest to come up with some unique carving ideas.
Just make sure to stock up on carving tools and markers to decorate them when you buy your pumpkins so you have everything you need on hand. Don't forget to set up a designated area with plenty of old sheets or newspapers spread around to catch pumpkin innards. Pumpkin carving can be a messy business!
Host a Virtual Halloween Party
With online apps like Zoom, connecting with friends and family virtually is easier than ever. Granted, it's not quite the same as hosting a real party, but it can still be a lot of fun. Everyone can dress up and you can make yummy Halloween treats or come up with a themed cocktail for everyone to enjoy together.
Then sit back, chat, and have some laughs. You could even host a virtual card game or Halloween charades to up the fun factor and get everyone engaged. Just make sure that the WIFI signal is running strong!
As you can see, just because you may have to do Halloween activities at home and can't trick-or-treat quite the same way as before, you can still make this All Hallow's Eve an enjoyable family affair that everyone will love.
After all, holidays really aren't about what you do, but who you do it with and the memories you create. So resolve to make some fun, spooky memories this Halloween and enjoy the heck out of your creepy Sunday fun day!
Sources
https://www.retailmenot.com/blog/ideas-for-celebrating-halloween-during-covid-19.html
https://www.madeformums.com/school-and-family/halloween-ideas-during-covid/
https://www.care.com/c/fun-halloween-ideas-pandemic
https://www.thebash.com/articles/social-distancing-halloween-party-ideas
https://www.latimes.com/lifestyle/story/2020-09-11/ways-celebrate-halloween-covid-19-pandemic
https://ideas.shutterfly.com/fun-ideas-for-halloween-during-coronavirus/
https://www.goodhousekeeping.com/holidays/halloween-ideas/g33796718/quarantine-halloween-ideas/
We aim to provide you with the most honest and credible information possible. This article was reviewed for accuracy by The Honest Team and was written based on trusted sources that are linked at the bottom of the article.
blog_review_statement