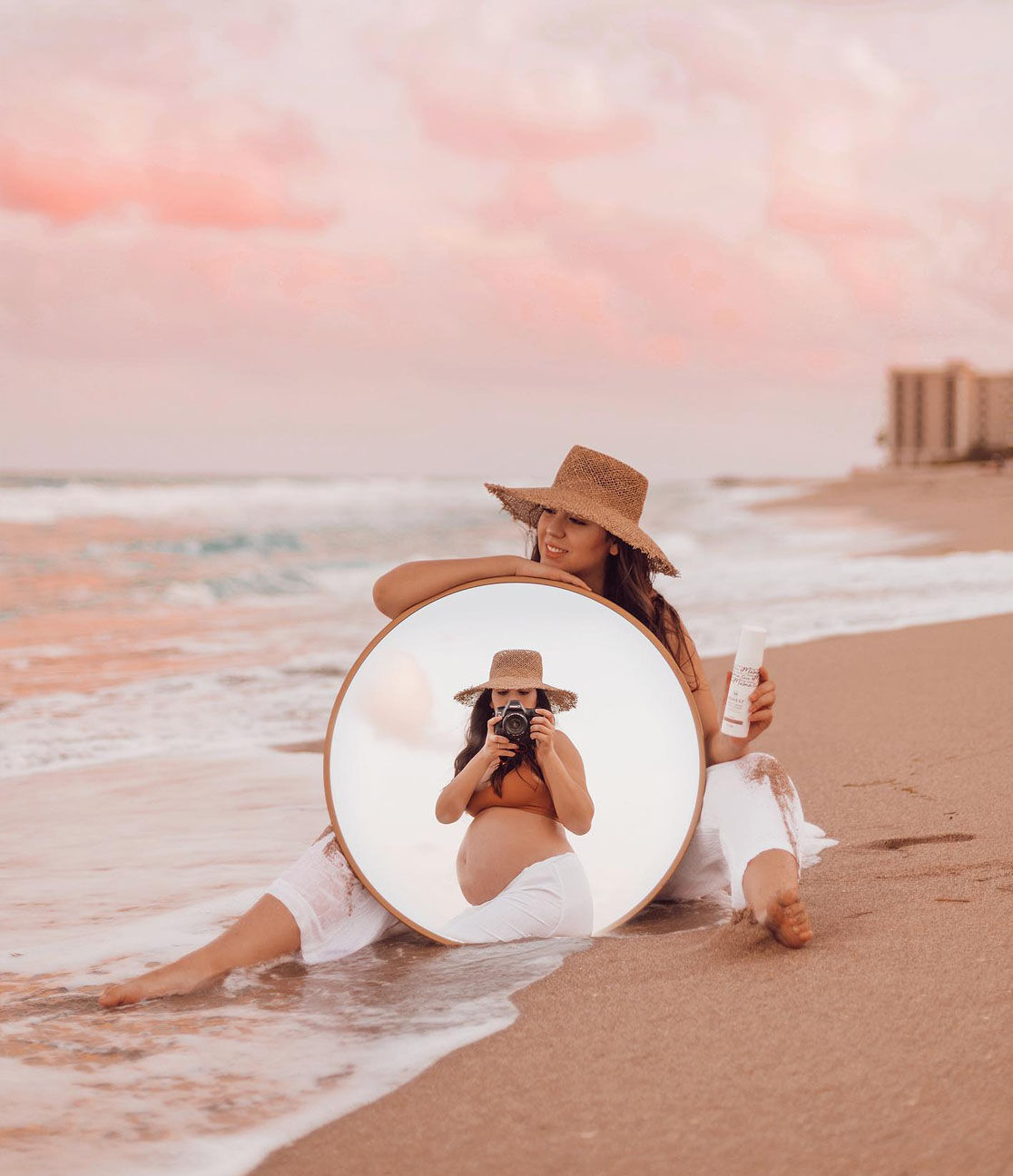 Image by @peaceofusx
If you've never heard of a babymoon, it's time to get in the know, parents-to-be! Think of a babymoon a bit like a honeymoon, only on this trip, you're pregnant and celebrating the new life you're creating!
What is a Babymoon?
Similar to a honeymoon, it's a great opportunity for you and your favorite half to enjoy some downtime together, unwind, and have a last hurrah before the big day arrives and life is forever changed. Trust us, whether it's your first baby or your fifth, all parents deserve some alone-time together before the new arrival. Afterall, preparing for a newborn takes time and effort, so if possible, set aside time to take a little getaway before the delivery day.
When Should You Babymoon?
This is really a personal choice, but typically the second trimester is a great time to plan a babymoon. Most women find that after the first trimester, everything gets a little easier, the morning sickness fades, and they begin to feel human again. However, they're not so far along that everything feels uncomfortable.
Obviously, this can vary from woman-to-woman, so be sure to talk to your doctor if you're planning a babymoon trip. Or stay close to home and have a little staycation-style babymoon. There are no rules except you MUST hit the 3 Rs––relax, recharge, and reconnect.
Our Top 5 Babymoon Ideas
While traveling to an exotic destination sounds nice, the truth is that travel can be stressful too. This is especially true for expecting parents if traveling long distances. Since the goal is to have a relaxing babymoon, you may want to stay closer to home and plan something that doesn't require a ton of travel time. Below are a few of our best ideas for an amazing babymoon you don't even have to leave town for. Unless you want to, of course!
Plan a Day Trip Somewhere
Maybe you live somewhere you haven't fully explored yet. Planning a day trip can be a great way to do that! It could be a day trip to a small town or big city nearby to explore the local culture, or a day trip right in your own home town.
You could visit a museum, a zoo, a botanical garden, or even a local theme park if you're a theme park connoisseur. Start off getting breakfast somewhere you've never been, hang out at your chosen spot all day, then cap the evening off with a romantic dinner before heading home.
Plan a Staycation
If you live somewhere scenic with gorgeous views, go on a local staycation for a weekend, or even a whole week! Your babymoon vacation can be as long or as short as you want it to be. Even if you have to travel a couple of hours through your state to get there, a short road trip is more comfy than a long flight.
Plan a visit to a cabin in the mountains or the woods, or to a cabana by a beautiful beach. If you prefer a more urban locale, look for places with lots of culture and low-key things to do, as well as plenty of great places to eat.
Go Camping––or Better Yet, Glamping!
If you're the outdoorsy types, camping can be a fun and peaceful way to reconnect with nature, recharge, and realign with each other before the new baby arrives. Also, hiking and swimming, two of the most common activities when you go camping, are both great exercise activities for mamas-to-be who like to stay active. However, if you want a slightly more luxurious experience, consider 'glamping' instead. There are lots of options to help you plan a great glamping excursion, giving you the best of the outdoors sans all the hard work! Then you're both free to simply enjoy the experience and each other.
Plan a Series of Day Excursions
If you prefer not to leave the comforts of home but still want all the experiences of a babymoon getaway, why not plan a series of excursions you can do each day?
You could spend a day at a local spa or luxury resort. Enjoy a spa treatment, like a relaxing couple's massage or prenatal massage, followed by dinner somewhere romantic.

You could hit a local theme park or nature park, spend the day exploring, and end the night with dinner and a local movie.

You could tour the city, hit a few shops and museums, enjoy brunch or afternoon tea at that local eatery you've been meaning to try, and cap your evening with a moonlit walk somewhere scenic.

You could even just spend a romantic day in bed all day, order takeout for sustenance, and remind each other how much you adore each other. Sounds like the perfect babymoon to us!
Hang at Home!
If you're on a tight budget or you just prefer spending time at home, who says that isn't the perfect babymoon destination? If you have other children, why not arrange for them to visit family for a week or so?
You can hang a do not disturb sign on your front door, turn your phones off, order in, and laze around in your underwear all day. You can turn your kitchen into a spa with the ultimate Mama's Spa Night kit or simply draw a sea salt bath and soak up the relaxation, followed by a movie marathon. Sip sparkling cider, eat decadent desserts, picnic and star-gaze in your backyard… there are no rules that say your babymoon has to mean travel.
Remember the goal of a babymoon––to rest, recharge, and reconnect with your partner. You can do that however you want, as long as you make yourselves and nurturing your relationship the primary focus.
After the baby is born, your world changes, so use the time together during your babymoon to remember why you're doing this thing called life together and how you wouldn't want to do it with anyone else.
If you're looking for additional pregnancy tips and advice, Honest® has you covered. Check out our blog for more information!
Sources:
https://www.shutterfly.com/ideas/babymoon-ideas/
https://www.babymoonguide.com/babymoon-101.html
https://epicexcursionsnc.com/what-is-glamping/
https://trekourway.com/some-fun-ideas-and-destinations-for-your-babymoon/
https://www.tummycradle.com/blog/fun-activities-to-do-on-your-babymoon/
https://tulamama.com/babymoon-ideas/
https://www.babymoonguide.com/babymoon-101.html
https://www.merakilane.com/the-calm-before-the-storm-45-babymoon-ideas-for-soon-to-be-parents/
We aim to provide you with the most honest and credible information possible. This article was reviewed for accuracy by The Honest Team and was written based on trusted sources that are linked at the bottom of the article.
blog_review_statement