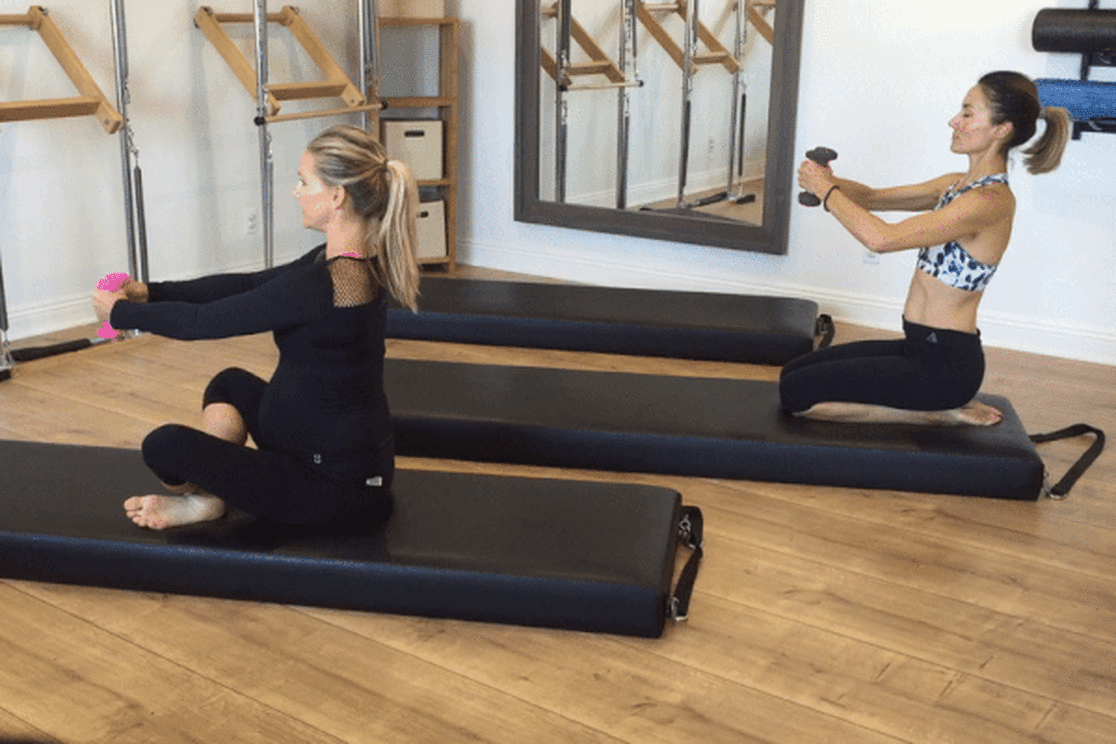 The prenatal pilates continues today with Leila Cunningham and Cristin Wertman! This move is all about working your mommy muscles to stay strong and healthy, and it's ideal for before, during and after pregnancy.
If you are pregnant, always consult your physician before participating in pilates and only do what feels comfortable to you.
Prenatal Pilates: Hug Your Baby (or Hug a Tree)
Benefits: This workout strengthens the shoulders, biceps and upper back -- also known as your mommy muscles. As moms, it's important to keep upper bodies strong and healthy to lift children, carseats and everything else! This pose helps keeps posture healthy and hunch-free. 
Step 1: Sit in a cross-legged position on a mat or upright in a comfortable in a chair, whichever feels most comfortable. The use of 1-3lb weights is optional. Sit nice and tall with your belly scooped in; arms should be out to your side, with a slight bend in the elbows. Take a deep inhale and initiate the movement with your low abs, as your arms reach back as far as you can, creating a nice stretch through the chest. Exhale and bring arms forward in front of you imagining that you are hugging a big tree trunk (or your baby!). Repeat 3 times.
Step 2: Keep hands together, still imagine hugging the big tree. Inhale and lift arms up over the head trying to keep spine still. Exhale and return arms back down in front of your chest. Repeat 3 times.
Honest Tip: This move can be done with or without weights.
~Leila, FitPilates
Leila Cunningham is a Certified Pilates Instructor based in Los Angeles, California. When she isn't sharing her knowledge and passion for Pilates at her studio, she's spending time with her husband and two beautiful daughters. For more fitness tips and easy exercises, check out her YouTube channel.
This post is solely for informational purposes. It is not intended nor implied to be a substitute for health advice. Before undertaking any course of exercise, you should seek the advice of your physician or other health care provider.
We aim to provide you with the most honest and credible information possible. This article was reviewed for accuracy by The Honest Team and was written based on trusted sources that are linked at the bottom of the article.
blog_review_statement