In part two of our series, we continue our celebration of World Breastfeeding Week by moving into National Breastfeeding Month. Check out their campaign, #SixWords, and post a selfie with a description of "what breastfeeding means to you." Tag @Honest so we can keep up with the fun!
This week we're diving deeper into the mechanics of breastfeeding with positioning and latch. Knowing when your baby is ready to feed based on his hunger and fullness cues is the an important first step. But if your baby has difficulty with self attachment in the semi-reclining (biological) nursing position, it helps to know the basics of positioning to facilitate your baby's latch. When you and your baby are well positioned, your nipples stay healthy and your baby can feed most efficiently.
Basic Steps for Optimal Positioning
Position yourself comfortably with back support, pillows supporting your arms and in your lap with your feet supported.  Whatever feels most comfortable to you!

Position baby close to you, with his hips flexed, so that he does not have to turn his head to reach your breast. His mouth and nose should be facing your nipple (rather than having to turn his head to face your nipple).

Support your breast if needed so it is not pressing on your baby's chin. Your baby's chin should drive into your breast.

Attach or latch baby onto your breast. Encourage him to open his mouth wide, and pull him close by supporting his back (rather than the back of his head) so that his chin drives into your breast. It helps to tickle his upper lip/nose with your nipple. This will encourage him to open his mouth wide and latch onto your breast. His nose will be touching your breast. Your hand forms a "second neck" for your baby by lightly supporting his neck (not his head).

Enjoy! If you are feeling pain, detach baby gently and try again.
As you and your baby become more experienced and comfortable with breastfeeding, you'll find that you can alter your positions in many ways, even from feeding to feeding. As long as you're comfortable and the baby is nursing successfully, do what works best for you.
Remember, when breastfeeding, it's very important to bring the baby to your nipple height rather than bringing your breast to your baby. Leaning over your baby can cause neck and shoulder strain, backaches, or sore nipples.
Laid-back Breastfeeding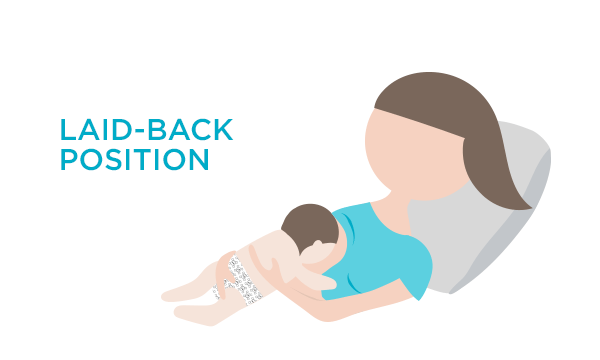 Laid-back breastfeeding (also known as "biological nursing"), means getting comfy with your baby and encouraging your baby's and your natural breastfeeding instincts. Here are some basics:
Dress yourself and your baby however you choose (remember, comfy is the goal).

Find a bed or couch where you can lean back and be well supported (especially your head and neck) — not flat, but comfortably leaning back. This way when you put your baby on your chest, gravity will keep him in position with his body "glued" to yours.

Let your baby's cheek rest somewhere near your exposed breast.

Help him as much as you need to — you're a team.

Hold your breast or not, do what feels natural to you.

Relax and enjoy each other.
Cradle Position
The cradle position is one that many mothers feel most comfortable using. It can be difficult to obtain a successful latch in the early days using this position or with small/premature babies. The cradle position becomes easier after the first few weeks when your baby is a bit bigger and has more head control.
To nurse your baby while cradling or holding him across your lap, he should be lying on his side, resting on his shoulder and hip with his mouth level with your nipple. (Hips, shoulder, and ear should all be in a straight line.) Use pillows to lift your baby and bring him up to nipple height. Support your breast if needed. Your baby's head will be on your forearm and his back will be along your inner arm and palm. When you look down, you should see his side with this face turned toward your body.  As a newborn, your baby's head and bottom should be level with each other.  See "Is My Baby Latched on Well?" (below) for information on how to latch your baby in this position.
Cross-cradle Position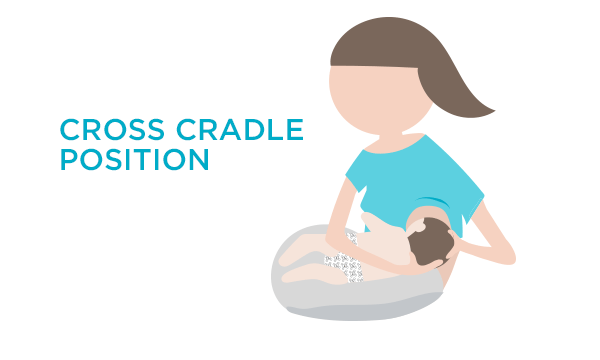 In the early newborn period, many mothers find the cross-cradle position to be useful. A mother also has more control of her breasts in this position. To get started, support your baby on a pillow across your lap to help raise him to your nipple level. Pillows should also support both of your elbows so your arms don't hold the weight of the baby, otherwise they may tire before the feeding is finished.
Here is where it gets a little tricky: If you're preparing to breastfeed on the left breast and your left hand supports that breast, you support your baby with the fingers of your right hand. Do this by gently placing your hand behind neck (not his head) with your thumb and index finger behind each ear. Your baby's neck will then rest in the web between your thumb, index finger, and palm of your hand.  The palm of your hand is placed between his shoulder blades. See "Is My Baby Latched on Well?" (below) for information on how to latch your baby in this position.
Clutch or Football Position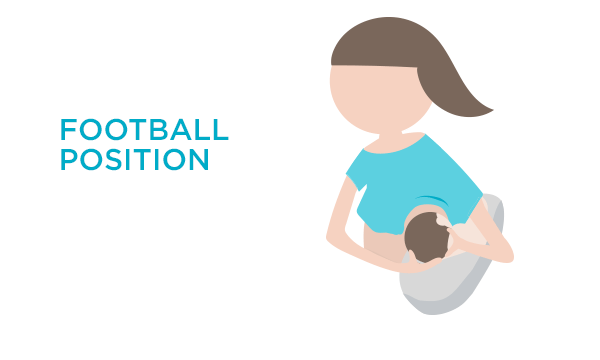 This is a good position for a mother who has had a Cesarean birth, as it keeps the baby away from the incision. This position helps with latching because you have a better view of your nipple and of your baby's mouth.
You baby should lay next to you at breast level (pillows can, again, help bring the baby to the correct height).  He can either lay on his back with his feet aiming towards the ceiling or on his side with his entire body turned towards you and legs wrapped around you.  Your arm will be under his back and hand at the base of his head (similar to the cross-cradle position).  See "Is My Baby Latched on Well?" (below) for information on how to latch your baby in this position.
Side-lying Position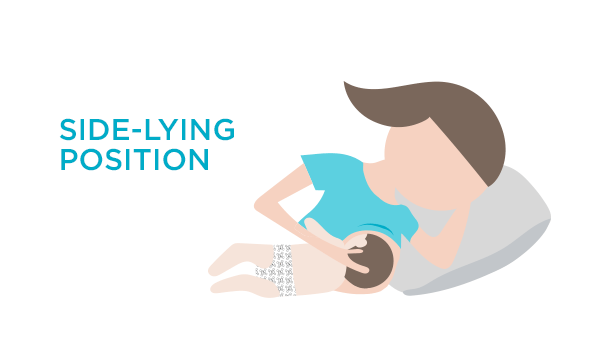 Many mothers find lying down to nurse a comfortable position, especially at night. Both mother and baby lie on their sides facing each other. Pillows are helpful in this position, behind your back and sometimes even between your knees — whatever feels best for you! A rolled blanket behind your baby's back will help prevent him from rolling away from you. Having his hips flexed and his ear, shoulder, and hip in one line helps your baby get milk more easily. See "Is My Baby Latched on Well?" (below) for information on how to latch your baby in this position.
Is My Baby Latched on Well?
After you are in a comfy position, one of two things can happen. Your baby can self-attach or he may need some help with attaching to your breast.  When latching your baby to your breast, use your nipple to tickle his nose or upper lip. This will encourage him to open his mouth wide (like he is yawning). Aim your nipple slightly upwards, towards the roof of his mouth, bringing baby to you, chin first.
Good latch-on checkpoints for your baby include:
his nose is nearly touching your breast (not squashed);

his lips are flanged (the classic fish lips that everyone refers to); and

he has more than just the tip of your nipple in his mouth (goal is to get breast tissue in his mouth as well).
If the latch is uncomfortable or painful, gently place your finger in the baby's mouth, between his gums, to detach him, and try again.
A baby who is offered the breast will suck without swallowing as he positions the nipple in his mouth and tells your breast he is ready to eat!  Nature sure is amazing. When he begins to receive milk, you will see his jaw working all the way back to his ear. His temples will wiggle and you will usually hear him gulping at first and then swallowing in a more rhythmic manner, as his appetite is satisfied.
Now that you are well positioned and know when your baby is hungry (and full), next week we will move on to the topic most often discussed with new mommies: "How can I tell if my baby is getting enough milk?"  Until then, happy feeding!
- Nicole Meadow, MPN, RD, CSP, CLC
Registered Dietitian + Lactation Counselor