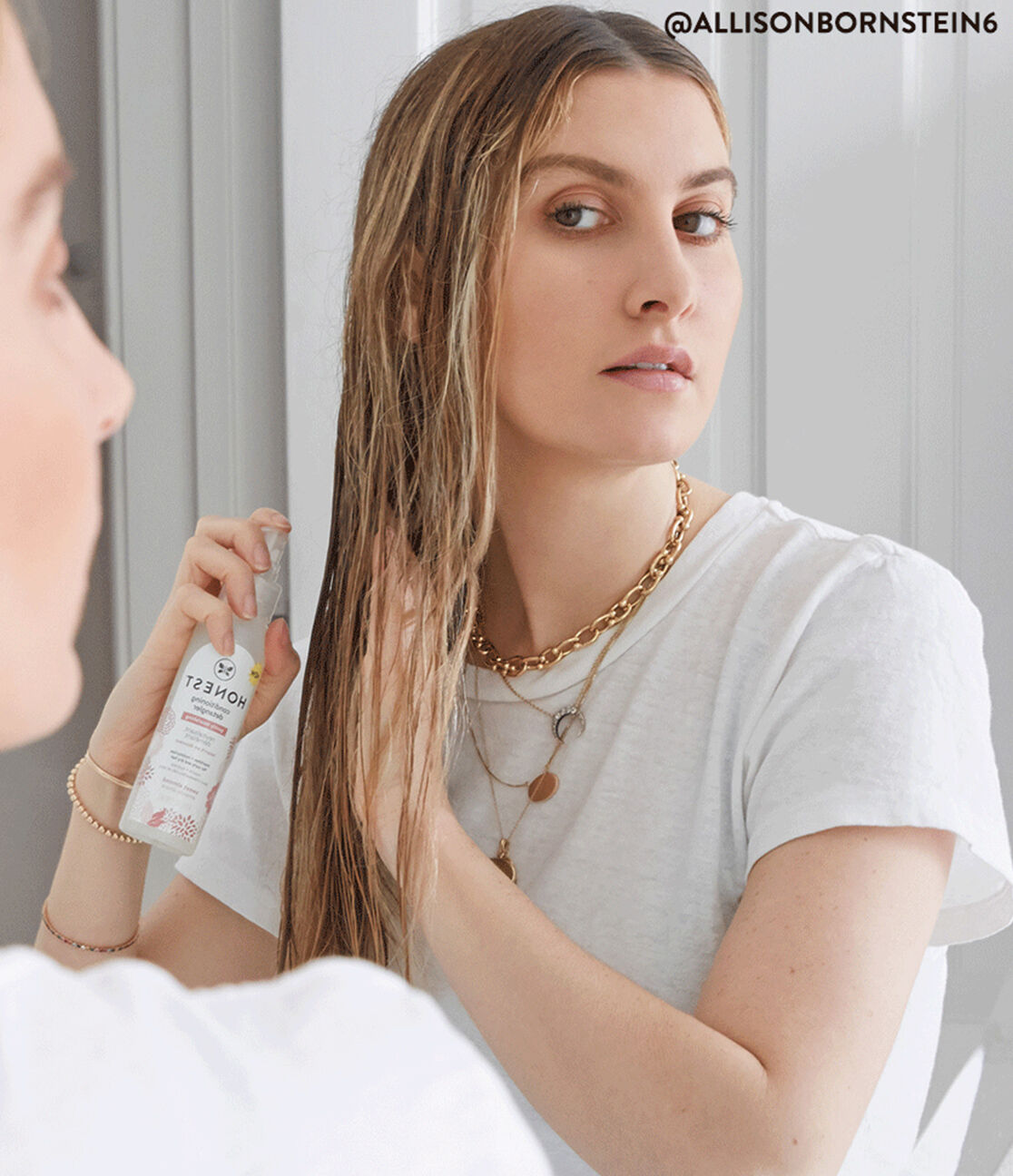 Between the energy you devote to your toddler, the expertise you lend to your job, and the balance necessary to maintain a social life, you're a hardworking, multitasking pro.
Why shouldn't your hair and skin care products be the same way?
If you're still looking for your beauty routine's M.V.P. (Most Valuable Product), the hunt is over—Argan oil is your new multi-talented skincare superstar. Ultra-gentle and super nourishing for both mama and little ones, your hair and skin will love it.
The reported benefits of Argan oil are a little like episodes of Grey's Anatomy—there are basically a million of them, and it's impossible to pick a fave. Don't worry, though—we've narrowed down five of our favorite features of this powerhouse ingredient.
#1 It's Super Nourishing
We all know that it's important to power your body with whole foods full of essential nutrients and vitamins to keep things in tip-top shape. If you're anything like us, you might love to start the morning with smoothies packed full of leafy greens and fiber, and make sure to get in plenty of protein and whole grains for healthy energy throughout the day. (Raise your hand if you're notorious for carrying around purse snacks).
But it's not just your insides that need nourishing—your skin has nutrition needs, too. Glowy, healthy skin is well-fed, well-nourished skin, and Argan oil can help.
Argan oil is full of two key ingredients known for supporting happy, healthy skin:
Rich fatty acid, which can help to nourish the skin's natural moisture barrier, keeping it looking happy and hydrated
Vitamin E, packed with antioxidants that can fight inflammation, soothe skin, and reduce the appearance of damage
Many think of Argan oil as a skin superfood, packing a dose of nutrients for your skin.
For an on-the-go boost for your skin, toss our Magic Beauty Balm into your bag (right next to those purse snacks). It's your multitasking, do-it-all tool that delivers a soothing blend of Argan oil, olive oil, jojoba oil, and shea butter to wherever you need it most.
#2 It Delivers Silky Smooth Looking Strands
We've all been there—you spent upwards of an hour on your at-home blowout, only to leave the house and find your sleek style morphing into a frizzy wonder the second you hit the humidity.
If you want more to show for all your hard work next time (other than just a sore arm from wielding your blow dryer and a poodle-inspired hairdo), Argan oil might just be your new best friend.
The same fatty acids and vitamin E that your skin may love so much also deliver major good vibes to your hair as well. The natural fatty acid in Argan oil can keep the hair shaft moisturized and looking smooth, helping to fight off frizziness.1 Meanwhile, vitamin E can give your locks a "just came from the salon" look level of shine.1
Think of our everyday, gentle Conditioning Detangler Spray as a highlight reel of the many Argan oil benefits for hair. It harnesses Argan oil's moisturizing properties to keep your hair silky smooth and pairs it with naturally derived ingredients like jojoba protein, shea butter, and quinoa extracts.
In addition to a fresh sweet orange and vanilla fragrance, you'll be on your way to a more magnificent mane in no time. Tangles, begone.
#3 It Can Freshen Up Tired-Looking Skin
Whether it's sleep training woes, work anxieties, a snoring spouse, or just plain-old insomnia, we've all had to face our morning faces in the mirror after a rough night of sleep—puffy, tired eyes, dull skin, and an expression that reads, "Get me a cold brew with oat milk, ASAP."
While we can't deliver on the cold brew, Argan oil can help with tired-looking skin.
Although the evidence is mostly anecdotal, it is suggested that Argan oil could improve the appearance of tired skin and leave your skin feeling and looking calm, renewed, and refreshed.
In addition to vitamin E, Argan oil also contains polyphenol like ferulic acid.3 These elements may work to combat the signs of tiredness or aging on the skin.4
One place skin stress can make a major appearance is around your eyes—you have it to thank for puffy eye bags or those raccoon-like dark circles.
To hydrate and soothe stressed-out eyes and refresh tired-looking skin on those especially groggy mornings, add our Calm + Renewing Melting Eye Balm into your routine. In addition to Argan oil, it contains nourishing ingredients like shea butter and it is formulated with our Calming Phyto-Blendᵀᴹ and a cell energizer. Together, this powerful combination can have your under-eyes looking plumper and firmer and delivers a dewy finish.
You might not be able to get a full eight hours of sleep until your kids are in college, but at least you can trick people into thinking that you did (and maybe that's the next best thing).
#4 It's Tough On Tangles
You might not think to include "bath time wrangler" next time you have to write a personal bio, but if you're a parent, it's a skill you'll definitely earn along the way. But what if you could also add "masterful hair detangler" to your list of accomplishments?
If you're looking to make bath time easier on both mama and little ones, one way to avoid tears is by making that after-bath hair-combing a smooth, tangle-free experience.
Moisturized, soft hair is hair that's less likely to snarl and form knots. Tapping into the smoothing, soothing powers of Argan oil's fatty oleic and linoleic acids can help stop tangles in their tracks and make post-bath combing and brushing easier for both you and your babies.5
The nourishing properties of Argan oil working together with jojoba protein and shea butter can fight tangling and knots and keep their hair smooth and soft (and keep bath time smooth and serene).
With tangle-fighting properties like these, you may even be tempted to try these hair products for kids on your own hair. Who wouldn't say yes to smoother locks and an easier post-shower routine?
#5 It Can Boost Your Skin's Natural Defenses
Your skin is your body's barrier against all kinds of dangers—whether it's bacteria, dirt, or pathogens, your skin is the body's first line of defense. But did you know that even your defense needs a defense?
Your skin has a natural layer of protection known as your skin barrier or Stratum Corneum. The moisture barrier protects your skin from environmental damage, pollutants, and bacteria that can lead to blemishes, irritation, and damage to your skin. It also helps to maintain the moisture that your skin needs to stay happy, healthy, and hydrated—think of it as a protective layer of bubble wrap over your skin.6
When your moisture barrier is compromised or weakened, whether it's by over-exfoliation, dehydration, or due to using harsh ingredients on sensitive skin, you'll be able to tell just by looking in the mirror. The signs of a damaged moisture barrier may include:6
Irritation
Redness
Dry patches
Acne flare-ups
Feelings of tightness
Itchiness
It is suggested that Argan oil can help to support your skin barrier in two major ways:
Argan oil is a good source of linoleic acid (omega-6). Linoleic acid plays a role in the structural integrity and barrier function of the skin. Applying Argan oil to the skin could be an effective way to deliver linoleic acid to the skin and then strengthen the skin barrier.
It can also help by working to prevent damage in the first place. Argan oil can provide an extra layer that seals moisture into your skin and keeps it feeling happy and healthy for hours after. Using a rich face cream and hydrating serums might not be enough to lock in the moisture that your skin needs to avoid a damaged moisture barrier on their own. Without a skin barrier, your skin can suffer from transepidermal water loss—where moisture will evaporate without something to hold it there—leaving your skin feeling thirsty and dehydrated.6
After you've finished cleansing your face and applying serums and moisturizer, lock in the nutrition and hydration that your skin craves by applying a layer of either pure Argan oil or an Argan oil-based product, like our Magic Beauty Balm.
Get Glowing with Honest®
Did we mention that we're maybe just a little Argan oil-obsessed? It's no wonder that we're never caught without our Magic Beauty Balm compact in our totes—this showstopping ingredient can do it all.
But it's not just Argan oil we love—Honest offers a whole range of clean, trusted products that you can count on to nurture the whole family. You can find out more by referencing our Ingredients Glossary or discovering the ins and outs of How To Decipher Ingredients Labels. Or, dive into our clean beauty philosophy in Clean Beauty 101: Our Definition.
Visit us today to start building a self-care routine to nourish you from head to toe.
Sources:
Guillaume, Dom & Charrouf, Zoubida. (2013). Argan oil for nutritional and skin care applications. Agro Food Industry Hi Tech. 24. 28-30.
Hill, A. (2018, December 10). 12 benefits and uses of Argan Oil. Healthline. Retrieved June 7, 2022, from https://www.healthline.com/nutrition/argan-oil
Charrouf and D. Guillaume, 2007. Phenols and Polyphenols from Argania spinosa . American Journal of Food Technology, 2: 679-683.
Farid Menaa, Abder Menaa, Jacques Tréton, Chapter 63 - Polyphenols against Skin Aging,Editor(s): Ronald Ross Watson, Victor R. Preedy, Sherma Zibadi, Polyphenols in Human Health and Disease, Academic Press, 2014, Pages 819-830
Miklavčič MB, Taous F, Valenčič V, Elghali T, Podgornik M, Strojnik L, Ogrinc N. Fatty Acid Composition of Cosmetic Argan Oil: Provenience and Authenticity Criteria. Molecules. 2020 Sep 7;25(18):4080.
Spruch-Feiner, S. (2021, August 20). Everything you need to know about using Argan oil for smooth skin. Byrdie. Retrieved June 7, 2022, from https://www.byrdie.com/argan-oil-for-skin-5080152
We aim to provide you with the most honest and credible information possible. This article was reviewed for accuracy by The Honest Team and was written based on trusted sources that are linked at the bottom of the article.
blog_review_statement