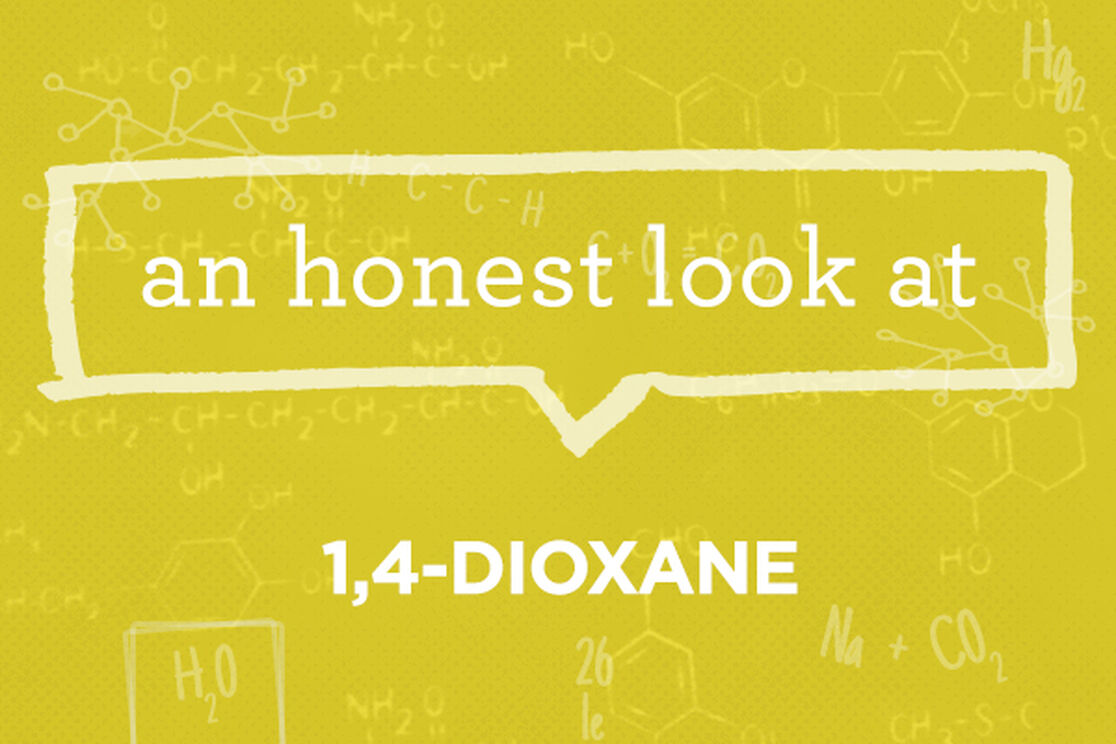 This is part of our ongoing series helping consumers better understand chemicals, chemistry, and product formulations. We translate the science, bust the myths, and give you an honest assessment, so you can make informed choices for your family!
Ingredient:
1,4-dioxane (often referred to simply as "dioxane")
What it is:
1,4-dioxane is a liquid solvent made from diethylene glycol.
What it does:
1,4-dioxane is used primarily as a solvent (the liquid used to dissolve other substances into a solution) in the manufacture of chemicals and as a laboratory reagent (a substance used to cause chemical reactions) (1). Additionally, 1,4-dioxane is a by-product of a process called "ethoxylation" (1,2).
Why we're featuring it today:
Honest products are made without 1,4-dioxane and it's included in our Honestly Free Guarantee for two serious reasons:
1,4-dioxane has been linked to cancer.

The National Toxicology Program classifies it as "reasonably anticipated to be a human carcinogen," the U.S. Environmental Protection Agency classifies it as a "probable human carcinogen," and California's Proposition 65 classifies it as "known to cause cancer" (3,4,5).

1,4-dioxane contaminates common household products.

As mentioned above, dioxane is a byproduct of the ethoxylation process used on ingredients found in cleaners; cleansing and moisturizing products; and cosmetics and personal care products such as deodorants, shampoos, body washes, toothpastes and mouthwash (1,2). The U.S. Agency for Toxic Substances and Disease Registry recommends reducing children's exposure and while the FDA "encourages" manufacturers to remove 1,4-dioxane, it is not required by federal law (1,6).
How can you make your home Honestly Free of 1-4 dioxane?
Our primary concern is the presence of 1,4-dioxane in cleaners and care products – especially since it's NOT listed on the ingredients label. Manufacturers are not required to let consumers know about its presence since it's not intentionally added, but may occur as an unintentional byproduct in some ingredients. So frustrating!
Fortunately, we know which ingredients could potentially be contaminated. Look for the following:
anything with "PEG"

polyethylene

polyethylene glycol

polyoxyethylene

polysorbate-60

polysorbate-80
If you have a product with one of these ingredients and you'd like to continue using it, contact the manufacturer to see if they've done their due diligence and vacuum stripped the ingredient to eliminate potential contamination (like we do!). It's easy to clean up these chemicals and doesn't increase the price, so it's simply the right thing to do.
References:
A-Z Index. Retrieved November 22, 2015, from

http://www.atsdr.cdc.gov/phs/phs.asp?id=953&tid=199

Black, R. E., Hurley, F. J., & Havery, D. C. (2001). Occurrence of 1, 4-dioxane in cosmetic raw materials and finished cosmetic products.

Journal of AOAC International

,

84

(3), 666-670.

"

13th Report on Carcinogens"

. United States Department of Health and Human Services' National Toxicology Program. 2014.

1,4-Dioxane (1,4-Diethyleneoxide). Hazard Summary.

U.S. Environmental Protection Agency.

Created in April 1992; Revised in January 2000.

"Chemicals Known to the State to Cause Cancer or Reproductive Toxicity"

(PDF). Office of Environmental Health Hazard Assessment. 2 April 2010. 1,4-Dioxane CAS#123-91-1 (Listed January 1, 1988)

U.S. Food and Drug Administration. Retrieved November 22, 2015, from http://www.fda.gov/cosmetics/productsingredients/potentialcontaminants/ucm101566.htm
This post was revised as of 11/25/2015.
We aim to provide you with the most honest and credible information possible. This article was reviewed for accuracy by The Honest Team and was written based on trusted sources that are linked at the bottom of the article.
blog_review_statement