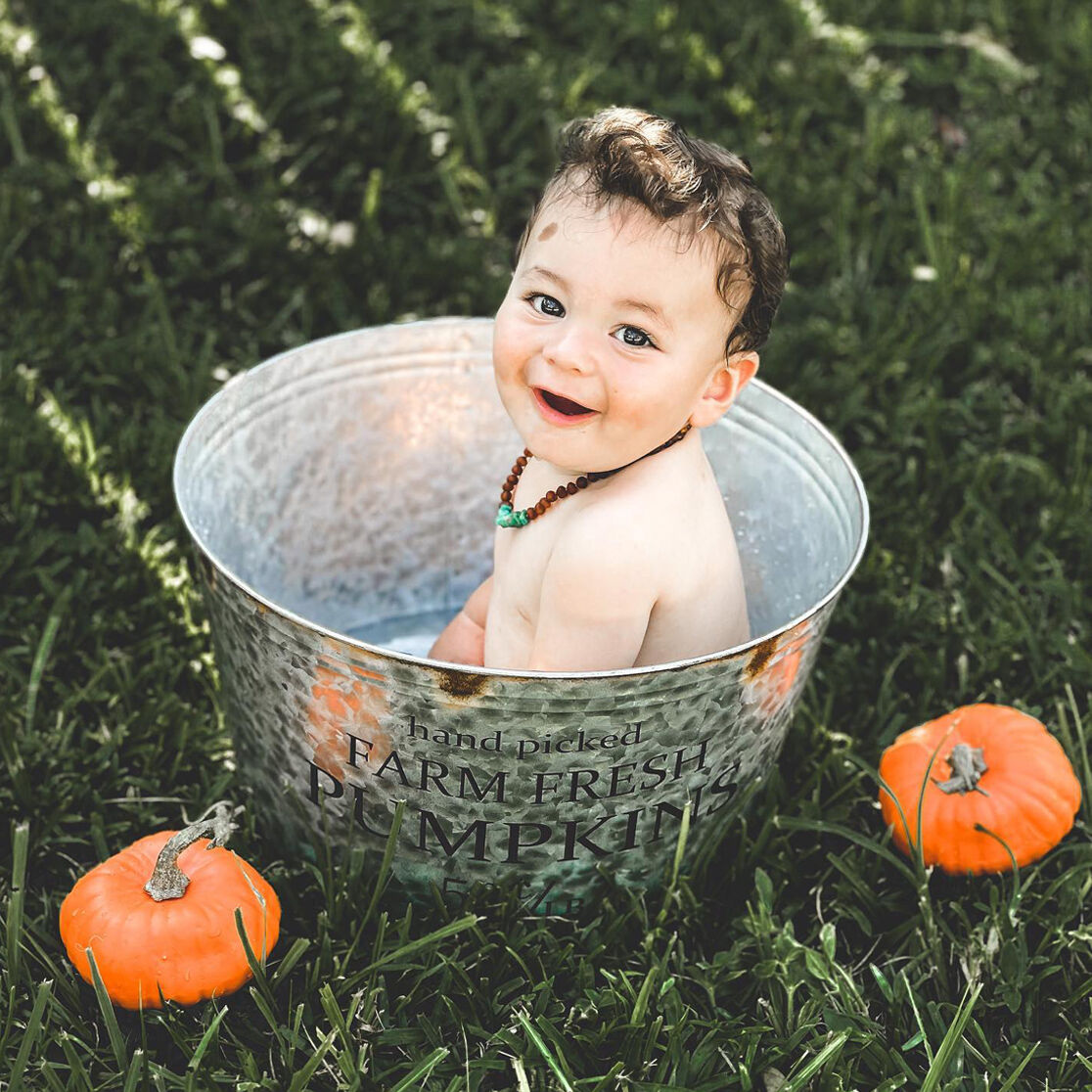 Image by @princess_kailani_
Thanksgiving is the time to celebrate and be grateful for all the good—and even some of the not so good—things in life. It's a time to keep family and friends close and give thanks for their presence in your life. While you are preparing for the best Thanksgiving feast ever, your little ones might need some extra stuff to keep them occupied.
To help you focus on checking off items from your thanksgiving checklist, we have compiled some fun Thanksgiving-themed craft ideas and activities for the kiddos. We know that these festive occasions are a perfect time to make memories, which is why we've also included some family activities involving parents and any other family members present. The more, the merrier! Before we get into all the healthy Christmas treats, let's get started with Thanksgiving!
How Do You Make Thanksgiving Fun for Kids?
The best way to get the kids interested in Thanksgiving is to help them understand what it is. Explain the history behind Thanksgiving and do activities together that will increase their interest in the holiday.
A good idea is to include them in the food-making process. Whether it's the turkey or the pie, get them interested in what you're preparing and its significance to the meal you're about to share with loved ones. By preparing the food together, your family can create special memories of Thanksgiving dinner. If your child has any dietary restrictions, there are also plenty of easy vegan dishes to prepare. Now, let's take a look at these awesome Thanksgiving recipes you will be thankful for this fall season.
Easy Thanksgiving Themed Foods to Make with Kids
Thanksgiving Cookies—make a batch of these in whatever flavor you prefer. Ask the kids to cut them in the shapes of pumpkins, turkeys, or other Thanksgiving-themed designs. Decorate the cookies as a family.
Pecan Clusters—this is a dessert that children can make easily. Melt some chocolate and let the kids dip in their favorite nuts and candies to eat them as is. They can even put the chocolate in a mold, along with your favorite flavorings, and set it to make their own custom chocolates.
Pumpkin Pie Fudge—talk about a treat that combines classic Thanksgiving flavors with a modern fudge style. Allow the kids to stir the fudge as it cooks and changes texture (if age appropriate), and help to cut the fudge squares. They can set them in the serving dish as well.
Cake Pops—try making cake pops and have the kids decorate them with Thanksgiving-themed items like candy corn, chocolate, and nuts.
Pumpkin Rice Krispie Treats—another easy snack for the kids to simply roll some Krispies into a pumpkin shape. Top with a pretzel, as well as some green icing to decorate with leaves.
Chocolate Covered Apple Slices—this is a well-loved, fantastic, easy dessert. Cut the apples into slices and give the kids the job of dipping the slices into melted chocolate. Top with some pecans or other nuts you favor and enjoy!
What Are Some Thanksgiving Crafts for Kids?
Whether your crafts are made before Thanksgiving day while you are prepping for the dinner party or on the day of, these are guaranteed to help your kids get into the spirit of what the holiday is all about.
Painted Rocks and Leaves for Thanksgiving Table
Want an easy Thanksgiving activity that will keep a toddler's little hands busy? This is a 2-in-1 craft. It keeps the kids busy for a while and also serves as a beautiful dinner table decoration. Have the kids paint stones saying "Happy Thanksgiving" or "Give Thanks" and set them in the middle of the dinner table. They could also paint fallen leaves as decor, along with the rocks, to add to this fun Thanksgiving activity.
Leaf Catcher
Make a DIY leaf catcher and help the kids cut some leaf-shaped papers. Let them ask gathered family and friends to write what they are grateful for and trap the notes in the leaf catcher. It is the perfect fall craft!
Gratitude Jar
Have the kids help you decorate a mason jar for Thanksgiving. Ask them all to write their gratitude notes and put them into the jar. Leave some paper strips and pens on the dinner table for guests to write on. After dinner, end the celebration by reading and sharing heartfelt notes. This gratitude activity will not only be a fun and easy craft, but it will also help them understand the true meaning of the holiday through a fun Thanksgiving craft.
Turkey Napkin Rings
Here's a fun turkey activity: help the kids design some turkey napkin rings or holders. You might need to cut the turkey shape if the kids are too young to operate scissors.
Turkey Crowns
There are many free templates available for making turkey crowns online. Download and print a template for each kid and have them assemble and decorate.
Playdough Pumpkins and Turkey
Using different colored playdough, let the kids make and decorate their own pumpkin and turkeys. There is even a pumpkin-flavored, scented, and edible playdough available on the market for just this purpose! Worried about getting playdough stuck to the dining room table? No fear, our cleaning products are here to keep your surfaces tidy without the harmful chemicals!
Gratitude Bracelet Making
Buy a Thanksgiving bracelet-making kit. Allow the kids to design and assemble bracelets for themselves and whoever else they want to give them to.
Thanksgiving Coloring Book
Get informative by using Thanksgiving-themed coloring books to help them understand the significance of the Thanksgiving holiday better.
Origami Turkey
Origami takes some time to master, making it the perfect activity to keep your kids occupied on Thanksgiving. Provide them with Origami turkey designs and leave them to it.
What Are Some Fun Thanksgiving Activities?
While the whole family is together, it's the perfect time for group activities and games. Some Thanksgiving adventures include:
Turkey trot
Football game
Pumpkin scavenger hunt
Volunteer at homeless/food shelters
Board games
Watch Macy's Thanksgiving parade
Pumpkin roll
Thanksgiving bingo
Thanksgiving charades
Turkey handprint craft
Pilgrim hat or paper bag turkey craft
Exploring these Thanksgiving ideas is worth it to make the holiday much more enjoyable for your little ones. These activities and crafts for kids are all focused on one goal, cultivating gratefulness. This Thanksgiving, why not make a point to remember those who are less fortunate than you and spread the joy around!
We aim to provide you with the most honest and credible information possible. This article was reviewed for accuracy by The Honest Team and was written based on trusted sources that are linked at the bottom of the article.
blog_review_statement