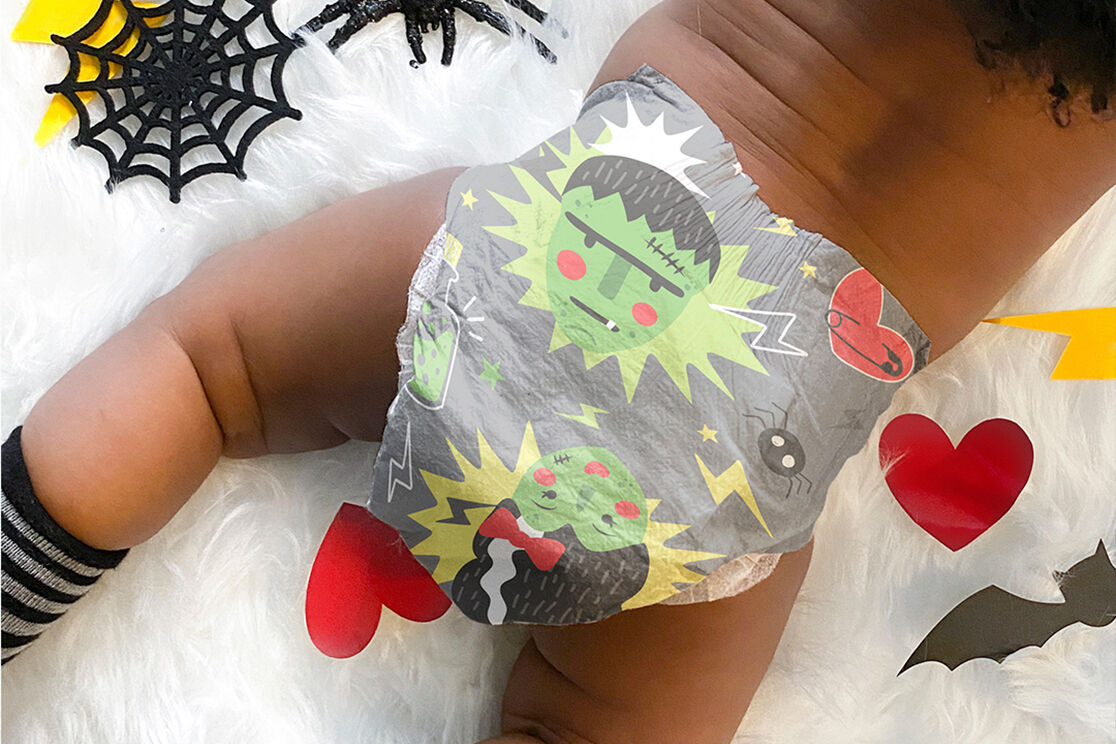 Just because social distancing continues to put restrictions, doesn't mean Halloween is canceled. Here are some creative tricks + treats to enjoy with the whole fam this Halloween and throughout the fall season.
Falloween Prints
Dress those little boo-ties in cloud-like comfort with our adorable Scary Cute diaper print. Our super-soft diapers offer advanced leak protection to keep your babe dry, comfy + happy during life's daily adventures.
Spooktacular Treats
Halloween is the best time for a good old-fashioned scare, and desserts are no exception. Whether you're inspired by witches, ghosts, or our Scary Cute prints, you can take the themes of your Halloween decor + your fave scary movies and translate them into tasty sweets. Make the eerie atmosphere of your haunted house a little bit more festive with our frightfully delicious Bride of Frankenstein recipe to enjoy with the whole fam.
Ingredients
1 brownie mix
2 eggs + oil and water as called for on the box
Frosting, natural food coloring, sea salt, licorice, and chocolate chips to decorate!,
Directions
1. Preheat the oven, prepare brownie mix, and bake brownies in a 9x13 pan according to package directions. Allow brownies to cool completely
2. Cut the 2 shapes: a heart and a squiggle heart. Using toothpicks, connect the two brownies. Repeat until you have a few ready to decorate
3. Spread frosting evenly over the top of cooled brownies. Green frosting for the face, black frosting for the hair. Allow frosting to set
4. Using a piping bag or ziplock bag with the corner snipped, drizzle white frosting to add streaks to hair. Garnish with sea salt
5. Place 2 chocolate chips on for the eyes
6. Using a piping bag or ziplock bag again, drizzle black frosting to make the eyebrows
7. Add red licorice for mouth, bow, and cheeks
Tip: Clean up as you go to stay safe!
Ingredients
1 cup of frozen spinach or 1lb of fresh spinach
1 stick of butter
16oz bag of mini marshmallows
8 cups of rice cereal
4 cups of chocolate chips (or vanilla frosting + food coloring instead of chocolate chips) and red-coated
candy for decoration
Directions
1. Steam 1 cup of frozen spinach or 1lb of fresh spinach
2. Blend the spinach then add butter and blend until smooth
3. Add spinach butter + 16oz bag of mini marshmallows to a large pot and heat on low (you can add more marshmallows to get the perfect sticky consistency). Keep stirring to prevent from burning
4. Mix two cups of marshmallow mix with 8 cups of rice cereal
5. Transfer mixture to a pan lined with parchment paper, gently pat the mixture down, and pop into the fridge or freezer to cool quickly
6. Melt 4 cups of chocolate chips. Dip one end of the rice treat into the melted chocolate (or you can use vanilla frosting + food coloring instead)
7. Place melted chocolate into a Ziploc bag and cut the corner. Draw the eyebrow across, add the stitch on the corner, and draw the mouth
8. Cut mini marshmallows in half and flatten them. Spread a little chocolate to use as glue and place the flat marshmallows on top for an eye and on the corner of the mouth as a snaggle tooth. Flatten red-coated candy and use as his cheeks
TIP: Wear gloves and coat them in coconut oil to avoid sticking to the mixture!
Spooky Crafts
When you think of Halloween, costumes + scary teats are usually the first things that come to mind. Add a spooky touch with our simple decorating ideas to make sure your home looks unique + festive this season, not to mention scary! Get your little pumpkins in the Halloween spirit with a DIY foot + handprints on a piece of paper that will become a Halloween themed table cloth.
Materials
Non-toxic washable paint
Paper
Pens or markers
Adorable hands + feet
Directions
1. Pick your fave spooky color
2. Spread the paint evenly over your little one's hand or foot
3. Gently press down on the paper
4. Wipe hands + feet clean
5. Use markers + pens to fill in the design on the faces
Tip: Make prints with the whole fam!
Enjoy the sweet family moments with your little witches, ghosts + goblins, and remember - this Halloween will be extra special because it's a full moon (so spooky!).
We aim to provide you with the most honest and credible information possible. This article was reviewed for accuracy by The Honest Team and was written based on trusted sources that are linked at the bottom of the article.
blog_review_statement