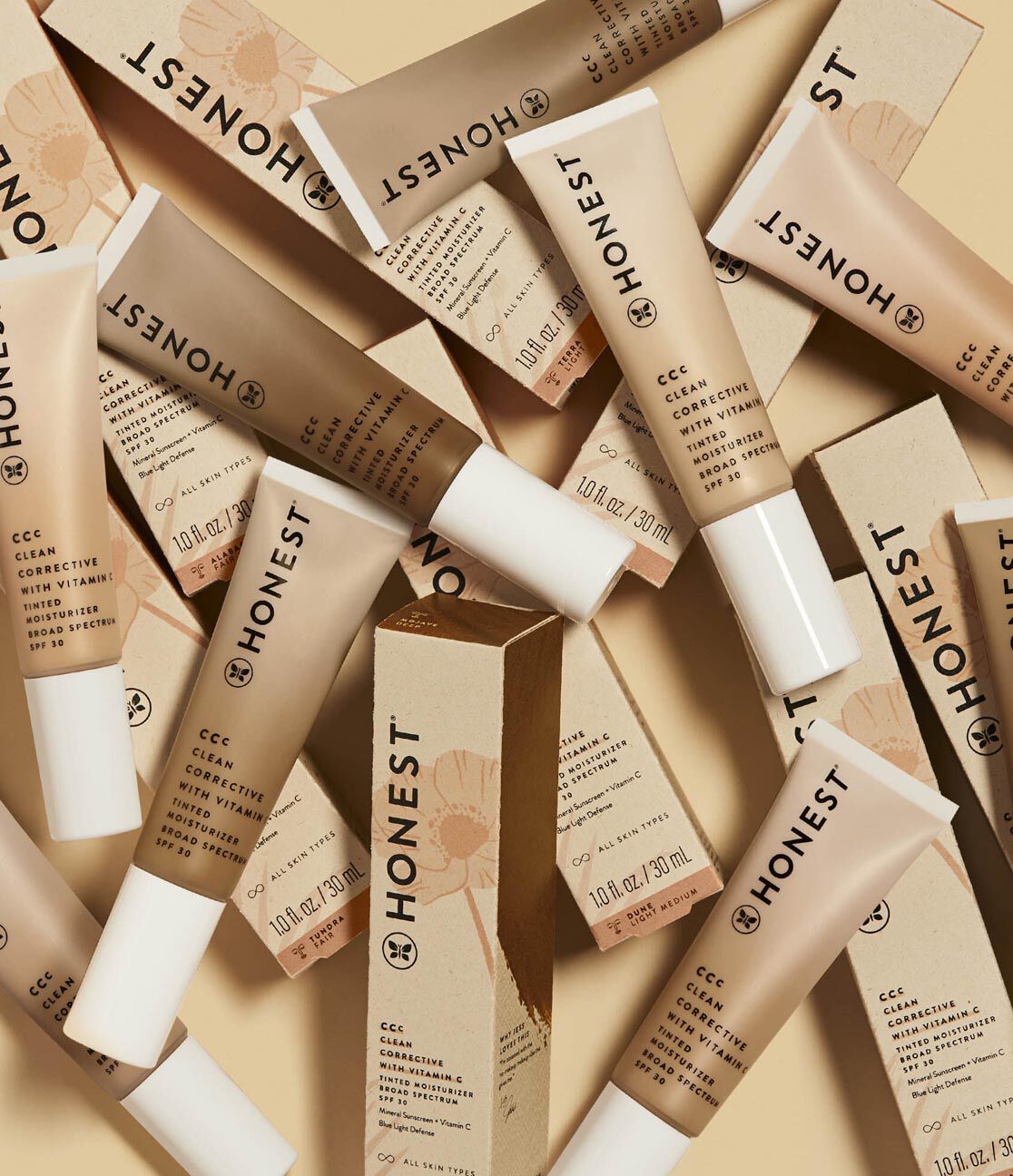 Foundation, BB creams, and CC creams all fall under the same umbrella—face makeup—but the truth is that some products may do more good for your skin type than others.
Here's the main difference: while foundation serves to conceal our flaws, whether it be redness or dark spots, BB and CC creams seek to nurture our skin while also providing coverage.
But how do these cosmetics measure up, and which ones have our skin's best interests at heart? The answer lies in comparing foundation vs bb vs cc cream to hone in on what each can do, and whether they're up to the challenge of simplifying our quest for flawless-looking skin.
Face Makeup 101: BB Cream vs. CC Cream vs. Foundation
For all the care we channel into our journeys towards gorgeous skin, who among us hasn't felt a little nervous about choosing the base for our face makeup—that supporting coat of color we use to put our best faces forward?
Let's begin by getting to know our contenders: foundation, BB cream, and CC cream.
What Is Foundation?
Foundation is a face makeup product that gives the illusion of a clear, even-toned complexion by applying pigment to the face and neck.
While foundations vary in color, consistency, and coverage, there are four formulas you're most likely to encounter while browsing:
Liquid foundations
Cream foundations
Powder foundations
Stick foundations
Beauty companies have developed a variety of makeup tools to give users more control over the finish they leave on the skin. There are a host of ways to apply foundation to your liking, from using a foundation brush to being like kindergarteners and using your fingers to paint your face.
However, regardless of the tools we're using, most of us run up against two central problems when applying and wearing foundation:
Blending – Because of the density of pigment foundations contain, it's not uncommon to have trouble creating a seamless transition between our makeup and skin au natural. Beauty tools like makeup brushes can lead to streaking if the foundation fails to sink into the skin—and many of us are all-too familiar with that dreaded neck-to-face mismatch when we forget to blend foundation around the jawline and throat.
Cakiness – One of the hallmark issues with foundation is that it seldom adjusts to the natural texture of our skin. Unless you were born with a poreless face (hint: that's not possible), it's likely your foundation will gather in the natural nooks and crannies found in your skin. Makeup primer was developed to resolve foundation's tendency to cake, but adding another step to your makeup routine may not be ideal if you're looking to pull off glowing skin in a pinch.
These reasons, in part, have inspired a shift away from skin-masking foundations and a movement towards makeup products that put healthy skin front and center. Rather than casting a veil over the face, formulas like BB creams and CC creams aim to achieve flawless-looking skin by fusing skincare with the art of makeup.
What Is BB Cream?
First things first: BB cream stands for beauty balm. It's a hybrid product designed to tackle three skin-related aims in one fell swoop:
Creating a more even skin tone
Moisturizing dry skin
Contending with specific concerns (e.g. acne-prone skin)
The best way to think of BB creams is as a vehicle for skin care with a cosmetic edge. While foundation puts aesthetics first, the best BB cream aims to care for the skin while lending light coverage along the way.
What Is CC Cream?
CC cream stands for color correcting cream.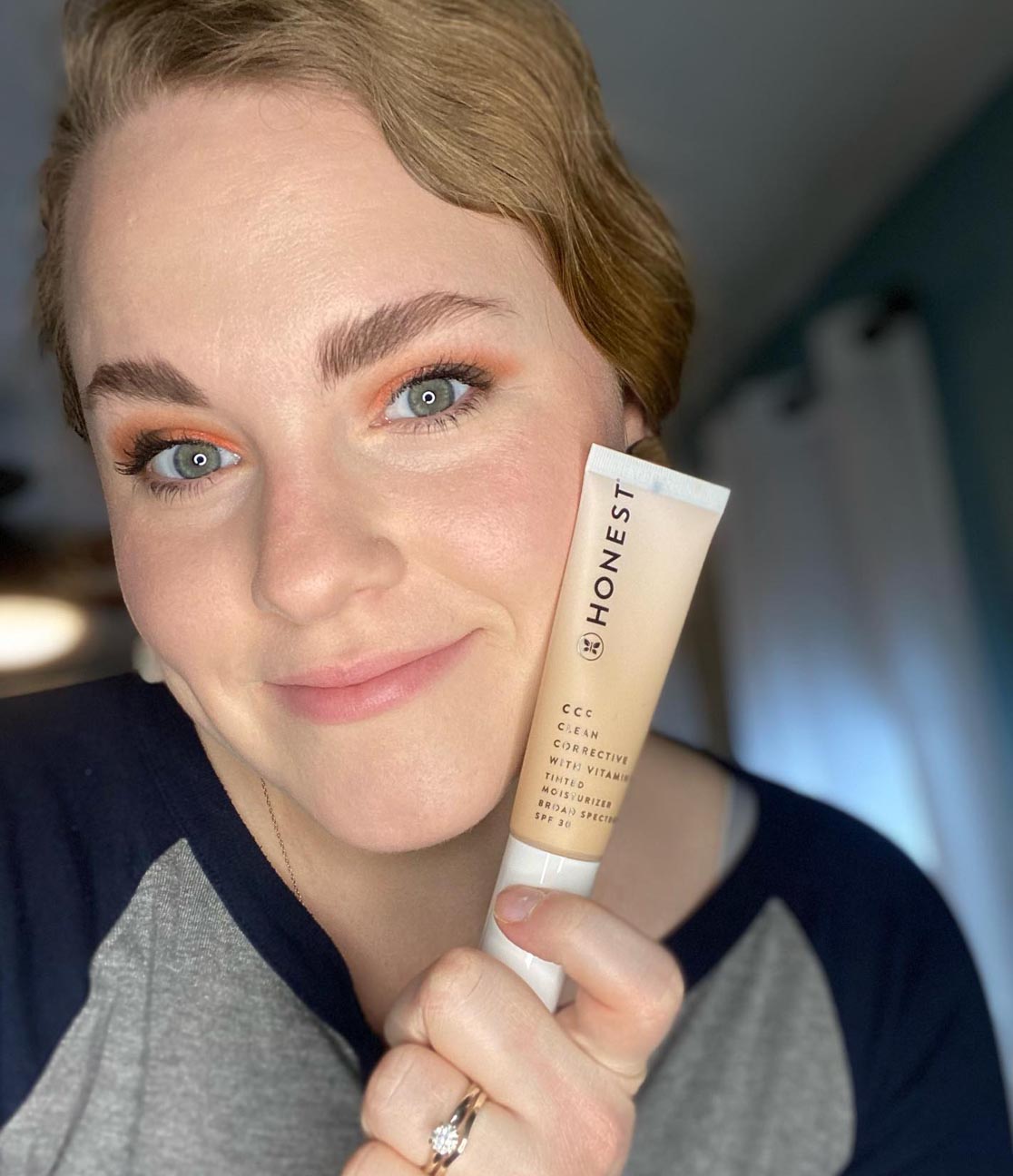 Image by @makeupbymandik
Like BB cream, CC cream is a skincare-makeup hybrid with its own priorities for fostering healthy, glowing skin. Its main agenda is to:
Offer SPF for face protection
Hydrate and nourish dry skin
Create a more even, luminous-looking tone
So, what is the difference between BB cream and CC cream? While undeniably similar, the two products take distinct approaches to their list of priorities.
Although some BB creams may contain SPF, CC creams – like our CCC Clean Corrective Cream – make sun protection an essential part of their formula. In this way, they not only combine two skincare routine steps into one, but they also confront one of the factors in premature aging—photodamage—by building it into their formula from the get-go.
So in some—BB cream doesn't always protect your skin from the sun, CC cream should have SPF in the formula. SPF is very important to include in your daily skincare routine. Whether you are interested in adding a tinted moisturizer with SPF to your regimen or are debating between using a mineral vs chemical sunscreen on a daily basis, make sure to not neglect this step.
CC Cream vs BB Cream: How To Choose Your Go-To Product for Flawless Skin
Both BB and CC cream tend to offer light coverage that is blendable and more natural-looking than foundation, but the choice between them largely comes down to your top skin care priorities.
Below, we outline the main distinctions to be made between BB and CC cream so you can choose the ideal formula for your unique glow-up agenda.
BB Cream Pros
Like CC creams, BB creams are excellent for reducing the tally of products in your skincare and makeup routines. There are 3 main advantages to opting for BB creams:
Blemish-covering – If you're a former foundation devotee and concealing blemishes is at the top of your list, BB creams have you covered. Moreover, the best BB cream contains ingredients that can actively fight against blemishes while keeping them under wraps.
Finger-friendly – As a moisturizer-makeup hybrid, BB creams are designed for easy application. They're a wonderful alternative to foundation and pliable enough to be worked into the skin with your fingers (no makeup brushes or sponges necessary).
May offer other skincare benefits – Many beauty companies concoct their BB cream formulas with other additives that can combat a specific skin issue. From antioxidative vitamins to minerals aimed at brightening the skin, individual formulas can help eliminate the need for other products that may be a part of your skincare regimen.
BB Cream Cons
BB creams have a bit of a buzz on them in the beauty world, but there are some drawbacks to be aware of before you make a purchase or use BB cream.
The main complaint about BB creams is that they tend to be limited in their range of shades. Your average BB cream will come in just three shades—light, medium, and dark—which can fail to accommodate the splendid diversity of skin tones.
Furthermore, few BB creams provide sufficient moisture for your skin on their own. You'll probably need to layer a moisturizer beneath them to keep your skin's thirst quenched, so be sure to have a nourishing go-to to ensure your skin stays hydrated.
CC Cream Pros
Like BB cream, CC creams are built to reduce the tally of products in your skincare and makeup regimen. That said, there are some key ways they distinguish themselves from the competition.
The benefits of CC cream compared to BB cream are threefold:
Ultra-lightweight – CC creams are very lightweight, yet provide additional coverage as compared to BB creams. Highly blendable, the result is a fine layer of product that lends an airbrushed appearance, letting skin's natural tone shine through. What's more, the hydrating properties of CC creams level up your glow factor, giving you a dewy finish akin to naturally radiant, healthy skin.
Solar protection – We all know SPF is key for preventing sunburns, but did you know that sun damage is one of the causes of dull, inflamed, and weary-looking skin? CC creams take photodamage to task by making UV filters mainstays of their formula. This SPF protection makes CC creams a perfect base for any of your summer makeup looks and is also a gesture of investment in your skin's short- and long-term future.
Superior shade diversity – CC creams are a world apart from their BB counterparts when it comes to showcasing skin colors in all their gorgeous diversity. Whatever your skin type and color, you're more likely to find a perfect match while browsing for CC creams—and another shade that can adapt with your skin as seasons change.
CC Cream Cons
Everyone's preferences for cosmetics are unique, but there are some traits unique to CC creams to be aware of before you buy.
For one thing, CC cream is an ideal product that allows the skin to breathe—however, they have slightly more substance than BB creams.
Not as heavy as a typical foundation, CC creams can be layered or paired with setting powders to build up coverage for a solid base for your makeup. In turn, they're a worthwhile alternative if you're looking to lighten your skin's load and streamline the makeup you wear daily.
BB Cream vs CC Cream: Which Should You Choose? Choose Honest.
So, cc vs bb cream: which deserves a spot on your vanity?
As always, the choice is yours—but few CC creams can flex like Honest's CCC Clean Corrective. Our CCC cream nurtures skin with vitamin C known to help with the appearance of uneven skin tone + provide blue light defense. With 9 skin-kind shades to choose from, you can pack 6 skincare steps into one formula by making this a staple of your makeup regimen.
Whichever you choose, be sure your go-to brand stays clean and conscious. To imbue your makeup routine with the best skincare benefits, browse our skincare and makeup products today.
Sources:
Lindberg, S. (2020, August 19). BB cream: Benefits, how to use, product recommendations. Healthline. Retrieved May 19, 2022, from https://www.healthline.com/health/benefits-of-bb-cream#benefits
(2021, June 06). Sun damage. Mayo Clinic. Retrieved May 19, 2022, from https://www.mayoclinic.org/healthy-lifestyle/adult-health/multimedia/sun-damage/sls-20076973
We aim to provide you with the most honest and credible information possible. This article was reviewed for accuracy by The Honest Team and was written based on trusted sources that are linked at the bottom of the article.
blog_review_statement