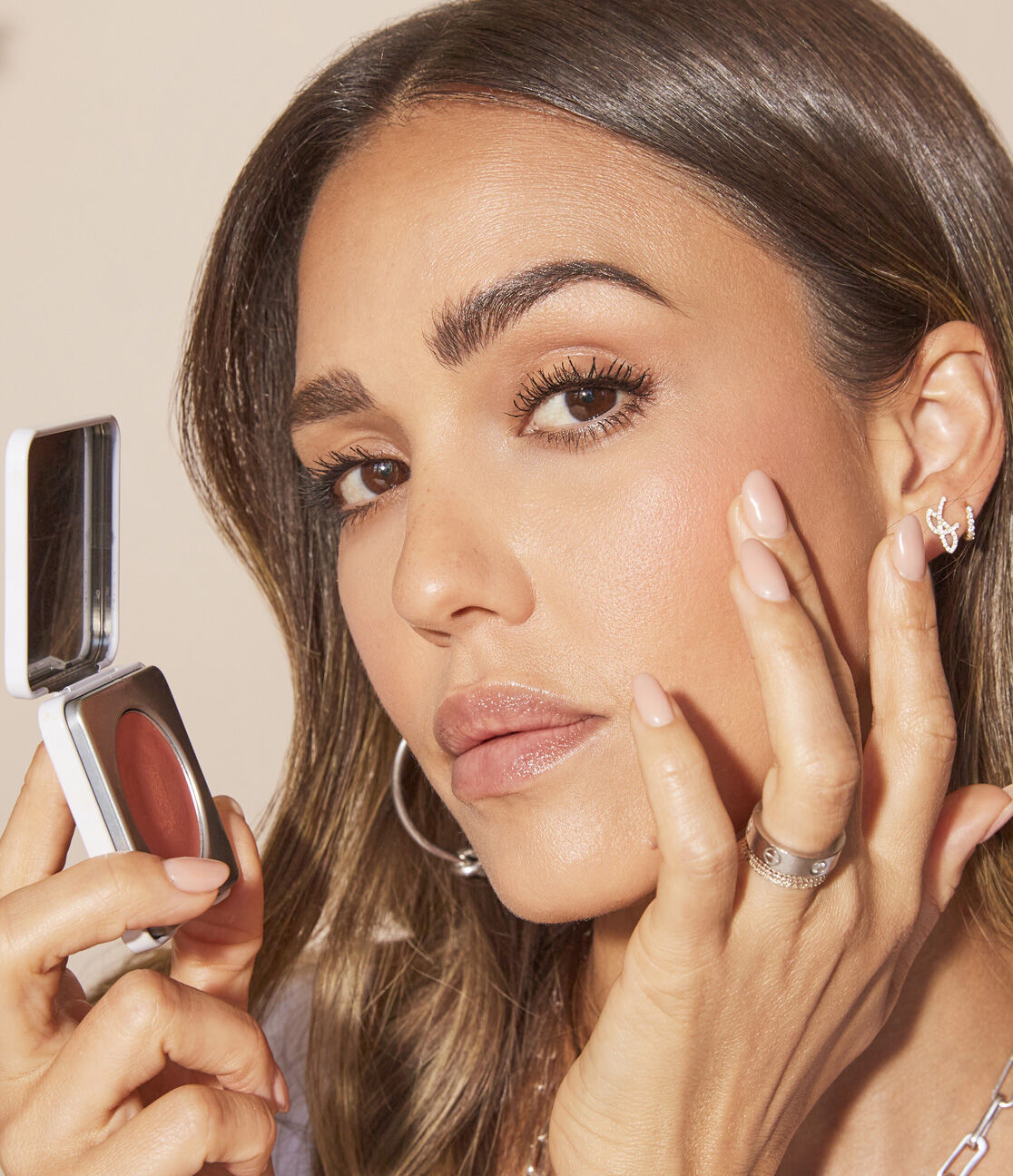 How To Apply Blush For Your Face Shape
Ah, blush—one of the most polarizing of makeup products. Some swear by its rosy powers, while others stay far away in fear of looking clownish. However, we think blush can enhance any look. How?
It all starts with your face shape.
Aside from giving you a natural flush, blush is meant to highlight the cheekbones. That means the way you should apply your blush will depend on your unique face shape. To bring out your natural beauty, let's explore how to apply blush for each face shape.
The Best Blush Application for Each Face Shape
Blush goes on your cheeks, right? Well, your "cheeks" are a big canvas for blush. To highlight your natural beauty and face shape, it's all about blush placement on the right spots of the cheek.
The right blush should lift and emphasize the cheekbones (you can find those by flashing a big smile in the mirror). For every face shape, the cheekbones will sit differently. Below, we'll breakdown the main face shape categories and how to apply blush for their structure, including:
Square faces
Round faces
Oval faces
Heart-shaped faces
Oblong or long faces
Square Faces
For square-shaped faces, the overall look is sharp. The cheekbones and jaws are equally defined and wide, with straight lines along the sides of the face.
With this shape, blush is used to soften the contours of the face. Try these rounding and narrowing techniques for where to apply blush on square-shaped faces:
Application – Directly on the apples of the cheeks
Endpoints – To the outer eyes
Direction – Rounded upwards
Preferred finish – Lightly matte (shimmery blush can widen the face)
Round Faces
Round faces are youthful and wide, with large cheeks and a soft jawline. From the front, the overall shape looks circle-like and full. Some celebrities with round faces include Drew Barrymore, Mindy Kaling, and Emma Stone.
When applying blush, round faces should focus on adding lift, length, and sharpness—this will help bring out their cheekbones. A makeup artist will use these blush techniques to add structure to round faces:
Application – Below or along the cheekbones
Endpoints – Outer corner of the eyes
Direction – Swept upwards in a straight line
Preferred finish – Matte
Oval Faces
Oval face shapes are akin to rectangles with curved edges. They look slightly longer than wide, with high cheekbones and a slim yet rounded jaw. Celebrities like Jessica Alba (our very own founder), Beyonce, and Emma Watson all have an oval face shape.
When it comes to blush placement on oval faces, the emphasis is on width and structure. To sharpen this lightly rounded shape, try to apply blush in these manners:
Application – On the highest part of the cheekbones
Endpoints – Blended out to the temples
Direction – Swept upwards in a slightly curved line
Preferred finish – Any type
Heart-Shaped Faces
High and full cheekbones, narrow jaws, and a pointed chin all create the signature heart shaped face. As a general rule, heart-shaped faces are widest at the top and narrowest at the bottom. Some well-known celebrities with heart-shaped faces include Scarlett Johansson, Reese Witherspoon, and Vanessa Hudgens.
Heart-shaped faces should let blush naturally accentuate their cheekbones, adding just a little lift and softening a pointy chin. Experts use these directions for where to put blush on heart-shaped faces:
Application – On the apples of the cheeks
Endpoints – Blended out to the hairline
Direction – Swept upwards in a thin "C" shape
Preferred finish – Any type
Oblong or Long Faces
Any face with significant length is considered an oblong face shape. Most oblong faces will also have the same width between their forehead, cheekbones, and jawline, creating an elongated oval or rectangle silhouette. Some recognizable celebrities with long-shaped faces include Sarah Jessica Parker, Liv Tyler, and Iman.
The longer your face, the more cheek room you have to play around with blush. Use this room to emphasize facial width, balancing out your features by applying blush with:
Application – Starting on the cheek apples or below the outer corners of the eyes
Endpoints – Lightly dusted on the forehead or temples
Direction – Swept straight outwards in a line
Preferred finish – Shimmery (to emphasize the mid-face)
How to Find Your Face Type
For the most part, everyone's face has a basic shape. If you're not sure of your own face shape, then it's time to take a deeper look. Our mirrors and eyes often show a warped perception of our own faces, so a flexible tape measure is your best objective friend.
With this tool, you can take these steps to determine a face shape:
Locate your widest facial area – The widest part of the face is different for everyone. Wide cheekbones indicate a heart-shaped or round face, while oval faces often have wide foreheads or temple areas. Oblong and square shapes often have even width along the entire face. To your best ability, try to determine your face's widest area.
Find your jaw shape – Next up, determine the slope and shape of your jaw. Is it rounded? Long? Sharp and wide? Oval and oblong faces will have longer and rounded jaws. Heart-shaped faces usually have long but sharply angled jaws that lead to a pointed chin. A round and square face both have wide jaws, with a round shape being softer and sloped.
Compare facial width and length – Measure your facial length from your center hairline all the way to your chin (making sure the tape is unbent). Is your face's length shorter, equal to, or longer than your face's widest point? If shorter or equal, then you likely have a square or round face. If longer, then you probably have a heart-shaped or oval face. If twice as long, then it's likely an oblong face shape.
Tips for Applying Blush on All Face Shapes
Of course, there's more to blush than placement. Picking the right shade and product can take your blush from "good" to "gorgeously glowy". Here are some top tips for applying blush on all face shapes.
Consider Blush Type
Not all blushes are created equal. Every formula has its purposes, from all-day wear to oh-so-natural shimmer. See which of these common blush types will suit your skin and makeup routine:
Cream – Dewy, long-lasting, and highly pigmented, cream blush is a pretty spectacular product. Its glowy effect is perfect for daytime or nighttime, with buildable color that can grow to your desired shade. Oily skin may appear more slick with a creamy formula, but most skin types will take well to cream blush (grab a product like our 2-in-1 Melting Creme Cheek + Lip Color for an all-over natural glow).
Gel – A gel blush is perfect for a barely-there glow. These lightweight formulas add a healthy rosiness that looks lit from within. However, gel blushes do not last long and can have trouble showing up on darker skin tones.
Stain – Stain blushes mix the lightweight color of gel blushes with the all-day powers​​ of cream blushes for guaranteed hours of wear. Even better? They usually resist sweat or oiliness. Just be careful with application, since stains are hard to blend once set (aka they really do stain).
Powder – Like all facial powders, powder blush soaks up skin sebum. This makes it a great choice for oily skin, large pores, or summertime. Additionally, powder blush is very blendable and offers plenty of color options. However, you'll definitely have to reapply this light powder formula every few hours using a tool like our Powder Blush Brush. Textured or dry skin types should also be wary of this powdered product.
Pick a Matching Tone
Consider undertones the secret code to cracking your perfect blush shade. Discover your right undertone, and the right blush will bring out your inner glow.
From fair to deep shades, everyone's skin has an undertone. Most people tend to fall under one of three categories, including:
Cool tones – Pink, red, or blue
Warm tones – Gold, peachy, or yellow
Neutral tones – A blend of cool and warm tones
When choosing a blush, the right shade will match your skin undertone. Ivory skin loves a frosty pink, while olive-toned skin will glow with a peach-orange blush. Determining your skin undertone will turn blush into your best glow-ifying tool.
Avoid Common Mistakes
Don't let fear keep you out of the blush game. Although it can be easy to mess up this colorful accessory, it's also equally easy to make blush work for you. Consider these helpful "Do Not's" before reaching for the blush:
Leave unblended – Whether learning how to apply cream blush or powder, you must work it into the skin. That's how you get that natural-looking glow, not a 1980's-style strobe on your cheek. With so many different types of makeup brushes, make sure to have a designated blush brush to help you achieve a natural glow.
Apply too low – Many people accidentally add blush below their cheek apples, elongating and dragging the face downwards. When in doubt, place your blush a little higher than you think.
Overapply – Blush can be buildable, but it's pretty difficult to remove without starting over. Go slow and steady at first, adding just a little bit of pigment at a time.
Find Your Inner Glow with Honest®
At Honest, we hold our products to the Honest Standard —only clean ingredients that promote your outer and inner glow. Explore our blushes and other products today for your most nourishing beauty cabinet yet.
Another important choice when picking blush? Product quality. Fortunately, Honest can help there, too.
From wide square to oblong, there's a blush pattern to fit every face. Start with our blush application guide, and you'll be on the path to rosy excellence. What's up next: how to apply concealer to further highlight and accentuate your facial features!
We aim to provide you with the most honest and credible information possible. This article was reviewed for accuracy by The Honest Team and was written based on trusted sources that are linked at the bottom of the article.
blog_review_statement